Maltese traditional food, like the archipelago itself, is a crossroads of Mediterranean civilizations – with a decisive spiritual touch.
Saying that every culture builds its cuisine from the resources it finds within reach is almost a truism. However, there are some important exceptions. Malta is one of them. With Malta strategically positioned along important trade routes in the Mediterranean, Maltese traditional food is an exceptional meeting of often unexpected influences that got to the archipelago from near and afar. 
As explained by Dr. Joyce Cassar in her article on Christmas in Malta included in Faith, Tradition, Glory: religious tourism elements in Malta, Maltese customs and traditions "have been inspired and shaped by the various historical transitions the islands have experienced." It is thus only natural that some of these traditions resemble those of other countries. But some others have rather been "brought down from generation to generation," Cassar explains, "or have been imported or introduced during the presence of those who inhabited these islands during their rich and unique history." 
This will certainly give visitors to Malta a feeling that they are visiting grandma's house as they step into the many local restaurants. Rose has been the chef here for more than 20 years, says one owner proudly, as he describes their own ravioli, praising the ricotta cheese made with local goat milk, and the tomatoes and herbs from their own garden. 
Both local restaurants and family tables preserve these traditions, flavors, and meanings in a "broad mélange of cross-cultural influences" which, as Cassar puts it, "distinguishes Malta and Gozo from other countries."
Because of the archipelago's geographical situation, its geopolitical importance, and its rich and long history, Maltese traditional food brings together continental European and Middle Eastern elements in a unique Mediterranean blend. As an archipelago, Malta soon learned to be self-sufficient, but it also benefited from its privileged position along important sea-trade routes, and quickly incorporated the flavors and ingredients of the merchants who came through. 
But even if it is true that Maltese traditional food is the result of  this long relationship between islanders and the many different civilizations that either traded or tried to occupy the Maltese Islands over the centuries, it is also true that Maltese cuisine is not only a reflection of its history and geography. 
It is above all a living testimony of an uninterrupted 2,000-year-old Christian tradition: Many delicacies and special treats the Maltese serve on the table are inspired by Catholic feasts, and thus follow the Catholic liturgical calendar, explains Jesmond Atkins, chef and lecturer at the Malta Institute of Tourism Studies (ITS).
Along with Paul Fenech, also a chef (specializing in Maltese sweets) and lecturer, and author of Sweet Maltese Moments, and Martin Morana, Atkins shows off a selection of feastday-inspired delicias. 
The honey rings are perhaps the most striking, despite their simple-sounding name (simple in English that is; in the local Maltese language, they are called Qaghaq tal-Ghasel). The honey mixture is actually made with treacle (molasses), meaning that the sweet richness is dark and colorful as it seeps though slits in the golden ring-shaped dough. While these sweet treats were originally common only at Christmas time, they've become so characteristic of Malta and Gozo that tourists can find them year round.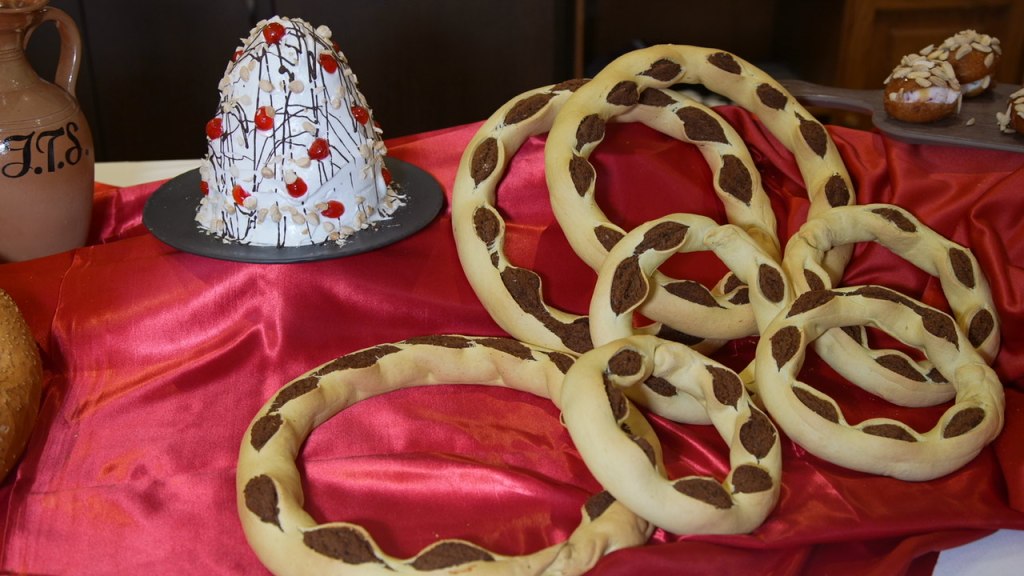 Photo: Aleteia
Qaghaq tal-Ghasel have deep liturgical and spiritual meaning. Literally meaning "honey rings," these pastries are made into a ring shape, with slits along the ring so that the filling oozes out a bit. The filling is a mixture of honey, molasses, aniseed, cinnamon, and cloves, and some people add cocoa powder for a hint of chocolate. These honey rings are literally filled with all kinds of good stuff, for a very specific reason.  The fact that the cake is a ring intends to evoke the idea of a cycle (that is, the liturgical calendar) but also of a never-ending movement: eternity. Since it is a honey cake, this eternity is sweet. The filling oozing out implies the season is "overflowing with goodness," in a clear reference to Christ's birth. 
Before you get to Christmas though, visitors to Malta delight in a type of fruitcake that can actually be enjoyed. St. Martin has his own "torta" for his feast day in mid-November – a delicious nut-covered beauty full of dates, figs, and wonderful spices.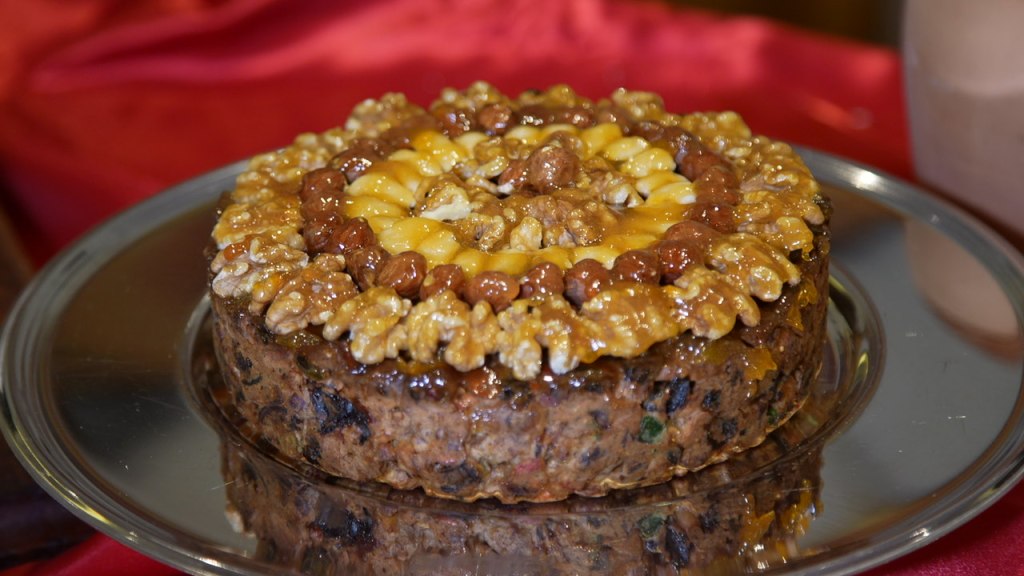 Photo: Aleteia
The work of Maltese scholars such as the aforementioned Dr. Joyce Cassar, Dr. Jean Paul Baldacchino, Rev. Prof. Edmond Caruana O.C., and Can. David Cilia (among others) has repeatedly pointed at the spiritual significance of Maltese traditional food, even if that is sometimes an overlooked fact. 
"Of all the gifts brought to these shores in the course of your people's history," Pope Benedict XVI told the Maltese when he visited the country in 2010, "the gift brought by Paul was the greatest of all, and it is much to your credit that it was immediately accepted and treasured." Benedict was referring to the famous passage in the Book of Acts  commonly referred to as Paul's Shipwreck, and his meeting with Publius, the chief of the island who eventually became its first bishop. The text reads:
Once safely on shore, we found out that the island was called Malta. The islanders showed us unusual kindness. They built a fire and welcomed us all because it was raining and cold.  Paul gathered a pile of brushwood and, as he put it on the fire, a viper, driven out by the heat, fastened itself on his hand. When the islanders saw the snake hanging from his hand, they said to each other, "This man must be a murderer; for though he escaped from the sea, the goddess Justice has not allowed him to live." But Paul shook the snake off into the fire and suffered no ill effects. The people expected him to swell up or suddenly fall dead; but after waiting a long time and seeing nothing unusual happen to him, they changed their minds and said he was a god. 

There was an estate nearby that belonged to Publius, the chief official of the island. He welcomed us to his home and showed us generous hospitality for three days. His father was sick in bed, suffering from fever and dysentery. Paul went in to see him and, after prayer, placed his hands on him and healed him. When this had happened, the rest of the sick on the island came and were cured. They honored us in many ways; and when we were ready to sail, they furnished us with the supplies we needed.

Acts 28, 1-10
Daniel Cilia
But even if Malta is mentioned in the Bible (it was also one of the first Roman colonies to convert), most Christians do not think of it as one of the early cradles of the Christian faith and, hence, ignore the many ways this rich tradition has shaped its cuisine. In a past interview with Aleteia, Professor Stanley Fiorini (Senior Research Fellow, University of Malta, Emeritus Professor of Mathematics) explains that the reasons for this oversight might have to do with "the minuscule size of the island [which] does not favor visibility" and the fact that "Christianity in the [Maltese] islands did not spread like fire […] As elsewhere, the new religion began to come out in the open after Constantine's edict of Milan in 313 A.D." And ever since, Christianity shaped Maltese gastronomy. 
Take, for example, another November classic, għadam tal-mejtin: a layer of marzipan sandwiched between sweet pastry and topped with white sugar icing. Its name, literally "bones of the dead," is a (rather sweet) reminder of the beginning of Allhallowtide, the Christian liturgical season encompassing the triduum of All Saints Eve, All Saints Day, and All Souls Day, followed by the International Day of Prayer for the Persecuted Church (which is observed on the first Sunday of November) and the subsequent Remembrance Sunday (observed on the second Sunday in November). The season is a time to remember the dead (hence the marzipan bones), including martyrs and saints, and to pray for all the faithfully departed Christians.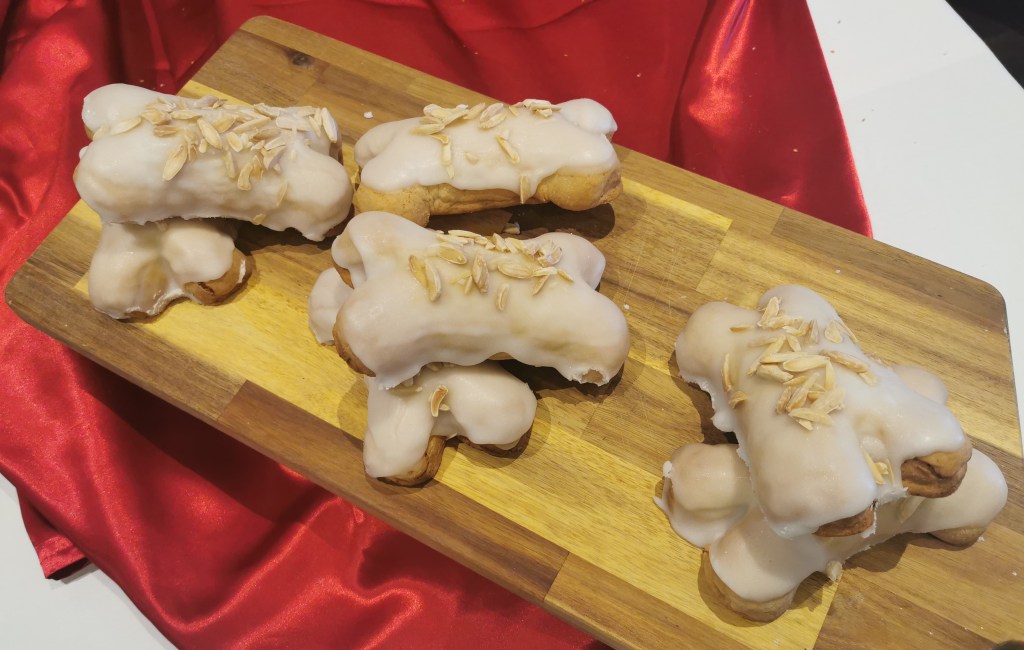 Photo: Aleteia
Lent and Easter also have their own sweet treats. In March, Kwarezimal are found everywhere in the archipelago. Deriving their name from the Latin quaresima (literally, Lent), these Lenten biscuits do not contain a drop of milk, since earlier Catholic fasting practices involved abstaining not just from meat but also all animal products. Instead, kwarezimal mixes ground almonds with orange blossom and spices, and are glazed with honey. During the Holy Week, Maltese bakers work on their Qagħqa Tal-Appostli (literally, "the Apostle's Bagel"), a large salty bagel typically studded with some almonds on top. 
"On Maundy Thursday (that is, Holy Thursday) these treats used to be given as a gift to the poor people who attended Mass by 12 people emulating the 12 Apostles," Fenech explains.
And finally, once Easter arrives, kwarezimal make way for figolli, the traditional marzipan post-Lenten sweet. 
In an article published in Taste History, Amy Briffa explains that even if the figolla finds its origins in Sicily, its popularity in Malta is unabated. Some sources claim the name, figolla, derives from the Italian figura ("shape") as these sweet treats were originally shaped as human figures, either male or female (depending on who was going to receive it) holding an egg in their hands. Some of the earliest historical testimonies on the figolla state that these human-shaped treats were given to children on Easter Sunday. In fact, children still get figolla for Easter, although now you can find them in almost every shape and size: ducks, hearts, butterflies, guitars –you name it! 
Shutterstock
Even though seasonal variations are most easily discovered in desserts and sweets, main dishes also follow the same liturgical lines. For example, since Catholic fasting during Lent involves abstaining mostly from meats and dairy products, fish such as lampuki became a popular meal during this period.
Lampuki (also known as dorado, dolphinfish, or mahi-mahi) is typically found in and around the waters of the archipelago, especially in the south shores of Malta – namely, in Marsaskala, Birgu, or Marsaxlokk. Though it migrates through the Maltese waters mainly between the end of August and the end of December (it is, after all, one of the most popular, traditional autumnal Maltese dishes), this white, meaty fish is also a Lenten favorite, alongside whitebait and salted cod, and thus occupies a special place in Maltese traditional food.
The debate is an ongoing one: how should one have his fish during Lent? Should one go for Lampuki and Qara' baghli biz-zalza pikkanti (lampuki and marrows — summer squash — with piquant sauce), or is it more liturgically acceptable to enjoy a torta tal-lampuki (a classic fish-and-vegetable pie) or a baccala alla marinara (salted baked cod in a savory tomato and oregano sauce)?
Shutterstock
As Lent and Easter coincide with spring (and thus, with the rebirth of life after the long winter nights), it is often the case that one finds bebbux bl-arjoli, stewed snails dipped in arjoli sauce – an herbal, fragrant, and creamy Maltese dip made of garlic and tomato. Snails are oftentimes accompanied with qaqoċċ mimli (stuffed artichokes) and vegetable sfineġ (that is, fritters). 
However, Malta is not all about fish and seafood. In fact, statistics show that per capita, it is the place where most rabbit is eaten. Some of these dishes, too, are associated especially with a feast. Take, for example, the vigil of their own local favorite, St. Paul, celebrated on June 28, before the June 29 feast of Sts. Peter and Paul. This feast is known in Malta as L-Imnarja, and is one of the oldest feasts celebrated in Malta and Gozo. The word luminarja is derived from the Latin word luminare – to light up. This was the way people manifested their joy in recognition of a particular feast, offering light by burning bonfires and candles.
This content has been brought to you in partnership with the Malta Tourism Authority