"She can't get sick!" he said and generously offered his appointment to her.
Now that research has made more than one mRNA vaccine for COVID-19, the big issue is that of supply, distribution, and administration. One key issue is the order in which to offer citizens their vaccine injections.
la suite aprés cette publicité
The process should start with the most vulnerable, which in this epidemic were found to be the elderly. The first category to be convened in Italy was that of people over 80 years old; in some cases, even centenarians.
la suite aprés cette publicité
Particular stories, universal values
The true stories of real people, however, show more readily than the discussion of principles how certain frameworks are not always appropriate. Who is more vulnerable and exposed: a 91-year-old man, or a young disabled son who cannot be vaccinated, much less risk getting sick?
la suite aprés cette publicité
In central Italy, a gentleman named Giancarlo, who already has 91 years behind him, was given an appointment to receive his first dose of the vaccine. But he didn't hesitate to offer it to someone else: the mother of that disabled boy who days before had been asking for help. Her name is Cinzia, and her son is named Mattia.
la suite aprés cette publicité
Since Mattia's condition does not allow him to receive the vaccine, his mother (his principal caretaker) must do everything possible to avoid getting sick herself. In a case like this, society has a moral obligation to protect the vulnerable as much as possible.
The news outlet Firenze Repubblica reported Giancarlo's words:
Vaccinate her first. She's a mom with a disabled child. She really can't get sick, and she can't afford to bring the virus into the house. I'm 91 years old.
Although he already had an appointment, he wanted to give up his spot to her, and get his shot later on.
la suite aprés cette publicité
The government replies
Giancarlo's message reached the ears of the recently named Italian Minister for Disabilities, Erika Stefani. She wrote an open response in the newspaper La Nazione praising the elderly man for his sensitivity to the needs of others and promising to find a solution. In the same paper, Giancarlo wrote his reply:
la suite aprés cette publicité
If you, kind Minister, want to concretely show your praise then I beg and implore you to authorize the doctor to vaccinate in my place a mother who is concerned for her son. It's right to respect the rules to avoid abuses, but in this case the exchange is not of that sort. And you have the authority to authorize the exchange. Please exercise your authority; only then will I feel fully satisfied. I realize the many difficulties involved. I wish you and all your colleagues the best in your work. You are the last hope of my progeny.
Lives so precious that they can be offered up
I realize the enormous difference between the two stories, but many years ago, even a Nazi corporal accepted an exchange in favor of a family man. The person who offered himself in his place, who died forgiving and absolving his executioners, is venerated among the most luminous saints of the dark twentieth century: St. Maximilian Kolbe.
He himself felt that his life, very worthy and precious, could be offered to protect that of a man on whom other people, needy by nature, depended—that is, the man's children. (This was not his only reason, because the most important side of his gesture was spiritual and on the level of the redemption of souls.)
It's a gesture that Christians make not out of contempt for their own lives, but precisely because they know its value, preserved and transfigured by God for eternity. Every sacrifice for love resembles the Sacrifice of Christ.
la suite aprés cette publicité
This elderly gentleman is not imprisoned in a concentration camp, and neither is the mother; no one intends to shed her blood. But it's right for her to cry out her need and demand protection for her defenseless son. It is also right, in the order of charity, that a man be able to say, "Give her my dose because she really must not get sick."
Society as a whole should ask itself, "Whom do we protect first?" Not only the oldest, but also the most vulnerable or the most precious, those who are at the complete and perpetual service of a particularly fragile person—a child, spouse, or a disabled parent—who is helpless by condition.
This should be the exception that not proves, but improves, the rule.
A very positive outcome
The outcome has been very satisfying: Both Giancarlo and Cinzia will be vaccinated. The elderly man's public insistence brought attention to people with disabilities who, more than others, need to be defended and supported.
La Nazione quotes Giancarlo's reaction to his victory: "My task is over. Now I can get vaccinated."
The government of the region of Tuscany indeed changed its vaccination policy to allow people in situations like that of Cinzia and her son to be given priority, and Giancarlo and Cinzia were able to receive their vaccine shot on the same day. Let no one say that one person can't make a difference!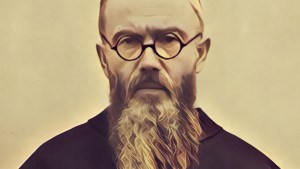 Read more:
Why Maximilian Kolbe is the saint for our times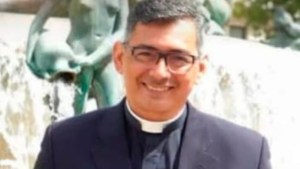 Read more:
Priest who cared for Covid patients dies at 50 years of age