This one simple exercise will help during pregnancy, labor, and the postpartum period.
As a mama of five, I have some experience with pregnancy. And as a personal trainer, I have some experience with exercise. One thing I've learned in the past few years is that fitness professionals rarely know what the best exercises are for pregnant women, and I know from my own experience that pregnant women rarely know themselves.
While there are many great, effective exercises to do while pregnant (squats, walking, swimming), there's one that stands above and beyond the rest. This exercise is vital for keeping the back and abdominals strong while pregnant, giving birth more easily, and for recovering during the postpartum period … and yet, hardly any women I've met have even heard of it.
What's the exercise? 
I'm talking about the pelvic tilt. When properly done, the pelvic tilt activates your transverse abdominals. These are the deep abdominal muscles that wrap around your belly like a girdle. They're also the muscles that prevent your rectus abdominus muscles on either side of your stomach from separating during pregnancy, which results in postpartum diastasis recti — a condition that is incredibly common, yet rarely mentioned to pregnant and postpartum women.
I had diastasis recti after my fourth baby was born. I looked six months pregnant for months after giving birth, and was shocked to find that every time I coughed, laughed, or sneezed, I inadvertently peed a little. Luckily my next-door-neighbor had also dealt with it, and she let me borrow some DVDs that walked me through how to correct it. Many women aren't that lucky, and end up frustrated because crunches and situps have no effect on their post-baby pooch, and endless Kegels do nothing to prevent incontinence.
In fact, most ab exercises make diastasis recti worse, because they can be (and often are) performed incorrectly, without properly activating the transverse abdominals. Those same muscles work closely with the muscles of the pelvic floor, which is why trying to strengthen the pelvic floor by doing Kegels has no effect unless you also engage and strengthen the transverse abs at the same time. The pelvic tilt engages both your transverse abs and your pelvic floor.
How to do it: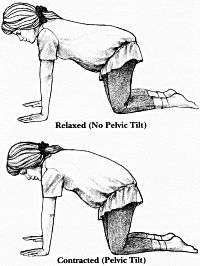 The best position for pelvic tilts is on all fours, with your hands directly under your shoulders and your knees directly under your hips. Start by taking a deep breath in, then breathe out while pulling your belly button back to your spine as tight as you can. Your back should be rounded instead of arched. Hold this position for 10 seconds, then release and repeat for 10 reps.
One important thing to avoid is squeezing your glutes. It's easy to round your back by squeezing your glutes and quads, which is a waste of time and ineffective. Instead, think about sucking your belly button back into your spine and use your transverse abs lift your abdomen upward.
If you feel like you're not doing it right, don't despair! It can be hard to figure out exactly how to activate and engage your transverse abs if you've never done it before — but there's a simple way to short-circuit that glute activation and help you focus on becoming familiar with the sensation of activating the transverse abs:
Start by lying on your back with one hand on your belly and one finger underneath your lower back. Take a deep breath in and feel your belly swell outward, then blow the air out while, again, sucking your belly button back to your spine. You should feel your belly get flatter with one hand — keep tightening those muscles until your lower back is pressing firmly against your finger. Hold for 10 seconds, then release and repeat. Once you have this down, progress to the hands-and-knees version. Gravity will provide an extra challenge for your transverse abs, helping them get stronger and better prepared to do the hard work of childbirth.
Doing 10 sets of pelvic tilts 3-5 times a day is the single best way to keep your core strong enough to support your growing baby, prepare for the work of labor, and prevent postpartum issues. That's a lot of good from one super-simple exercise!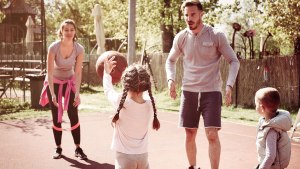 Read more:
How to get your kids to exercise with you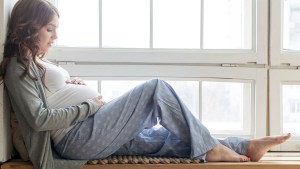 Read more:
How to let go of fear about your pregnancy