There's a difference between being motivated by fear and good parenting.
I doubt there are any pregnant women who don't experience moments of overwhelming fear. We love our children. We know nothing could be more devastating than if something went wrong. If we didn't love these little babies, pregnancy would be — emotionally at least — a much smoother ride. It's totally worth it, of course. As C.S. Lewis said, "To love at all is to be vulnerable," and a little anxiety is nothing compared to this new child to love.
Often, it's more than a little anxiety, though. Unfortunately, the culture and conversations among pregnant women (on Facebook groups, and message boards specifically for expecting mothers) is often characterized by a suffocating undercurrent of fear. 
We're hounded by an unspoken question: "What if you make the wrong choice, and your baby spends his whole life suffering from the reverberations of that moment of selfishness?" So you find moms questioning every possible choice:
Is it okay to lie on your stomach when you're only a few weeks pregnant? Is it okay to get your nails done? What about painting the nursery; will the fumes hurt the baby? What counts as a soft cheese — is feta okay? I want to have a bath, but how hot is too hot for the baby? Should I keep the computer off my lap, in case of radiation?
The problem is that our choices do affect our children. There's plenty of evidence of that. And worrying can lead us to learn, at least some of the time. I'm glad I'm educated about the risks of, say, drinking during pregnancy. It helps me keep my babies safe.
But could it be possible to have a safe pregnancy without so much fear? I think so. I think one of the factors that feeds the worry is that we keep mixing up fear with good parenting.  
Nobody likes to worry, but letting go of those worries seems dangerous. If you relax, what if you accidentally do something dangerous? What if something goes wrong, and it's your fault?  We hold on to our fear because we think it's keeping the baby safe. No sacrifice is too big to be worth it. Good parents worry — right?
If you've ever thought anything similar, then today I'm here to tell you something you really need to hear: You don't have to be afraid in order to make good choices. You can be educated about safety without being afraid. You can love that baby more than anything in the world, and still not spend these months in fear. It's your choices, not your emotions, that keep your child safe.
Pregnancy is normal.
You are the result of a pregnancy. So is everybody you know. From the way pregnancy is treated in the media, as if it's simultaneously as complicated as cancer, and as unusual as albinism, it's easy to forget it — but the human species is designed to reproduce. I may not know what the heck my body is doing, but my body knows.  
We can't control as much as we think.
We do have influence over the health of the pregnancy, but probably not as much influence as we think. No perfect mix of diet, exercise, and meditation is going to change the baby's genetic makeup, or influence any of the million variables that can occur. We can hope, love, and try hard to make prudent choices, but in the end, it's in God's hands.
Parenting is all about the unknown.
When the baby's born, you might be surprised by how little changes. You've met the baby now, but you can easily still spend every waking moment paralyzed by the fear of the dangers and risks he still faces. At some point, you either spend your whole life in fear of what could happen, or you decide to live your life and just try to make reasonable choices. You can do that today, even before the baby's born.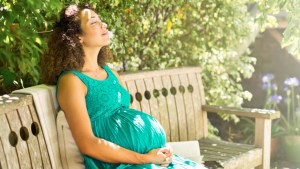 Read more:
Is your pregnancy tempting you to worry? Here's how to push that aside