Marguerite Bourgeoys was also a trailblazer in establishing one of the first communities of sisters that wasn't cloistered
Marguerite Bourgeoys was born in Troyes, France, in 1670. By the age of 19 she had lost both her parents and had to make decisions about her life. She had never felt called to the local religious association in her town, but of course God does things His own way.
la suite aprés cette publicité
On October 7, 1640, Marguerite was taking part in a town procession in honor of Our Lady. At one point she took a moment to look up at the statue of the Blessed Mother being carried through the town and was suddenly overcome by a deep yearning to leave behind the cares of the world and dedicate herself to doing God's work.
la suite aprés cette publicité
That moment changed her life. She immediately joined the extern Congregation of Troyes, a local association of young women who dedicated themselves to teaching the poor in the area. Through her work with this association she met the governor of New France – what is today Quebec- Paul Chomedey de Maisonneuve.
la suite aprés cette publicité
He was looking for people willing to help teach the indigenous children in the new colony. Marguerite volunteered at once. She arrived in Ville Marie – the settlement that grew into Montreal – in 1653.
la suite aprés cette publicité
As she set up schools for children and women, people were drawn to her. Eventually she travelled back to France to recruit more women to help with her work in Ville Marie and a small community of women formed around her.
In 1671 King Louis XIV gave civic approval to her new community of women, the Congregation of Notre Dame, and shortly after the Bishop of Quebec gave her community canonical approval.
Marguerite died in 1700 in Montreal and was canonized in 1982 by St. Pope John Paul II. Her feast day is January 13.
la suite aprés cette publicité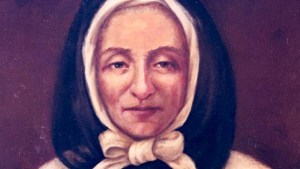 Read more:
Pray this prayer to St. Marguerite Bourgeoys for a generous heart
Some interesting facts about St. Marguerite Bourgeoys:
la suite aprés cette publicité
The local bishop repeatedly tried to convince Marguerite to join with the local, cloistered, Ursuline sisters. Marguerite had to convince the bishop that her community could do its work best outside the convent walls.

St. Marguerite made three trips back to France to recruit women to join her in her work. At the time the journey would have taken two to three months. She made this journey seven times in her life.

When she arrived in Ville Marie, the population was down to about 50 people. They had been killed in attacks by the Iroquois and died of disease.

The first school she opened was in a stone stable donated by one of the founders of Ville Marie.

The Congregation of Notre Dame was one of the first non-cloistered communities of religious women ever established.

Along with Jeanne Mance and Paul Chomedey de Maisonneuve, St. Marguerite Bourgeoys is considered one of the co-founders of Montreal.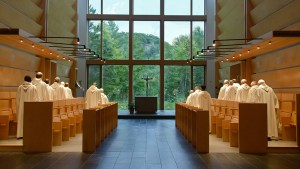 Read more:
A surprising modern-day abbey in Canada