There is no one-size-fits-all answer, but the experiences of other women can shed some light.
One of the most personal and far-reaching decisions in a woman's life has to do with the timing of motherhood and career. We graduate from college with a world of options before us — and we might wonder: which should I do first? Is there a magic formula?
Unfortunately for us, the "right answer" is not always linear and clear from the outset. It will often come from the experience of life itself, and from the constant act of opening our daily life to God's presence and will for us, while listening to our own heart.
We asked women on social media about their take on this issue, and hundreds responded with their unique stories and insights. What follows is a distillation of the key points.
Why you might want to put motherhood first
Fertility was one of the top reasons why many women said they would put motherhood first and career second. But a lot depends on when you marry…
"If you marry younger, why put off children? Our bodies are more suited to bear children in our 20s and early 30s and having children should never be taken for granted — many women have waited only to struggle later. But if you marry later in life, there is lots of time to work on career before babies come. And, of course, you can always do both at the same time … you just need to be creative and have a supportive spouse." – A. P.
"I ended up dealing with infertility for six years. If I could do one thing differently in my own life, it would be to try to have kids sooner." — J. C.
A key issue is… energy levels! Our bodies are just not the same in their 30s and 40s versus in their 20s:
"My best friend was a teen mom. She has 21- and 19-year-olds and 5- and 8-year-olds. She went to college while her big kids were growing up and is very successful now. She has mentioned how much easier it was raising her big kids and how much more energy she had." – S. C.
Another aspect is that if you start younger, you'll be in your kids and grandkids' lives longer. The relationships will have more time to grow and develop, which is a huge gift. One husband weighed in on the decision to start young:
"My dad was 45 when I was born. I found the age gap bigger than I would have liked. Which is why I decided to get married and have kids in my 20s. Far better for my energy as a parent. Plus, my kids will all be grown and moved out when I'm in my late 40s, and God willing I'll have plenty of time to enjoy life without little kids at that point. Plus I'll have time in life to enjoy grandkids and maybe even great-grandkids. For my wife and me, the choice was clear. Earlier is way better!" – N. F.
Some women said that starting a career and then interrupting it just as it was taking off was somehow harder, and they wished they had just postponed it:
"You get started building this awesome career for like 5-10 years and then you take a step back to have and raise kids? It's hard getting back into it years later. I just know that I tried to go back part-time after my first, and it was never the same. A MAJOR step back, even to the point of losing interest in the career I was pursuing." – S. V.
Why you might want to put career first
There is also something to be said for having the freedom, independence, and time to travel and work hard when you're young:
"I'm really glad that I was able to focus on my interests solely before adding children. I loved being able to travel, take interesting jobs, put in the long hours when I needed to build credibility and advancement potential and just be selfishly able to dream my dreams. Now, as a mom, I'm focused on growing amazing citizens. I've done all the things I've wanted to do and I get to revisit some cool places and experiences with three sets of fresh eyes now with me. I have the resources to be the type of mom I want and the patience that has come with age and time." – R. M.
Others said that focusing intensely on their career helped them get to a place where they now enjoy greater flexibility, security, and income:
"I built my career up first and had my son at 32 (wasn't married until 29 and had a loss prior to getting pregnant with him). I would absolutely recommend this route — I make significantly more money now and I have positioned myself to work in a role that is flexible." – K. G.
"Not only will you have your education, bumpy years at the bottom of the totem pole, and student loan burden behind you (or at least closer to behind you), but you'll have created a stronger foundation in your relationship with your partner, had more time to travel and do things kid-free, and have a better perspective of your goals and priorities as a more mature adult before bringing kids into the mix." – A. F.
Some jobs and careers are also more demanding than others, especially at the beginning:
"Doing college, medical school, residency, fellowship, and then my first job out of training was so demanding that I really don't know how other women did that AND had kids. God bless them!" – A. M.
Or you could do both at the same time …
Many women said they chose "option C" – they worked a while out of college, got married and had kids (and cut back their hours), and are now raising children and working a more reduced schedule:
"Although I miss my job, I'm very happy that my husband and I changed our plan of waiting a few years for kids and started right away. We have had some fertility/pregnancy struggles that are much more surmountable at a younger age. When I left my job at 26, I felt thankful to have had the experiences and felt I had accomplished enough for the time being to shift my focus towards motherhood. I worked my last day the same day my son was born unexpectedly four weeks early. I've done some small contracting jobs here and there and someday when the time is right I'll jump back in and be so grateful for my late 20s/30s with my kids." – A. D.
"I think about friends who had children before finishing their education and before getting in the field (who I see struggle to balance everything sometimes) and my friends who focused on career first and may never have children now because the timing just isn't working out. I feel like mine is a happy medium. I am able to support my family, we are established financially, I don't have to try to balance school and work with a family, and also I'm not so consumed that I miss out on much in my kids' lives in the early years. I can comfortably grow in my career for a few years. Once the kids start school, I can go in full force." – O. D.
But many also observed that a lot depends on how demanding your career path is, and how much support you have at home:
"I am 34, have 6 kids, and am a full-time physician. I could not have done it (medical school, residency, work) without an amazing husband and all the help we have from our moms!! Oh, and lots and lots of prayer. Not my will, Lord, but yours." – A. S. 
But sometimes Mr. Right takes a while to show up
One important point is that it takes two to have a family, and sometimes Mr. Right doesn't show up on schedule. Until they offer perfect husbands on Amazon Prime with two-day shipping, many women will not be able to start a family on the "kids first" timetable:
"Let's be real, just finding a good spouse out there isn't as easy as pursuing a career … So, I think it's having hopes and priorities, but also learning to work with what you have if things aren't quite panning out as you'd like them to." – J. C.
"Speaking strictly from a medical/public health standpoint, having kids younger is safer for mum and baby.  Of course, there is no perfect option, and the right potential dad may not be on the scene in your early 20s! That was the reason I didn't take my own advice and had my kids at 36 and 39." – E. B.
The key: Embrace what life gives you right now
"Despite my positive experience as an older mom, I don't think I could advise anyone to wait. In my case, it happened that way and I embraced it joyfully … which leads me to my conclusion: maybe the key is to embrace both joyfully (if you feel called to do both) and see what life brings you at every step of the way." – E. S.
"Family and career [are] not mutually exclusive. You can have both and you are not missing out on your best life by choosing to do so whenever that is in your life. Life isn't about having it all, but about finding joy in what we have." – R. M.
"You can have the best-laid plans, but in the end, it's your ability to ride the wave and adjust to external factors that will determine your success." – A. N.
And don't forget to ask God
"I think you can make a choice either way. However, ask God for what He wants for you. […] In my case, each child was born on His plan." – K. O. 
As promised, each woman's story is different – as it should be. We are all unique, and in the end, this life is a co-creation with God, on many levels – not just in the miracle of becoming a mother or exercising creativity at work, but also in the longer arc of our own soul's story.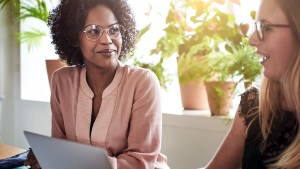 Read more:
What to do when your co-workers don't share your beliefs and values