Learn how to discern what your role should be when you're the odd duck who has faith.
Depending on where you work, the office can be a real cross-section of beliefs and values, and you will often find yourself working side by side with people who inhabit a completely different ideological universe.
For people of faith, working in a secular environment where almost no one shares the same values and convictions can be a challenge. But it doesn't have to put us in a defensive mindset. Instead, it can be an invitation to bring God to work, and to pray for our colleagues and develop relationships based on what we do have in common – and chances are, there is so much potential for good connections.
I will say this: I am often dismayed by the way some Catholics can become siloed in their own communities. There is something so fearful about that approach, as if the wider world were somehow a source of contagion, and so the true believers must huddle together to protect themselves from the unwashed masses. Nonsense!
Of course, having a faith community is good – don't get me wrong – but there is so much richness and human value to be found in people who might not profess the same faith, or who profess no faith at all. Unless the person in the next cubicle is a raging Satanist or a weekend serial killer, they probably have something good to teach you, and you can probably form a good human connection with them on some level.
Note that I said on some level. You might not feel comfortable sharing your insights from prayer with them, but you can always share a laugh or give good tips about where to find quality Thai food. What's wrong with that?
The fact is, most people are like you. For starters, they're human. They have hearts. They're sensitive to friendship, to a smile, to an encouraging or cheerful word, and to humor. They have good days and bad days, and they want to do well but sometimes they mess it up. We're all in the same boat because we're all human.
In the workplace, bring God with you in your heart and in your prayer, even if you don't explicitly talk about him. (And in some cases, it's better not to.) Bring him in the ordinary kindness you show to others, and in your good sense of humor and initiative, in your work ethic and creativity, in the way you work toward the goal alongside your team. You don't have to preach. You just have to be living your life in God's grace, and it will help others. God will use it.
When you should move on
What about times when the workplace culture is actually damaging to your faith or morals? What if your coworkers talk about their experience of sacrificing chickens according to a voodoo ritual, or what if the boss has been getting a little too intimate lately? And what if the workplace banter is insulting or denigrating? What then?
If the situation is somehow damaging to your own ability to hold to your faith and values, or if it is causing you to fall into old sins and habits that you're trying to leave behind, then you need to consider a change. No one is obligated to stay in a toxic workplace – and a workplace can be toxic for different reasons. For your own spiritual and mental health, it's best to dust off that old resume and start filling out job applications pronto.
But if you feel that your workplace is mostly fine, and that the only problem is that you can't seem to find anyone with exactly the same faith or values, maybe the problem is mostly in your head. We do tend to feel more comfortable with people who believe exactly the same things as we do, but sometimes comfortable is… boring. And people with a different perspective can make us grow in ways that our dear, comfortable friends can't.
And one more detail: the workplace can also be a good missionary field. Perhaps you've been thinking about finding a good outreach project to put your faith in action, but have you considered the possibility that It's been right in front of you all along?
"Faith is God's gift and not the result of proselytizing; rather it grows thanks to the faith and charity of evangelizers who witness to Christ." – Pope Francis, Message for World Mission Sunday, May 16, 2016.
How to be good leaven in the office
Here are some specific tips to help you bring your faith to work in a way that won't annoy your coworkers or become inappropriate:
Bring your A-game to work. Be excellent, reliable, hardworking, trustworthy, creative, and everything you said you were in your job interview. (Remember?)
Lift up your colleagues by speaking well of them, supporting them, encouraging them, being an ally. Show them that you think well of them and that you want them to succeed, not because you stand to get anything from it, but just because you appreciate and believe in them. In some workplaces, this is a rare gift!
If you see long faces at work, or if a colleague vents to you about someone else in the office, take time to pray for them. If you're Catholic, a quick Hail Mary can be a good start.
Don't be afraid to admit your own mistakes honestly and candidly. Nothing angers people more than hypocrisy, and a person of faith who also tries to hide or export responsibility for mistakes (and sins) is a sower of cynicism and does more damage than good.
A smile and a sense of humor are the bridge over almost all divisions. You might have almost nothing in common with your colleagues on faith and values, but a good laugh can create a great sense of camaraderie at the office. Workplace banter isn't as trivial as it seems. Enjoy it!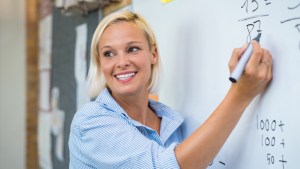 Read more:
Do you know the patron saint for your occupation?