One mom's handy tricks for getting through her pregnancy with greater ease.
Okay, let me start by explaining, so no one gets upset. Yes, I do believe that pregnancy is a beautiful, blessed time. The only moment when a woman can feel the miracle of a new life physically, with all of her body.
But let's be honest: along with all that magic and the beautiful feelings come life's prose and physiology, which can be rather difficult during those nine months. That's what I'm writing about today. I'm presenting my personal overview of those unusual pregnancy ills that I'm trying to deal with (more or less successfully) during my third pregnancy, and some of the tricks I'm using to deal with them …
Heartburn
Before my first pregnancy, I had only heard about it in commercials. I wondered what this strange burning in your throat felt like. Near my 25th week, I understood very well why pharmaceutical companies draw a little fire inside the esophagus in the commercials for heartburn medication. Why is it so difficult during pregnancy? Some say that hormones are to blame, of course. Others suggest that it's the baby spreading in the belly, that the stomach is physically higher and it's only natural for the food to come up.
Some people, convinced of the truth of old myths, say that if you have heartburn during pregnancy, then the baby will surely have lots of hair. That didn't quite work out in our family. Those speculations aside, I found that almonds helped much better than anything a pharmacy can offer, as well as sleeping in a sitting position (from the 30th week on, for me) and limiting fruit, dairy, and sugar. So much for being able to eat everything during pregnancy!
Stretch marks
This is a lost cause, as far as I'm concerned. You just have to accept the fact that you either have a genetic tendency to get them or not. And if you do, the only sure way to get rid of them is in photoshop. (Okay, I did hear about the laser treatment. But honestly, I'd rather spend that money on an exotic vacation.) During pregnancy, I have tried super expensive creams, herbal concoctions, and ordinary moisturizers. The effect has always been the same (zero).
To stop the incessant itching (Ah! I have to tell you that stretch marks not only look so-so but also itch incredibly. And if you get them on your breasts — and they do happen there as well (it's really hard to scratch THERE all the time, right?) — I like to use coconut oil or comfrey ointment. But every time I use the oil, my husband says "why are you so greasy?", which obviously to a woman, especially a pregnant one, is not very encouraging.
Urinary incontinence
Thank goodness, these days we can openly talk about it, and a mention of urinary incontinence rehabilitation no longer makes people blush. Incontinence is not only a problem for older ladies; younger women who went through pregnancy also have to deal with it, and it has nothing to do with our level of fitness or sports activities.
Pelvic floor muscles, stretched and loosened due to the pregnancy weight, are guilty here. To help yourself, you need to do your Kegel exercises. I will let you check with the specialists how to do it correctly, but if you take care of those muscles, you won't have to cross your legs every time you sneeze.
Mood swings
Yes, women are generally subject to mood swings. Everyone knows; it all depends on where you are in your cycle. It's all different but relatively predictable. If you pay attention to your body, you can tell when you'll have good days and bad days. But when you're pregnant? It's a lottery! Hormonal storms take their toll. For me, a wave of euphoria easily changes into a state of great depression, ending with feeling incredibly emotional. Just like that, without any reason — all in one day!
And then the changes of your general physical feelings. Some days I could get up early in the morning with lots of energy and work hard …And then other days I would take a nap right after breakfast, another one after lunch, and I would have a third one before dinner. There's not much you can do about this but be patient with yourself.
Sleeplessness
From my bedroom window, I have a beautiful view of a church spire. Moreover, the window has an eastern exposure. For the last few months, I have been forced to admire beautiful sunrises over the church. With incredible regularity, I wake up at 4 a.m., and I can't fall asleep till 6 a.m. Apparently, many women have this problem, and now I do, too.
Weight gain
This is an incredibly sensitive topic. None of us likes to gain weight, and when you're pregnant, you start gaining a pound a week (or more). Recently it happened to me. For quite some time my weight was stable, and then … 12 pounds in 6 weeks. A miracle diet, in reverse. It's a weird feeling when you can't fit into pants you wore without a problem just a few days ago. How can you avoid feeling bad about it?
Don't even try to wear pre-pregnancy outfits. Invest in some clothes that will make you feel attractive and beautiful no matter the weight. Something that isn't tight, doesn't pinch, and doesn't remind us every five minutes that we are larger. Pounds are an acquired item; they came on fast, and (hopefully) they'll go away fast.
Appetite, or lack thereof
Since we are talking about weight, let's talk about appetite. It's common knowledge that pregnant women have some strange food cravings. Indeed, it does happen! Just a few days ago late at night I really wanted to eat a slice of challah bread with freshly cooked plums. At the last moment, right before the store closed, I was able to buy the bread. And it tasted so good with warm plum butter!
Unfortunately, I felt the effects of that plum treat for an entire day, which meant that I couldn't even look in the direction of food. I do admit I prefer to have a taste of something good than to have no appetite at all. During the first three months, I was ravenous!
Hypersensitivity to odors
I'm not sure why (probably the hormones are to blame again), but the sense of smell is very strong during pregnancy. I remember that when I was pregnant with my first daughter, I couldn't stand the smell of coffee. I even had to get rid of the coffee machine from the house. This time around, thankfully, it doesn't bother me, but my smell is even sharper. For example, I discovered a urinary infection in one of my older children, because the smell in the potty was different.
Concentration issues
I think that in those first few weeks, instead of a pregnancy test I should have taken a mental acuity test. I would put bread into the refrigerator instead of the breadbox, get lost on the way to a meeting spot I've been to countless times, or read a sentence and not understand at all what someone was trying to say (which was exceptionally frustrating, since my professional work involves the written word). And again, hormones are to blame.
So we appeal to our husbands — be understanding! You don't have to feel sorry for us. But do remember, we (and our bodies) don't always behave the way we would want to. For nine months our body is not exclusively our own, and it plays tricks on us. We do our best to deal with it, sometimes better and sometimes worse. Please just be patient and supportive — and remember, you're partly responsible!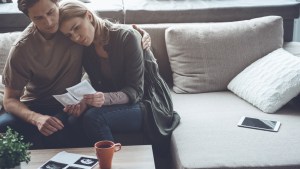 Read more:
Why we need to be grateful for the sorrows — and the joys — of pregnancy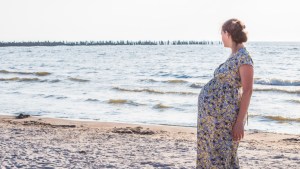 Read more:
6 Tips for surviving pregnancy in the heat of summer