A Catholic OBGYN reflects on pregnancy as a microcosm of our Christian life.
There is no happier field than obstetrics and gynecology. For the most part, pregnant couples are amazed at the great gift that God has given them. As a woman's body changes, she take on a glow that can only be described as the pure reflection of God's love. And the moment of birth itself — when the new mom first holds her baby, blue as a Smurf, who then takes his or her first breath and cries, magically turning pink in the process — is nothing short of a miracle.
Pregnancy in and of itself is a process of "mommy training." The developing pregnancy comes with the constant worries that will be the staple of motherhood. First, she hopes to hear a heartbeat. Then, she worries she will never feel her baby move. Then, will the baby be too big? Too small? And there's the invariable discomfort of the last few months leading up to her due date. Labor is a microcosm of the arrows that will pierce her heart during the child's life and is internalized just a few weeks after the birth.
Certainly, the process is the personification of the saying of St. Teresa or Avila: "Let nothing perturb you, nothing frighten you. All things pass. God does not change. Patience achieves everything."
Not all pregnancies end in bliss, of course. Some children are lost early in development, just when dreams of the new baby are beginning. Others create risks for the mother, for instance if the baby develops outside the uterus. The undercurrent of pregnancy is that there is no single time when it's completely "safe." Sometimes the cervix can't remain closed and opens without warning, or silent infection can cause early uterine contractions and rupture of membranes or early loss. Even when the baby is fully formed and the miracle of birth occurs, the celebration can be fleeting. About one in 2,000 live births end in the first months of life. This recently occurred with friends of ours, who welcomed a beautiful baby girl into their family, and then tragically found the baby had gone to God within about two weeks of birth. Their response, through their grief, is to rejoice for the time they had with her, and the hope that their entire family will see her again.
And what about the 1 in 7 couples who desperately wish to be parents, but are repeatably disappointed each month, putting pressure on each other, which is usually exponentially increased by friends and families expectations?
How do we go on after these things? Wasn't God's plan for us to be happy? Isn't a child the greatest example of the love between a man and woman blessed by God?
In pregnancy, as in all other times, God's ways are not our ways. Each marriage and each family is called to sacrifice just as Christ sacrificed for His bride, the Church. We need to continually thank God for everything: the good and the bad, for the health and sickness we experience. Each couple is called to seek God's will and to carry the crosses they are given with joy and patience. When they do, they will see the wonders that God has planned for each of us.
"Let nothing perturb you, nothing frighten you. All things pass. God does not change. Patience achieves everything."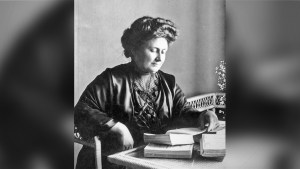 Read more:
How a Catholic doctor from Italy started a school that's become a sensation in the US