Photographer Rivka Singer started her project 'Looking Eyes' to honor children who are frequently overlooked or misunderstood.
When photographer Rivka Singer first met Grace at preschool picture day, Rivka experienced two life-changing firsts. Not only was it the first time she'd ever photographed a child with Down syndrome, but the very first time she ever met a child with Down syndrome.
la suite aprés cette publicité
The meeting would change Singer's life — and spark a photography project that has since touched and inspired those who follow Singer's work on Instagram and Facebook.
la suite aprés cette publicité
"Photographing Grace left quite an impression on my thoughts," Singer says. "Grace was sweet, gentle and engaging."
la suite aprés cette publicité
la suite aprés cette publicité
But it was something Grace's teacher said that really got the project going.
"Grace's teacher interacted with her during the shoot by saying, 'Grace, looking eyes.' Those words took root in my mind and the idea of my project 'Looking Eyes' started to develop," Singer says. "Using our eyes, we not only see the world, but find our place in it and connect to others. Just as Grace's teacher encouraged her to experience me photographing her, I thought, 'What a perfect title for a project meant to shine a spotlight on these beautiful humans.'"

la suite aprés cette publicité
Spreading joy, with a purpose
And that's exactly what the Looking Eyes project does. All of Singer's photographs have a richness and brightness to them that exude joy and compel us to smile along with the subjects. But in Project Looking Eyes, the brightness and richness play another role besides simply spreading joy: they spread the idea that children with Down syndrome are not less than or other. Nor are they better (more "angelic") — or worse. These children who happen to have Down syndrome are indeed "beautiful humans," as Singer says, who are as interesting and funny and mischievous and delightful as any kids.
la suite aprés cette publicité
Although not everyone has the same reaction to the project.
"The reactions I receive from those hearing about my project run the gamut from 'how inspiring!' to 'oh, those poor parents,'" says Singer.
Which she understands, because of the misconceptions surrounding children with Down syndrome.
la suite aprés cette publicité
"There are so many stigmas associated with children with disabilities, whether Down syndrome or other types," Singer explains. "I'm trying to show through imagery that all children have the same needs. Children need to be loved for who they are and more importantly, they need to be accepted for who they are. All children, whether disabled or not, want to laugh, be tickled, be silly and show-off the best parts of who they are. When a child is really seen, and feels understood, his or her eyes light-up with joy and their facial expression relaxes into soft smiles."
Personally, Singer says, the opportunity to photograph these kids has affected her greatly — as did hearing the stories of the families she worked with.
"I enjoyed getting to know each family whose children I photographed," Singer says. "Many have poured their hearts out with stories of trying medical issues, and numerous doctor and therapist visits. Other have talked about their choices for education and integration into the public school system. But despite the hardships, all of the families fiercely love and adore their little one, and express gratitude for the beautiful child in their family who reminds them every day that life is a blessing."
Ultimately, Singer says her hope for the project is "to inspire parents and teachers to help children see how beautiful the differences can be between individuals. To show our children that all children want to laugh, be silly, be loved, and be accepted for who they are."
"With so much hate in our world," Singer says, "it is our responsibility to teach our children acceptance. I showed my three children (ages two, five, six) all the images from my Looking Eyes project and asked what they thought of the images, of the kids, of the families they saw in the images. Surprisingly, they didn't see children that looked different than themselves, or had disabilities. They commented on the way a little boy was laughing; the way siblings squished each other when hugging, a girl's pretty eye color. They are still young enough to believe that all children are beautiful. It's my job as their mom to try and help them keep that wonderful innocence they still harbor at their young age."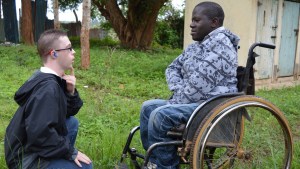 Read more:
Missionary with Down syndrome is just what these Kenyan children needed