Casey Barker loves helping the students in need.
Casey Barker is a lay missionary who works in a Kenyan school for the deaf. Is there anything particular about him? Yes, he has Down syndrome and an excellent attitude for every trial!
In Kitui, Kenya, the St. Michael School for the Deaf brings together the deaf and hearing impaired. In 2016, the school welcomed the Barker family: both parents and their 27-year-old son, Casey. The arrival of the trio was considered a blessing: the school was in need of an administrator for the diocesan hospital, and a speech therapist who specialized in sign language. The parents had the necessary profiles and Casey was an unexpected "bonus" — though he has Down syndrome, Casey teaches sign language at the school.
Diving into the unknown
When the Barker family left on mission, Casey admitted that he felt he didn't have the courage needed to leave his life in America. Of course, the decision to become "lay missionaries" was made as a family, but before flying to Kenya, Casey realized he was diving into the unknown. And, indeed, there was a shock upon arrival. The city of Kitui, where the Barker family moved, is located in a poor region and dry as a rock. It had not rained in months, despite it being the end of the rainy season.
Casey felt the distance of his beloved Georgia (he was born in Germany) but the Kenyans welcomed his family, saying, "Welcome to the Europeans!" Everything is different there, including the food, and Casey quickly lost a full pants size. His father, Rik, works as an assistant administrator in the countryside hospital of Mythale, in Kenya, helping the medical team to improve its management and its finances. Casey's mother, Diane, teaches sign language to children who board at St. Michael School. Casey quickly developed great affection for the students who have more difficult handicaps. He's been surprised by their welcome.  
"Really, I have the impression that they have not even understood that, me, too, I have a handicap," he laughs. Quickly they stopped saying "Welcome to the Europeans!" because they had quickly "adopted" him. Casey marveled, "When I am absent for one day, the children ask to see me!"
Casey, the big brother
The most severely disabled of the school children are both deaf and blind. "They are wonderful," says Casey. He finds games they can play, like the swing, and their progress is their reward. Casey makes a special point of taking the "new students" under his wing. For many of them, St. Michael School represents an unknown world, where they will be far away from their families for the first time. Some of them had been living as recluses at home.
"Handicapped children may be rejected or hidden," says Laure Droulers, head of the follow-up of volunteers in Africa, because in Kenya their illness is perceived as a curse. They are not used to living in society or being with dozens of children their age and so they seem shy.
This is the exact opposite of Casey, who impresses others by his sociability. Droulers says of him, "He is at ease and incredibly helpful. He is attentive that no one is missing anything."  
Now that Casey is completely adapted to his new life in Kenya, the St. Michael School is not only taking care of the needs of the children there, but — with Casey's assistance — helping them to make progress and work towards independence.
This story was originally published in the French edition ofAleteia and has been translated/adapted her for English speaking readers.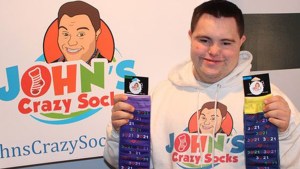 Read more:
Meet the entrepreneur with Down syndrome who created a million dollar company (VIDEO)