"Stress happens when we try to be our own God," says former 'Bachelor' contestant Britt Nilsson.
Three times as many people suffer from binge-eating disorder compared to those diagnosed with anorexia nervosa and bulimia nervosa, according to Healthline, and yet it's also the least discussed and possibly the least understood of any eating disorder.
Former Bachelor contestant Britt Nilsson is changing that, speaking up about her struggles with binge-eating disorder and bulimia and about how her Christian faith has helped her find hope and healing.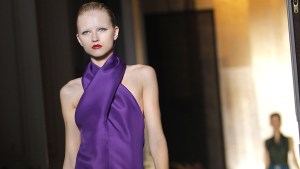 Read more:
This kind of model is now banned at two French fashion houses
In her video for PopSugar, Britt described her disorder as "wanting to eat everything in sight and being extremely satiated to the point of discomfort and being unable to stop."
Britt began bingeing at a young age, and she talks about the shame and the lies that this disorder created in her mind: "You're not enough, you're not worthy, you're disgusting." It was only after returning from filming The Bachelor that she confided in her family about her struggles. "That was really a turning point for me to feel like I was still a lovable human being who had value," she says.
Through the support of her family and her faith in Christ, Britt has learned to treat herself and especially her body with the dignity she deserves as a daughter of God. Her advice for those who suffer from the same conditions: surrender to God.
On her blog, Britt writes, "If I ever want to have a healthy day, I have to give it up to God, one moment at a time. Stress happens when we try to be our own God. When we try to fix in ourselves what only God can fix in us."
You can find out more in the video below: