Three popular food bloggers share their favorite healthier ways to satisfy cocoa cravings.
Chocolate. If your mouth waters at the sight of that delicious, sweet treat, then you'll be excited to learn that new research is discovering the healthy benefits of eating chocolate. And chocolate research is something we can all get behind! A newly published medical journal found that adults who snacked on chocolate one to three times a month were 10 to 20 percent less likely to suffer from atrial fibrillation (a condition that causes irregular heartbeats) than those who had chocolate once a month or less.
la suite aprés cette publicité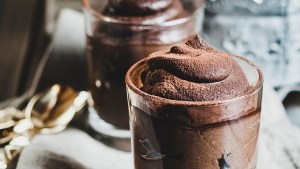 Read more:
3 French chocolate dessert recipes to continue the Easter joy
If you're looking to add chocolate to your diet (and who isn't?), dark chocolate contains the most healthy benefits compared to its milk chocolate counterpart. But just because small doses of chocolate can be good for us that doesn't mean we get to run out and buy all the Reese's Peanut Butter Cups our hearts desire. Here are three healthy recipes that help you incorporate a healthy does of chocolate into your life.
la suite aprés cette publicité
1. Chocolate Hazelnut Protein Waffles 
la suite aprés cette publicité
After her third pregnancy, food blogger Carolyn of All Day I Dream of Food was diagnosed with gestational diabetes. She didn't let diabetes take away her love of baking and cooking though, and today she runs a blog that transforms her former high-carb recipes into low-carb, sweet, gluten-free treats.
la suite aprés cette publicité
"These waffles are a great healthy start to any breakfast, and my kids loved them in slices to dip into their syrup," Carolyn writes. "I originally made them just as chocolate waffles but thought that they'd be even better with the addition of hazelnut!" Sweet chocolate for breakfast? With these healthy waffles, the answer is yes!
2. Banana and Chocolate Chia Cream Pie Parfaits
Tieghan is the food blogger behind Half Baked Harvest — which was the Reader's Choice Favorite Food Blog by Better Homes and Gardens both in 2014 and 2016. Her banana and chocolate chia cream pie parfaits pack an incredibly healthy punch. "These parfaits are literally what banana cream pie dreams are made of. Light, soft, fluffy, chocolatey perfection," Tieghan writes. "And then bonus – they're healthy too! Actually, they're more than healthy, they're like super food status healthy. Chia seeds, bananas, buckwheat, cacao, dark chocolate, oats and nut/coconut milk."
la suite aprés cette publicité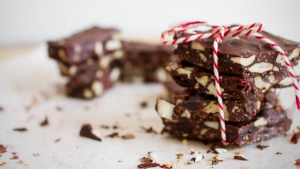 Read more:
How to make sure you're buying the healthiest kind of chocolate
You don't even need to add sugar, thanks to the natural sweetness of the banana and honey. Want to explore other natural flavors? Tieghan recommends topping the parfaits with dried roses!
la suite aprés cette publicité
3. Avocado and Banana Chocolate Pudding 
Still wondering if chocolate can be healthy? The proof is in the pudding … this avocado and banana chocolate pudding, that is! With a short and sweet six-ingredient shopping list, this simple pudding mixes the rich flavors of bananas, avocados and cocoa powder in a surprisingly delicious combination!
In addition to the health benefits that the cocoa powder brings to the dish, avocados are incredibly nutritious and contain over 20 different vitamins and minerals. If you prefer your pudding a little sweeter, simply let the bananas and avocados ripen before making this delicious dessert.
la suite aprés cette publicité