What is a "maternal instinct?" Is it possible for a woman not to have one? A pediatrician weighs in.
"Listening to your maternal instincts is the best way to love and raise your children," says Edwige Antier, mother, renowned pediatrician, and author of Éloge des mères (In Praise of Mothers). As Christmas approaches, here is an invitation to meditate on your maternal instinct and the gift of life.
You meet mothers all the time in your clinic. What made you want to sing their praises?
Edwige Antier: Maternity today is suffering from a real malaise. In a society very much marked by psychoanalysis, radical feminism etc., it is fashionable to criticize mothers for how they raise their children. Maternal instinct? It can't exist, it would risk slowing down the empowerment of women. Grandmothers? They only give outdated advice and should stay out of the limelight. This perspective is so pervasive that in my practice I see women who are completely lost. They feel criticized from the very start, from their very first impulses towards their baby, so they learn not to listen to their inner voice.
The mother is the only true specialist of her child, as pediatrician Donald W. Winnicott has said and we should believe him. Better than anyone else a mother knows and feels what is best for her child. My goal is to show her that she knows best, that she is unique and indispensable because she has that "extra" when it comes to her baby that professionals don't have. This "extra" is the maternal instinct, and we need to restore the status it deserves.
The maternal instinct, what exactly is it?
You get hungry, you eat. Eating is an instinct, an innate behavior that our survival depends on. In the same way, the maternal instinct is that impulse that pushes the mother to act for her baby without thinking: it is part of the essence of a woman.
The work of biologists and neuroscientists proves the existence of maternal instinct. Research has shown that the hormone oxytocin, present only in mammals, is the hormone of maternal instinct: by their hormonal and genetic nature, women are born maternal.
The woman who gives birth to a child is overwhelmed by a veritable hormonal and emotional storm. Instinctively, she listens to the needs of her infant: she is in such fusion with the baby that she can sense if he is hungry, in pain, or needs to be in her arms. She enters into an instinctive communication with the baby which, in the United States, is called "baby talk" — that special chirping that isolates a mother and her baby in a kind of bubble.
Does this bubble leave room for others, especially the father?
In the womb, the baby was rolled up, contained. When it is born, it "unrolls," and this sudden opening is unpleasant. Instinctively, the mother picks him or her up, holds them against her and recreates the vessel it needs. For the mother, nothing matters anymore except her baby. This state of retrogression surprises and sometimes irritates those around her, but it is necessary.
Gradually, depending on the case, this bubble will open, but the child needs this security of their mother's arms, a coherent, secure framework, through which they can discover the world. The father, for his part, has a sublime role to play: he is the protective vessel for the mother who is the vessel for the baby! Much better than a maternal clone, he is the one who protects his companion from anything that could harm her peace of mind with her child. She needs to let her instinctive interaction be the guide, and for the first few months, her bond with her little one is her only concern. This is normal. And far from being jealous, the young dad will be proud to form a complementary shell protecting the duo. He should also think about valuing his wife's femininity, not just her motherhood. With small gifts or tender compliments, he will restore his wife's femininity.
For you, the maternal instinct is obvious. It might make women who do not sense a maternal instinct in themselves feel guilty.
It's true, some women don't feel any pull towards their child. Motherhood seems strange and frightening to them. They first need to find themselves, their body, and get to know their baby before adapting to it. These mothers can rest assured: while there may be a small delay at birth, a mother with no maternal instinct is very rare. To be maternal is simply to be attentive to its needs.
Observe yourself, question your past: the instinctive part is always hidden by psychological antecedents. A mother who is not very maternal may discover the roots in family difficulties or certain childhood wounds, which sometimes prevent the maternal instinct from blossoming. Let's not forget that childbirth sends the young woman back to what she herself received from her own mother. Her own childhood and adolescent wounds resurface, sometimes intensely, in the storm of motherhood.
Today's young women have been subjected to a whole generation of psychology that encourages harsh judgment of mothers. My long experience as a pediatrician has made me feel how vital it is to repair the bond between the young mother and her own mother, as much for her as for her baby!
Do you mean that in order to raise your child well you have to get along well with your own mother?
A woman who is at odds with her own mother is at greater risk for postpartum depression. As for the baby, he or she risks reproducing this rupture while growing up, with the ravages that this type of conflict can cause in adolescence. The child benefits from a bond with his or her grandparents.
I disagree with current trends, and believe that we must re-establish the veneration of the mother who gave birth to us. It's okay to criticize if necessary, but how many failures would we avoid by restoring respect for the one who gave us life?
What should be changed so that society, institutions, and professionals look sympathetically on the adventure of motherhood?
I was lucky enough to live for many years in Vietnam and then in New Caledonia, where I experienced maternal styles of nurturing. What a contrast between thenatural and instinctive behavior of mothers in these countries and the rigidity of our Western ideas!
I am appalled by our distancing culture which creates substitutes for the maternal presence — even strollers and play pens can do this. In many other countries, mothers carry their babies everywhere and rock them with their reassuring presence, which creates autonomous and secure children. Of course, we cannot directly transpose these habits to our lives, but we should learn to respect maternal sensibilities. We should not look down on women who choose to stay at home to raise their children "without a real job." We must encourage the right to free choice of working hours so that mothers who wish to reconcile baby care and a profession can do so.
Any final words of advice for young mothers?
To all new mothers, I would recommend collecting mementos: the noodle necklace and the cut-outs brought back from school, the artwork and the kindergarten crafts. Time goes by so fast! Collect all these witnesses to childhood and fully live those moments that pass all too quickly.
But my dearest wish is for mothers and daughters to be at peace. For the young mothers who are going through a break-up with their mother, don't forget to call her for her birthday. Know that even the older mom and grandmother has instincts about her daughter and these maternal instincts stay with us for the rest of our lives. Be reconciled and maintain intergenerational understanding and respect at all costs. And don't forget, motherhood is the most beautiful and greatest adventure of life!
Pascale Albier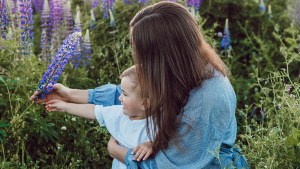 Read more:
This monastic approach can transform your motherhood