Whether you call it a prayer table, icon corner, home altar, or little oratory, here's how (and why!) to set aside a sacred space in your home.
When I was in college, I witnessed a beautiful expression of family faith that has stayed with me all these years.
I was visiting a friend's family in rural Massachusetts and saw a little oratory, a small shelf with religious images and a candle. Lest you imagine something ornate, know that their home was modest and this shelf took up very little space on a wall in the dining room.
Plenty of families have religious images on their walls, but what made this one memorable was how they used it. The family members paused at the spot almost every time they entered or left home, taking a moment to pray and say hello or goodbye to God. 
As a rather flighty teenager, I was surprised and moved to see this expression of faith and devotion from young people my own age. More than a decade later, it inspired me to set up a little oratory in my own home.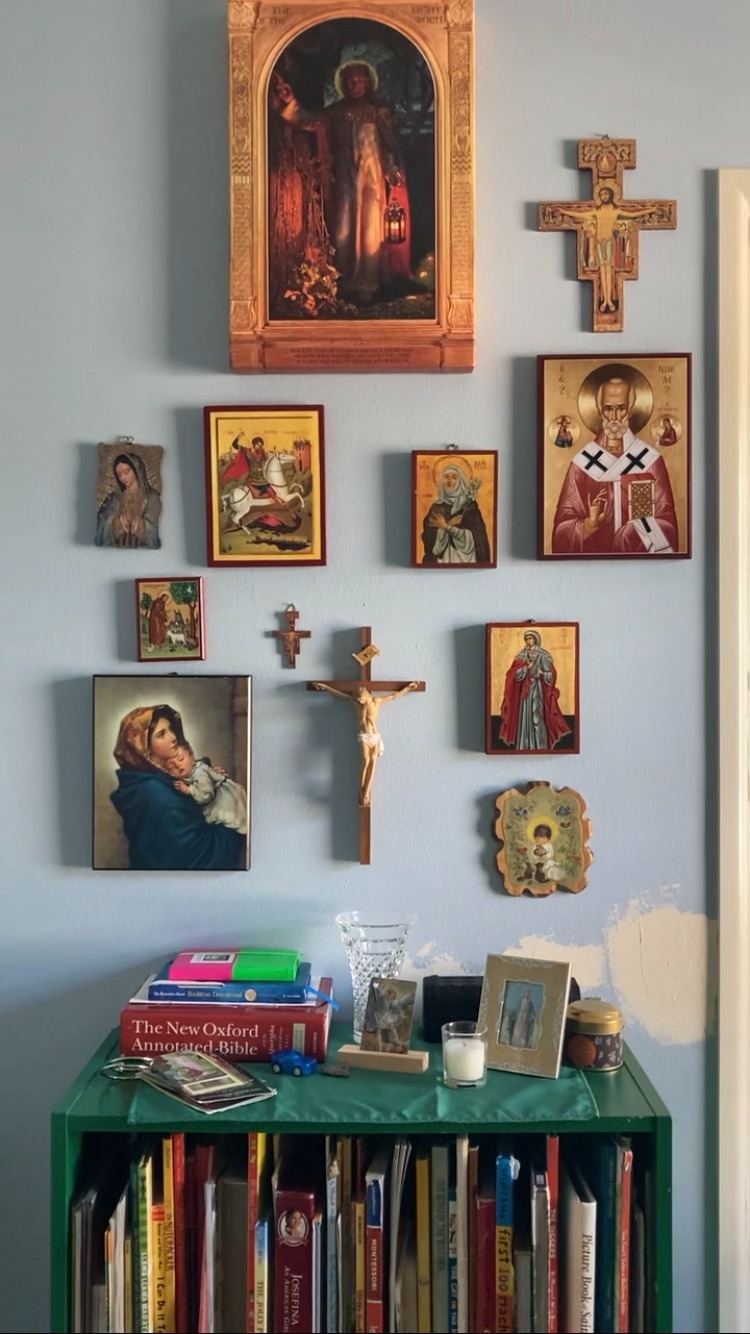 Courtesy of Theresa Barber
What is a little oratory?
Also known as a prayer table, icon corner, home altar, and by other names, a little oratory is simply a sacred space set aside in your home. There is a helpful book called The Little Oratory: A Beginner's Guide to Praying in the Home, as well as many suggestions online for setting up such a space. 
But it needn't be complicated. All you need is a candle and religious image. You can enthone your Bible in a place of honor if you choose, and a cloth underneath is a lovely addition, but these things can be added gradually. 
The little oratory becomes a beautiful focal point for family prayer, a place to gather together or pause on one's own to connect with God.
I love gathering my children to pray and sing hymns at our prayer table, and they like to bring flowers from the yard or draw pictures to place at the home altar. They draw pictures of the Holy Family, scenes from the Bible, and other beautiful little things to give to God.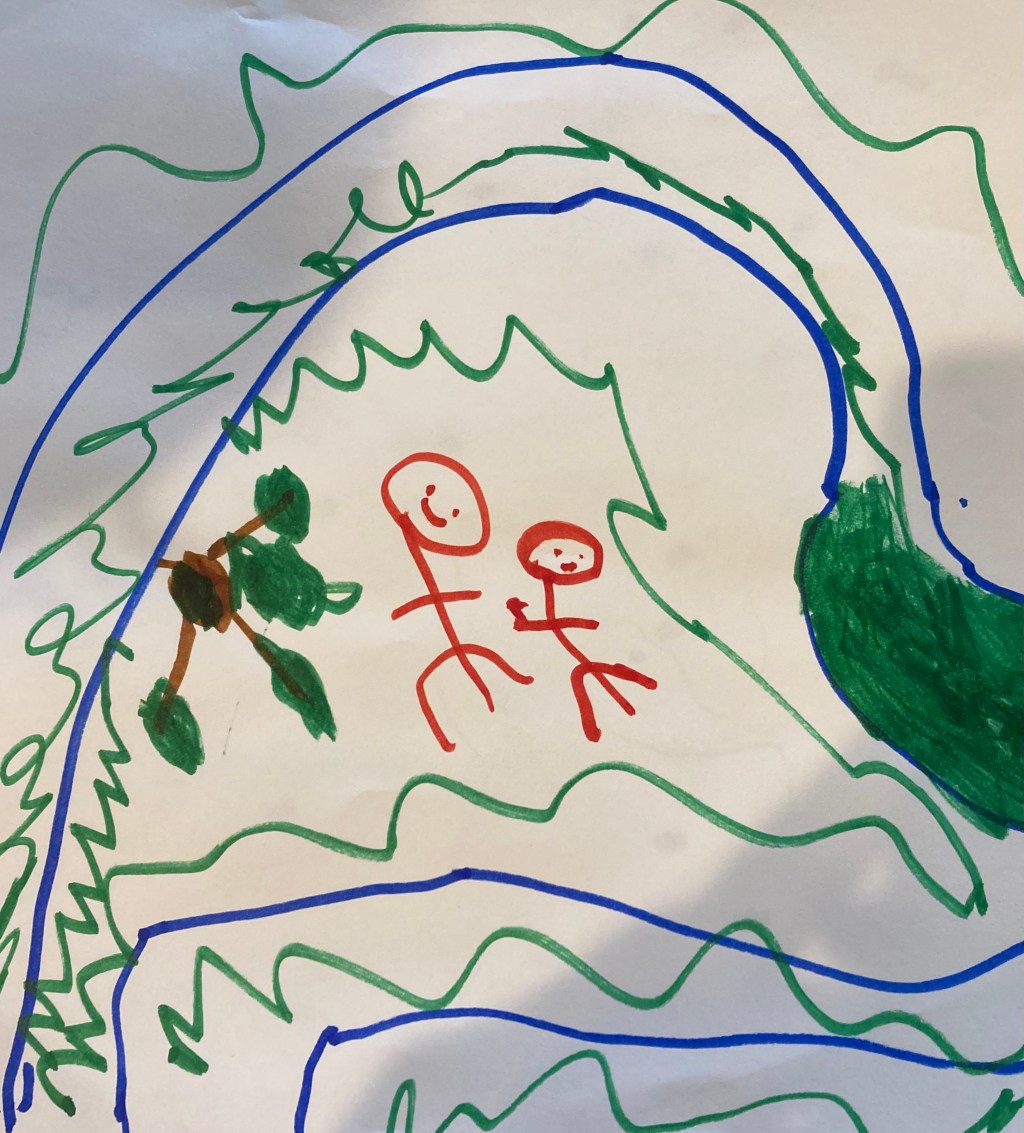 Courtesy of Theresa Barber
I also find it enriching to take time to pray there myself: Having the space set aside helps me remember to pause for prayer.
The icon corner tradition 
The tradition of having an icon wall or corner somewhere in the home is especially popular among Eastern Catholics. I reached out to my friend Reba, who attends a Byzantine Catholic church, to learn more about the tradition and how her family uses their icon corner.
Her church has many icons, so she said, "An icon corner seemed like one very simple and very visible way to bring what we do at church into our home." The practice is very much encouraged by her parish priest and various Eastern Catholic podcasts, prayer books, and magazines.
The tradition is so popular, in fact, that many Eastern Catholics are given icons of Jesus and Mary at their wedding. "These will serve as the foundation of the home icon corner," she said.
How does her family use their icon corner? "We use our icon corner for both praying and learning. We usually say our family prayers near the icons, and we include icons for current feasts and use them to talk about and teach our kids about the feasts."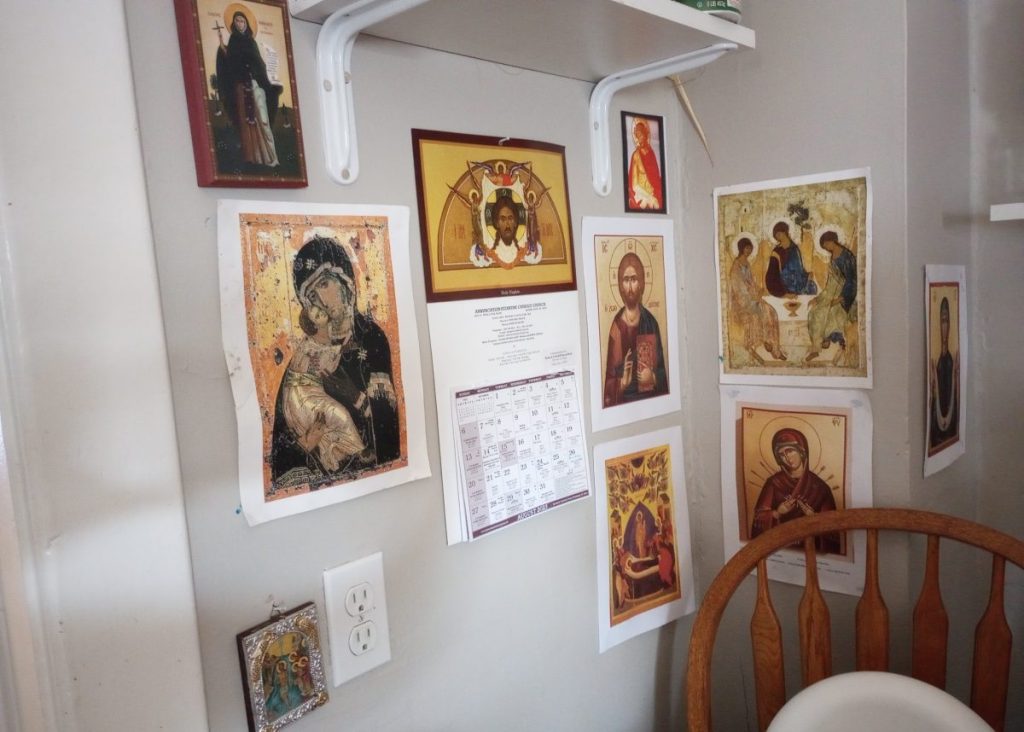 Courtesy of Reba Lyon
She finds that the icon corner helps her family connect their time in church with home life. 
"Our family sees many of the same icons in our icon corner that they see in church," she said. "The kids will often venerate the icons just as they do at Liturgy, even outside of family prayer time." Her family has a small censer that they use during prayer, and the incense also helps her young children connect their family prayers to their time at church.
You don't need a lot of space
Reba encouraged other parents to create their own prayer space even if space is limited, saying:
An icon corner or home altar does not need to be big or elaborate! Our home is on the smaller side, and our kitchen table serves as the eating space, craft space, schooling space, and prayer space. Our icon corner is on the wall next to the table, and many of our icons were cut from our church bulletins or printed from the computer. Having our prayer space always ready to go has definitely been a blessing to our family.