Joy is missionary, Pope Francis tells young people who braved a hot pilgrimage to arrive to WYD Vigil.
The World Youth Day vigil on Saturday brought an estimated 1.5 million young people to Tagus Park, near Lisbon, Portugal. After a scorchingly hot but festive day, the young people joined Pope Francis in Eucharistic Adoration, which, for some, crystallized a return to the Catholic faith.
At around 8:30 pm, Pope Francis arrived to the boiling-hot park, the "Grace Camp," approximately 13 kilometers (8 miles) from the center of Lisbon. After walking in the sweltering heat and settling in the fenced spaces set up to organize the various groups present, the young people listened as Pope Francis urged them to bring "their joy to others," because joy is "missionary" and cannot remain enclosed within oneself.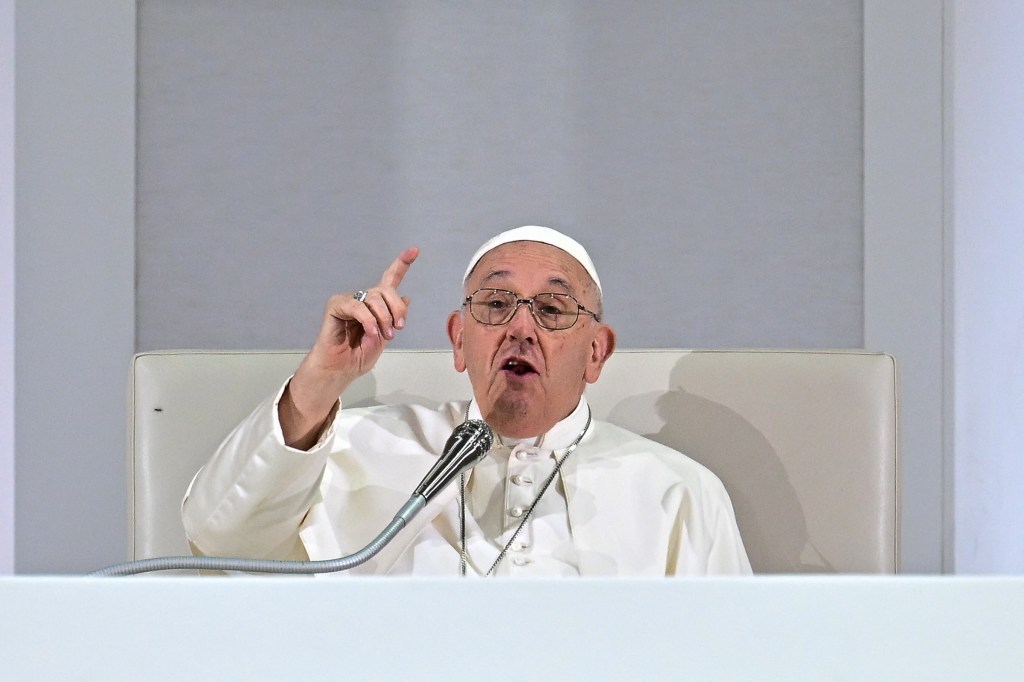 Marco BERTORELLO / AFP
In a short meditation, largely improvised in Spanish, Pope Francis stressed in particular that "Jesus' love is the only free thing that exists in life," inviting us to let ourselves be guided by Jesus on our journey. "Whoever gives up and stops walking, falls," warned the Pontiff.
The vigil was also marked by dancing and singing, and a choreography with drones, which spelled out "Rise Up" in the sky, before Eucharistic adoration got underway.
Alberto, a Korean seminarian who will become a deacon next year, experienced the vigil with "a burning heart."
"The youth came here saying that God is here, and that He is calling us," he said. At a time when the number of believers is dwindling in some places, "this can give us the strength to keep going on, and to follow the way that Jesus walked."
The "key event" of WYD
For Tobias, a 36-year-old volunteer from Zimbabwe, "the vigil is the key event, because this is where we get our messages to take home with us, for what we need to do spiritually." He considers that the Catholic Church is going through a change that should take the form of a "pilgrimage" made by young people. The Pope's presence "is a blessing for us, and it gives us life," whereas "many of us think that we have no future." 
For Aleksandra, 26, from Poland, WYD reaches its peak "this evening, because all the young people are in one place under the sky, under the sunset. The adoration is very nice." She explained that she already experienced WYD in 2016 when it was held in Krakow in her country. "It is customary to come here and sleep outside, but it's a good thing for young people, when we have the internet all the time, a comfortable life in our homes, this is a good experience," she admits.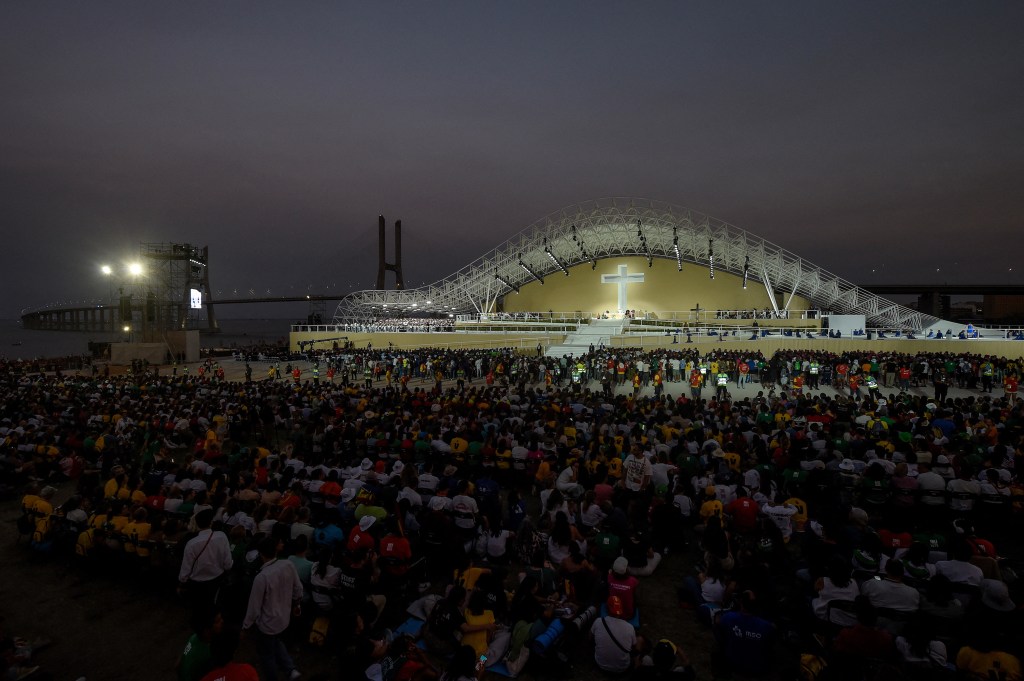 MIGUEL RIOPA | AFP
Rodney Coco, a journalist who came from Mauritius to accompany a group of 180 young people from his diocese, notes that the number of young people present on the Grace Camp corresponds to the entire population of his country. "I'm moved and stimulated by this atmosphere, especially with the pilgrimage dimension that led the young people to walk to this place to meet Christ. I find it very beautiful to see all these committed young people who dare to come here; it's the hope of the Church," says the young man in his 30s, who is experiencing his first WYD.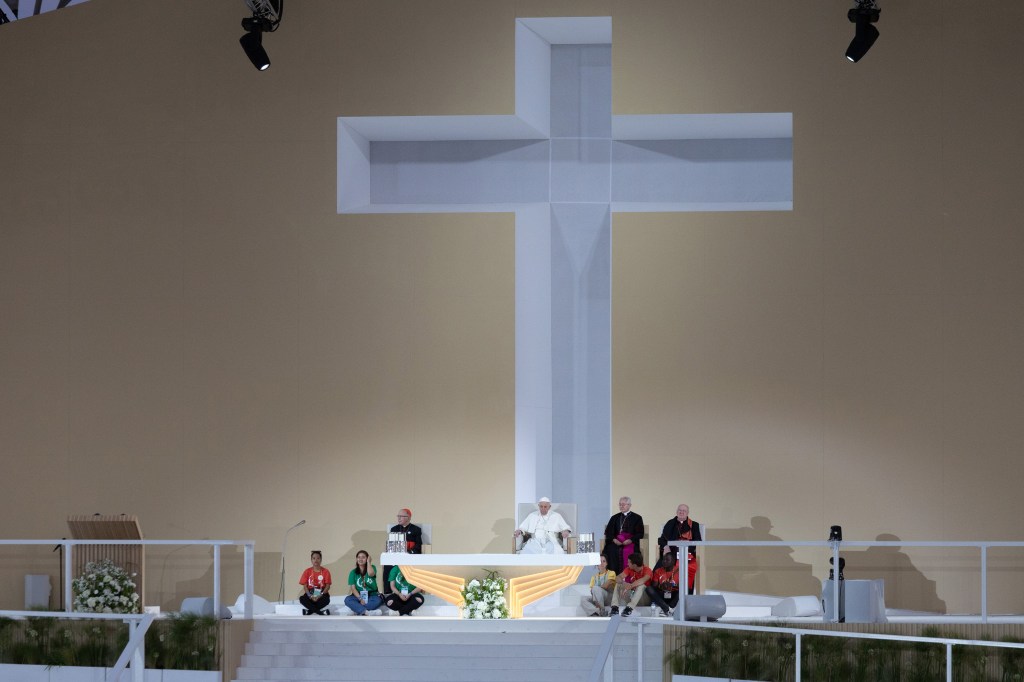 © Júlia Silva | JMJ Lisboa 2023
"We want to show the Pope that he can count on us" 
Ségolène, a young Frenchwoman who came with the Fratello Association, which cares in particular for people with mental disabilities, was moved at having taken part in the vigil. "It has a magnificent meaning, because all the world's youth are gathered together. We can see that the Church is young, beautiful, and dynamic. We, the young people, want to show the Pope that we are here and that he can count on us," the young woman affirms. As well, she explains how she hopes to promote the cause of canonization of Polish priest Jerzy Popieluszko to the Pope and other young people, in order to ask for his "intercession for Europe."
For Kelly, from Switzerland, this vigil marks a new beginning in her faith. "Three years ago, I was angry with the Lord because of certain events in my life. I said to the Lord: 'You're not a father if you make me suffer like this.' But this year, during Lent, something clicked and I said to God: 'Let's try to trust each other again.'"
She decided to come to WYD after being contacted by the Fratello Association. This care assistant is accompanying three young agoraphobics, who were following the vigil from their accommodation in Lisbon. However, by personally taking part in this gathering, Kelly is reconnecting with her faith, in this open space overlooking the vast Tagus River, which flows towards the Atlantic Ocean. "It's as if after crossing the ocean, the waves calm down and I can see the port again, and the end of the galleys. It's like coming home after a long, long journey," she confides.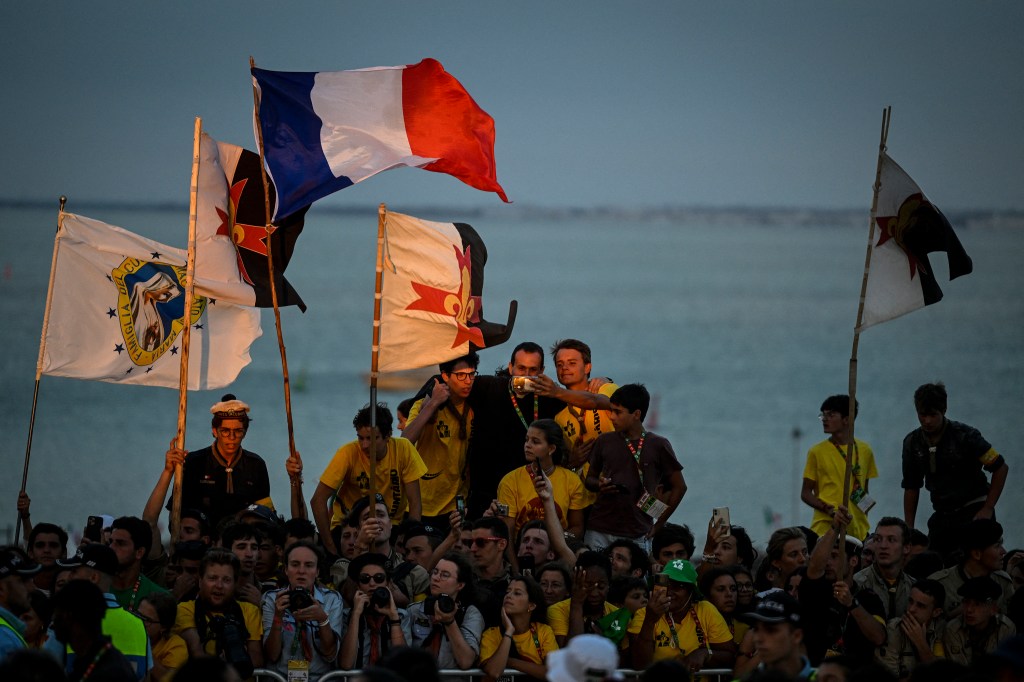 PATRICIA DE MELO MOREIRA | AFP
The Pope invited the vast crowd to remember those who "have been a ray of light" in their lives, and to become "roots of joy" themselves.
The Pope urged the young people to lift up those who have fallen: "The only time it's licit to look down on someone is to help them up," insisted the 266th Pope.
PSG / ALETEIA
See more images here: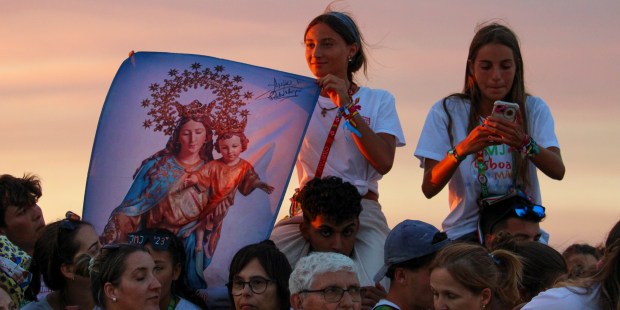 Launch the slideshow