St. Benedict's offhand comment in his Rule brought a solution to my biggest problem with working from home.
So much has been written for and against working from home. Some people love the space and time they find in working from home, while others feel much more productive and fulfilled going into an office. 
Funnily enough, my husband and I are on opposite sides of this question. He finds it hard to concentrate on work at home, partly because of our four kids. Meanwhile I relish the flexibility and freedom of working from home, also because of our four kids! The upshot is that he mostly works in his Chicago office while I mostly work from our home office.
In my years of working remotely, however, I have never seen anyone address my biggest complaint about it. In fact, I've never even seen this problem given a name.
Let me try to describe it for you and you see if you know what I'm talking about. 
End of day disconnection
When I spend an entire day working on my computer, perhaps six or seven hours straight of looking at a screen with only short breaks and no coworkers around, I don't feel at home in my body when I finish work for the day and close the computer. My brain feels vaguely disoriented and disconnected from physical reality. It almost feels like my mind and body aren't working in sync.
Does this sound familiar to you at all? It's an unsettling feeling, and I know not everyone experiences it. My husband says he doesn't, and he works long days on a computer much more often than I do. I almost wonder if this sensation may be linked to having ADHD, as neurodivergent people often struggle with proprioception and feeling fully present in their bodies. 
I can't stand this feeling, to be honest with you, and it always takes a little while to wear off when I end work. It's one of many reasons I'm glad my primary vocation doesn't involve being on a computer, and it's the reason I usually outline my writing with pen and paper so I can spend less time on a screen.
The Rule of St. Benedict
The best remedy I've found for this disconnected feeling was inspired by a quotation from the Rule of St. Benedict. His Rule is a carefully considered outline for living a meaningful and good life. There's a lot to learn from it, even if we aren't monks! 
St. Benedict wrote, "When they live by the labor of their hands, as our fathers and the apostles did, then they are really monks."

Bodleian Library, Oxford University
To work with one's hands was essential to the monastic vocation, in St. Benedict's view. He doesn't say exactly why. Other authors have theorized that this statement is meant to encourage humility, service, and working with intention and prayer. 
But to me, this statement brought a solution to my disconnection after working only with my mind. Working with our hands is a special opportunity for contemplation and prayer, in a way that's just not possible with computer work.
Diving into physical work
So now I try to start doingsome kind of physical work right away when I log off for the day. Cooking dinner, washing dishes, kneading dough, exercising, taking my kids out for a walk … Anything hands-on seems to work, and the more sensory input the better. A little time working with my hands always puts me to rights.
When I'm working on a screen, although I might offer up my time of work to God, I'm not able to deeply pray through the work: Instead, the various online tasks can feel like a game of whack-a-mole, leaving little room for contemplation. But hands-on physical work seems to calm and quiet my mind, opening up room in my soul for conversation with God. 
Perhaps this feeling of physical work calming the mind is also specific to those of us with ADHD. But I can't help but think that someone else out there might know the feeling.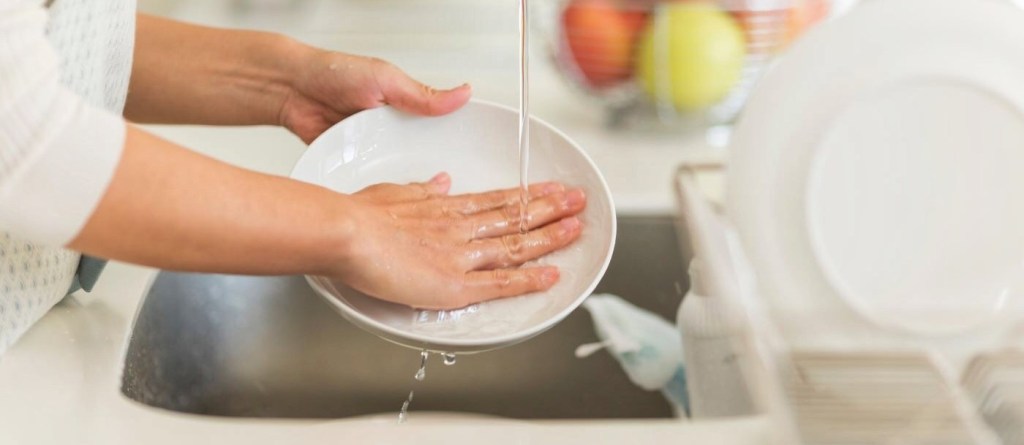 sukiyaki | Shutterstock
As I celebrate the feast of St. Benedict, I'm taking a moment to be grateful for the lesson he taught me with this one simple sentence. 
The daily physical work I do to maintain my home and care for my children can be an occasion of prayer, bringing inner and outer peace. In fact, these periods of "labor of the hands" can bring a feeling of the monastic life of contemplation. 
Whether we work from home or in an office, we can all find ways to be present in our bodies through physical work at some point in our day. And these periods of hands-on work can be a chance to think, to pray, to contemplate, and simply to be at peace in the presence of God.