'Sound of Freedom' movie, which opens on Independence Day, explores the underworld of sex trafficking.
The subject of a new movie starring Jim Caviezel and Eduardo Verastegui has been hailed by some as a courageous warrior against a massive and powerful international child sex-trafficking industry and criticized by others as someone who goes about his business in a less than professional way but exaggerates the results for fundraising purposes.
But Caviezel and Verastegui, in an interview with Aleteia, defended Tim Ballard [photo above], whose life is depicted in Sound of Freedom, a feature-length film that opens July 4.
Ballard founded Operation Underground Railroad, a modern-day abolitionist movement that seeks to raise awareness of juvenile sex slavery and mounts international missions, in Caviezel's words, to "take down these really bad, bad guys and to save these trafficked children."
"He essentially meets this little boy, and the boy says, 'Will you save my sister?' and he talks to his wife and sells everything to go down and find this little girl," Caviezel said in a Zoom session, describing the film's story line. "And I thought there were a lot of biblical things in that, you know, God talking about the Kingdom of Heaven is like a pearl. And Tim really understood that. And a pearl that you would sell everything on this earth, all your wealth, everything, for that one pearl that would be like the Kingdom of Heaven. So it deeply moved me when I read" the script.
Verastegui, who produced the film and plays a minor role, said he met Ballard eight years ago and recalled being "in shock" to learn about the trafficking industry. He was also saddened to learn that his native country, Mexico, is the "number one provider" of children trafficked for sex – the U.S. being the number one consumer.
"I couldn't sleep," said Verastegui, who has starred in films such as Bella and For Greater Glory. "And [Ballard] saw my face, and he told me, 'This is very sad, but it would be more sad now that you know if you do nothing. So what are you going to do?'"
Verastegui said he felt called to use his cinematic talents to help bring attention to the issue to a wider public. He introduced Ballard to Alejandro Monteverde, who ended up writing and directing the film. He said that Ballard specifically expressed the desire to have Caviezel, who starred in Mel Gibson's Passion of the Christ, portray him. 
Scrutiny
Ballard became aware of child sex trafficking when he worked for the U.S. Department of Homeland Security. According to his bio on the OUR website, he and a team of former government operatives founded the organization in 2013.
Not only has Ballard faced opposition from traffickers, but he also has undergone media scrutiny. Specifically, VICE World News found that OUR had a demonstrable pattern of exaggeration in some of the stories the organization has told about its domestic rescue work. In one case, OUR strongly implied that it had participated in the rescue of a trafficking survivor it called "Liliana," who in fact escaped her traffickers on her own.
Some people who have worked with OUR said the Utah-based organization doesn't have the trained personnel it claims to have – and should have – for rescue operations. They also suggested that in its determination to find underage victims to liberate, it might be making matters worse: As undercover agents flash wads of money in bars and other places, traffickers are motivated to go out and find more children to capture and sell. 
Aleteia has reached out to OUR for a response.
In defense
In Ballard's defense, Verastegui calls him "a man of God" who lives simply and has "a beautiful heart."
"And he is willing to sacrifice his life, his family, his children to save one child," the Mexican actor said. "This guy has rescued thousands of children but he told me, 'I'm not the solution. I can be the solution for one kid, for 2,000. But we're talking about millions of children. This is too big. Only by coming together and starting a movement, then the audience, then the world can put pressure on government.'"
And yet Caviezel suggests that government itself is involved in trafficking, which might present an obstacle for that "pressure" from the film's audience. Noting that child sex trafficking is a $152 billion a year industry, Caviezel said that "anybody with that kind of business has to have help from the highest levels. We're talking about all the three-letter agencies are involved."
Adrenochrome
Caviezel also believes that there is more involved in the lucrative business than simply satisfying the lust of customers. On several occasions, and in this interview, he has spoken about another byproduct – adrenochrome. Wikipedia defines adrenochrome as a chemical compound produced by the oxidation of adrenaline. According to the QAnon conspiracy theory, some children who are kidnapped are tortured to death in order to extract their adrenochrome, which is sold to people who want to use it as an elixir of life.
In a speech in 2021, Caviezel explained that "when you are scared, you produce adrenaline," according to a report at Vice World News. 
"If a child knows he's going to die, his body will secrete this adrenaline," he said. "It's the worst horror I've seen. It's screaming alone. Even if I never, ever, ever saw it, it's beyond. And these people that do it, there will be no mercy for them."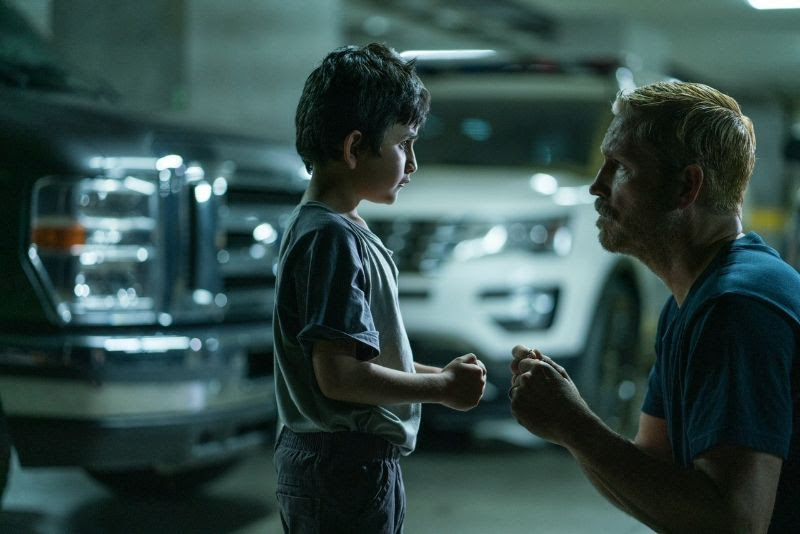 Courtesy of Angel Studios
"I sit down with these agents, and they take me down places Tim didn't even show …" Caviezel said in his interview with Aleteia. "I started finding out about organ harvesting from children through Tim Ballard but the other guys that I was working with were taking me down the chemical. It's like a cow. You don't waste anything from a cow. You take the liver, you take whatever. But they're doing this to children. My God! And so you've got something worse than Auschwitz going on to our children that — and it doesn't matter: they're doing the Jewish children, Muslim children, Black children, white children, Catholic children, all of our children."
OUR has tried to distance itself from such theories. In response to a request for comment from Vice World News, a spokesperson for the organization wrote, "Operation Underground Railroad does not condone child trafficking conspiracy theories, such as the harvesting of adrenochrome, nor is the organization affiliated with any conspiracy theory groups, including QAnon. OUR has clearly stated that the effort to knock out child exploitation and human trafficking is being harmed [by] a number of conspiracy theory groups who have chosen to latch onto child exploitation and human trafficking and used a variety of conspiracy theories as a vehicle to deceptively bolster their causes." 
Another spokesperson speaking to Vice denied that Ballard had ever explained the process of adrenochrome harvesting to Caviezel.
Persecuted for speaking truth
Responding to the reports of media and legal scrutiny leveled against Ballard and OUR, Verastegui offered his own explanations.
"One day when the film was finished, and I showed it to Tim for the first time, he said, 'Eduardo, I never told you this: We're fighting against an industry that produces a lot of money, a lot of profit – more than $150 billion.' Like any other company, they use 5%, 10% of that profit for marketing, right? 'So I have a lot of enemies. Now I share them with you. Are you ready?'" Verastegui recounted.
"When I started this tour in Mexico, where I wanted to show the movie to 32 states in Mexico … I thought this was going to be very simple – just show the movie to the governors of each state, invite all the leaders of this state and then sign an agreement of the commitment to end child trafficking in that state," Verastegui said. "When I started at the first state, when I signed that agreement, the next day it was a massive, massive persecution in the media. I got threatened. I mean every day, in different shows talking really horrible things about my family, myself – every day."
Caviezel said he knew of one individual who worked with Ballard who "actually was a fraud, and Tim outed him, and he was let go." 
"And so, let's say that happens," Caviezel said. "All right then, now the organization is bad," he questioned. "Now let me ask you this: There was a priest who's involved in trafficking. He's a Roman Catholic priest, and so now all Roman Catholic priests are traffickers, right?"
"I spent many, many hours with this man personally," Caviezel said of Ballard. "I went through gun training with him. I went through close quarter combat training with them."
He didn't have a chance to explain what he discovered about Ballard from those experiences, as a scheduler said another media outlet was waiting to interview the pair. 
Verastegui said he's been with Ballard on rescue missions, "that he sacrificed his life to go to places where I don't know if you will have the courage to go."
"He's not perfect, just like you," Verastegui continued, "neither you are or neither me or Jim. But I know he's trying his best to end child trafficking, and that's all I need to see and hear, you know, and that's what motivated me to do this film."