Blessed Ramon Llull's notion of intelligence differs from modern AI in several significant ways. But also predates it somehow.
The term "artificial," at least in the context of artificial intelligence (AI), is used to distinguish it from "natural" intelligence. Natural intelligence (again, within this context) refers instead to the cognitive capabilities of living beings – humans and animals, but especially humans. The word "artificial" means that AI does not occur naturally: AI systems are designed, developed, and programmed by humans to perform tasks that would typically require human intelligence, such as problem-solving, decision-making, learning, and understanding natural language.
Now, in order to understand what makes artificial intelligence artificial, it is worth exploring the perspective of Blessed Ramon Llull, a medieval philosopher, missionary, logician, theologian, and mystic who lived in the 13th century and belonged to the Franciscan Third Order – in fact, he is buried in the Convent of St. Francis in his hometown in Palma de Mallorca. His notion of intelligence differs from modern AI in several significant ways – but also somehow predates it.
Llull's understanding of intelligence was rooted in a philosophical and theological framework mainly inspired by the Franciscans Roger Bacon and St. Bonaventure. He proposed a system known as the Ars Magna Generalis. It aimed to produce knowledge through a combinatory logic process. Interestingly, combinatory logic is indeed used as a simplified model of computation in computability theory, proof theory, and (surprisingly enough) computer science ­– thus making Llull a computer scientist avant la lettre. According to Llull, the process involved combining concepts in a structured manner in order to produce new insights and discover truth. He believed that by systematically rearranging these elements, one could discover scientific universal truths – and spiritual insight.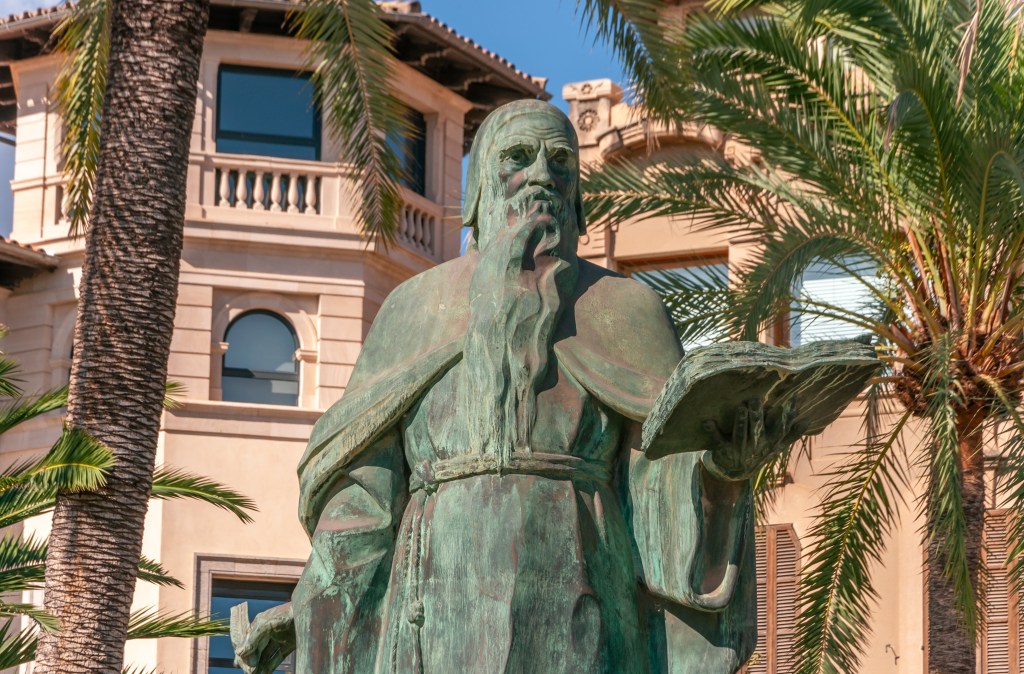 Shutterstock
While Llull's approach to generating knowledge might share some similarities with modern AI, it is essential to note the distinctions. To begin with, Llull's system relied on human intellect and intuition as the driving force behind the combinatory process. Llull's notion of intelligence was deeply intertwined with human consciousness – even more so, with the human's spirit thirst for knowledge and truth. It was an organic, human-centered approach to knowledge acquisition and not necessarily task-oriented. In a nutshell, what Llull is after is not some basic problem-solving formula. It is something way deeper and, thus, way more human: a basic need for truth.   
In contrast, artificial intelligence today refers to the development of computational systems that can simulate and automate some aspects of human intelligence. It focuses on creating algorithms, models, and architectures that enable machines to perform tasks traditionally associated with human intellect – when this intellect is applied to very specific duties, that is. The emphasis is on developing algorithms that can process and analyze large amounts of data, learn from experience, and make decisions or predictions based on patterns and statistical inferences.
Unlike Llull's notion of intelligence, AI cannot include spiritual or metaphysical aspects in its processes. It just emphasizes mathematical and computational principles to model and replicate human-like cognitive processes – yet only those that are based on processing data. AI systems utilize algorithms, statistical techniques, and machine learning processes to recognize patterns, extract information, and make informed decisions. It cannot embark itself on the all too human,"natural" quest for truth.
In summary, the term "artificial" in artificial intelligence serves to highlight the man-made nature of AI systems, distinguishing them from the kind of natural intelligence exhibited by living beings, and the human impulse to pursuit truth in particular. Comparing it to Ramon Llull's notion of intelligence reveals the shift from a human-centered, philosophical approach to knowledge generation towards a computational paradigm that leverages algorithms and data.