What a daring form of prayer this woman had with Jesus!
This month, we can take for a mentor a Belgian saint who is lesser-known in our time but deserves to be as famous as she was in her own. Once you meet her, you'll never want to let her go! St. Lutgarde was born in the 12th century and interestingly, did not have the pious start in life you often hear about with saints. In fact, the only reason she entered the Benedictine monastery was to avoid embarrassment when her dowry was accidentally squandered in a failed business deal. This left her ineligible for a proper marriage. To hide from the situation, she fled to the convent, which was considered a "dignified alternative."
After living in the monastery for some time without any piety, she eventually began receiving visions of Jesus. At one point, Our Lord said He would grant her whatever she requested of Him and she asked for a better understanding of Latin. But later, she boldly asked Jesus for a different gift instead: His heart.
In a surprising turn of events from her start in life … St. Lutgarde became the first-known woman ever to receive the stigmata and was one of the very first promoters of devotion to the Sacred Heart.
She was even known to miraculously levitate, to fast heroically, and to speak with saints and souls in purgatory. Her story encourages the most lukewarm believer to take heart.
Her feast is June 16. In 2023, that day is also the same as the Feast of the Sacred Heart, which is the Friday after the Second Sunday of Pentecost. Mark your calendar to ask for the special intercession of this saint of the Sacred Heart on the Feast of the Sacred Heart!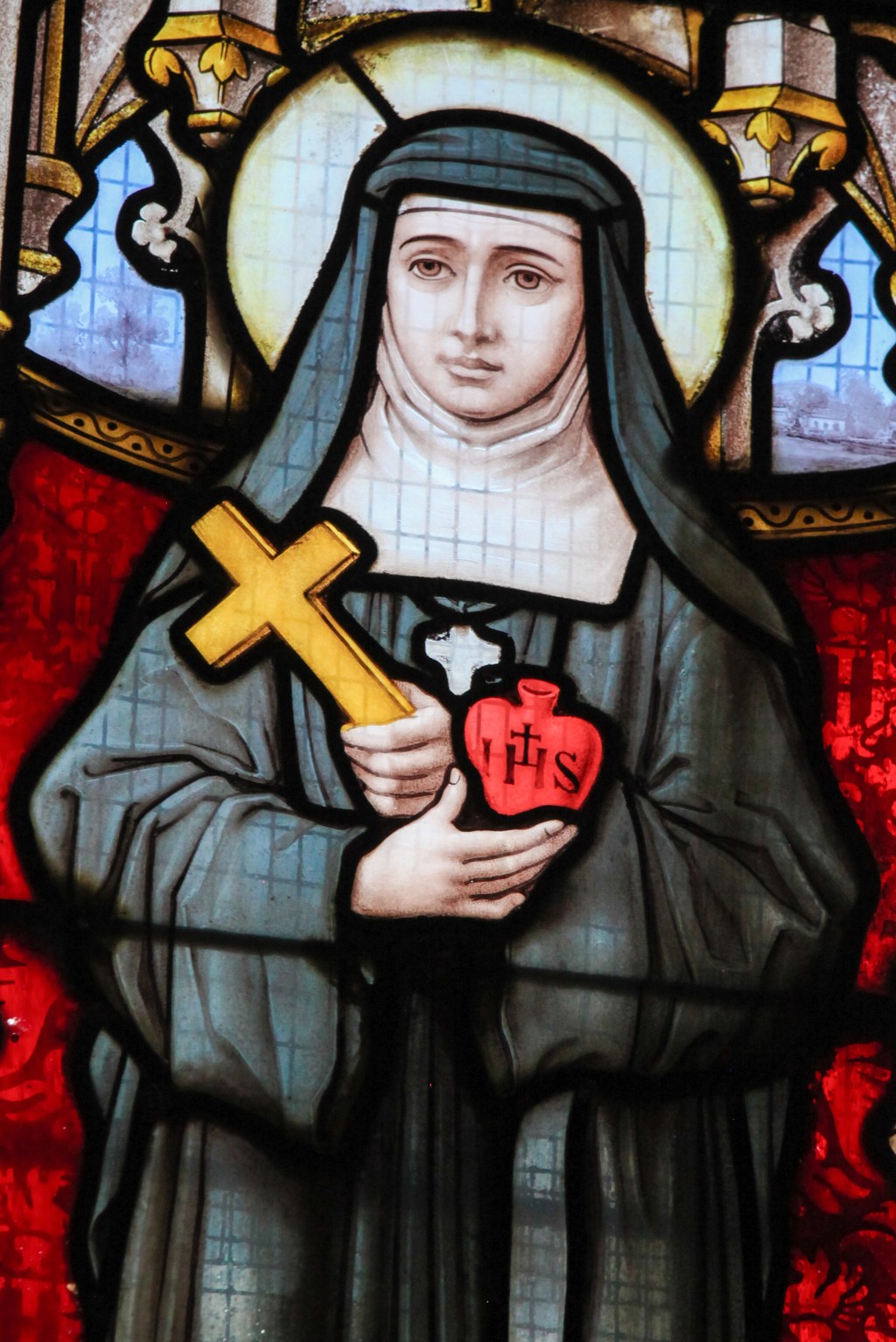 Shutterstock
3 Life Lessons
With her extraordinary experiences and forthright tenacity, St. Lutgarde is a powerhouse saint to lead us to Jesus and guide us to our longed-for destination: heaven. Here are three life lessons from the wise words of St. Lutgarde that will help make us holier:
(1) St. Lutgarde asked, "Why did You go and give me such a grace, Lord? Now I hardly have any time to be alone with You! Take it away, please," and she added, "only give me another grace, give me something better!'" 
Jesus had lovingly offered to send St. Lutgarde any grace she requested. And St. Lutgarde had asked for an in-depth understanding of Latin so she could more thoroughly understand the inspiringly beautiful Latin music she sang each day. Then God gave her the grace of healing even little sicknesses with merely the touch of her hand. Soon, she became inundated with visitors and she noticed it began to take her and the other nuns from time spent in prayer. This is when she boldly asked Jesus to take away the previous graces and give her something better! What an unexpected and powerful reminder that time to be alone with Jesus is something we should be willing to pray for and ultimately make time for, even if it means letting go of other good things in order to pursue that greatest good. The other good things will follow in God's time and will.
Life lesson: Prioritize time with the Lord over every other good. Use time wisely and claim alone time with God! 
One way to be sure we have alone time with God each day is to carve out time to pray the Divine Office by setting our clock earlier to pray Morning Prayer; staying up a bit later to pray Evening or Night prayer, or all of the above. Here's an easy way to pray along with this powerful prayer of the church, with all the prayers outlined.
(2) Christ had appeared to St. Lutgarde and asked her what she wanted for the "better grace" instead of knowledge of Latin or the ability to heal. "I want your heart," St. Lutgarde told Jesus.
"No, rather it is your heart that I want," replied the Lord. "So be it, Lord," said Lutgarde, "so long as Your heart's love is mingled with mine and I have and hold my heart in You." Don't you just love St. Lutgarde?! Her goal is the desire we should pursue, too! 
Life lesson: Recognize and pursue the greatest possible gift: the heart of Jesus, and set about doggedly pursuing it and also giving yours to Him. 
As a gift to Our Lord this month of the Sacred Heart, try praying a guided holy hour of prayers themed around lavishing the Sacred Heart with love which also provides an opportunity to give your heart to Jesus in an Act of Consecration to the Sacred Heart. Sign up here to get a link to this Sacred Heart prayer guide sent right to your inbox.
(3) "For with you as my shield, my heart is secure for all time."
Life lesson: When you feel anxious or insecure, don't be afraid or shy turn to the heart of Christ for protection.  
Protect yourself well with the Detente, a Scapular that means "Stop" or "Release from Tension" promoted by St. Margaret Mary Alacoque (the famous saint of the Sacred Heart), which is worn over your own heart and is not only a sign of fidelity to the Sacred Heart but famous for being a sacramental of protection and helping to reduce anxiety when worn piously. Over time, anxiety and insecurity will be replaced with peaceful trust and joy. When we wear the Detente, we are literally wearing a sacramental of Christ's heart as a shield. You can learn more about it and even purchase one here.
Celebrate the feast of St. Lutgarde on June 16 and invoke her often … this month and always! 
St. Lutgarde, pray for us!