Birds in Christian art are not mere ornament, but images that convey profound theological and spiritual messages.
Monty Python's dead parrot sketch is a classic comedic routine that showcases the absurd, surreal humor the group is known for. In the sketch, John Cleese plays a customer attempting to return a dead parrot to a pet shop. Despite the obvious fact that the bird is deceased ("This parrot is no more! It has ceased to be! It's expired and gone to meet its maker! This is a late parrot! It's a stiff! Bereft of life, it rests in peace!"), the shopkeeper, portrayed by Michael Palin, insists that it's merely resting, or stunned, and that it is a remarkable bird indeed.
Christian art is full remarkable birds – although, unlike Monty Python's, none of them are deceased nor stunned. On the contrary, birds have long held symbolic and artistic significance in Christian art, representing various aspects of life, spirituality, virtue, and the divine presence itself.
They are often used to convey meaning in religious paintings, sculptures, and illuminated manuscripts, enriching the visual language of Christian symbolism.
Take, for example, the dove. It holds a prominent place in Christian iconography. The dove symbolizes the Holy Spirit, as depicted during the baptism of Jesus in the New Testament. Its white feathers and gentle nature evoke notions of peace and divine guidance.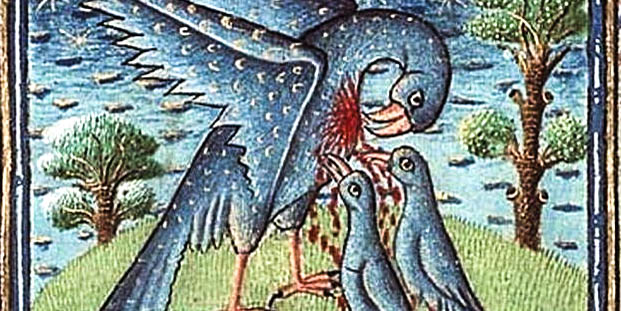 Courtesy of The Medieval Bestiary
Other birds, such as the peacock and the phoenix, also appear in Christian art, often conveying themes of resurrection and immortality. The peacock was seen as a symbol of eternal life and the resurrection of Christ since ancient legends claimed its meat and plumage would not decompose after death. Similarly, the mythical phoenix, with its ability to rise from its own ashes, became a symbol of Christ's triumph over death and the promise of new life.
Furthermore, birds like the eagle and the pelican are associated with Christ's sacrifice and redemption. The eagle, known for its soaring flight and keen sight, symbolizes spiritual heights and divine revelation. The pelican, according to ancient legends, was believed to pierce its breast to feed its young with its own blood, representing Christ's sacrificial love for humanity.
Birds in Christian art are thus not mere ornament, but images that convey profound theological and spiritual messages. Through their symbolic representations, they enrich the visual narrative and deepen the understanding of faith, reminding viewers of the divine presence and the interconnectedness of the natural world with the spiritual realm. Here, we share some of the articles from Aleteia's vast archive on the many meanings of birds in Christian art.