Talking about domestic abuse can be complicated for people of faith, so it's helpful to hear a Catholic perspective.
It's hard to talk about such a horrible topic, but domestic abuse is so widespread that it's very important to break the silence. 
About "1 in 4 women and 1 in 9 men experience severe intimate partner physical violence," according to the National Coalition against Domestic Violence. 
So the odds are good that you know someone currently affected, or you may have survived domestic violence yourself.
The subject of domestic abuse can be complicated for people of faith, who believe that marriage is forever and may struggle with the idea of leaving even an unsafe situation. So it's helpful to hear a Catholic perspective on these issues.
I turned to an expert, Jenny DuBay, to learn more about this topic. DuBay is the author of the forthcoming book Don't Plant Your Seeds Among Thorns: A Catholic's Guide to Domestic Abuse.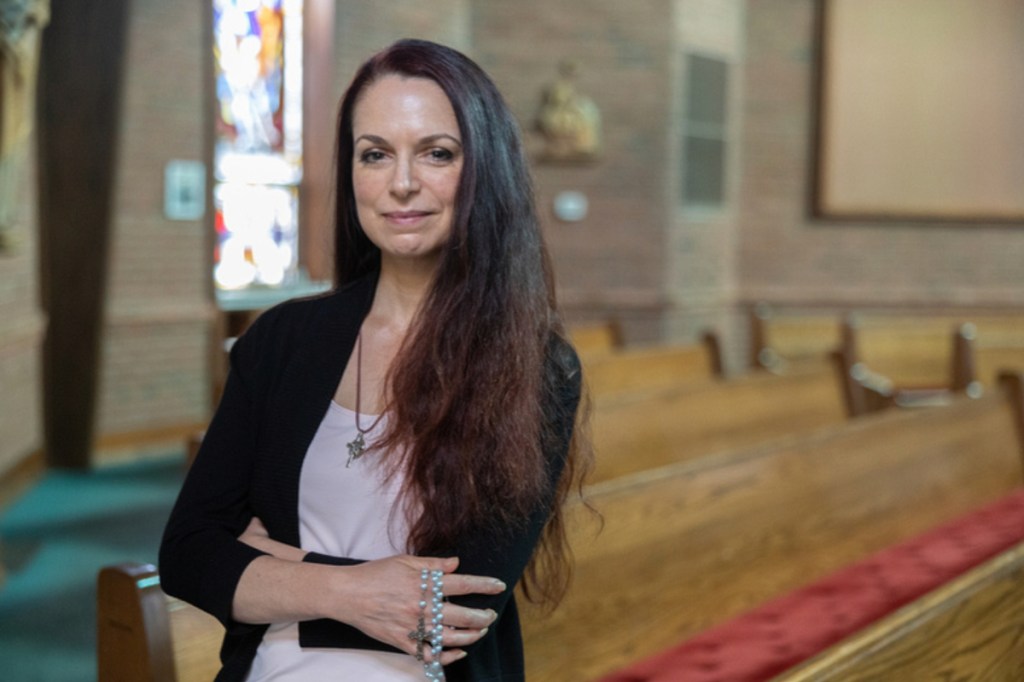 Courtesy of Brian Strickland
A survivor of domestic abuse herself, DuBay dedicates her career to advocating for other survivors and helping them find healing. She previously shared red flags to look for in relationships and Catholic resources for healing from domestic abuse.
Now that DuBay shared these practical things, I had a philosophical question. 
There are a lot of secular resources for abuse survivors. Why offer resources specifically from a Catholic perspective? 
She shared her response to that, and anyone who works in ministry with couples will want to know the reasons.
Why is a Catholic response to abuse particularly important? 
DuBay: A Catholic response to abuse is important for two main reasons. 

First, when a woman realizes that her marriage isn't merely "difficult" but is actually abusive, often the first place she turns to is her parish priest. She needs advice, she needs comfort, she needs spiritual direction. This is why it's so crucial that priests and lay ministers — such as youth group leaders, marriage preparation instructors, and annulment advocates — become educated in the tactics and red flags of abuse. 

Additionally, Catholics don't take marriage casually, as the secular world tends to do. We don't marry because we become infatuated with a person and decide to see if maybe we can make a life with them. Rather, Catholics devote their entire lives to their marriage, as a sacramental vocation. What does it mean to be in a sacramental marriage, if mutual self-giving isn't a part of the relationship? How can a sacramental marriage be sustained — and is it even real — if there is abuse, manipulation, cruelty, control and mistreatment in the relationship? These are all questions that need to be answered from a distinctly Catholic perspective. 
What is the most important thing you would want to share about your experience advocating for survivors? 
DuBay: Complete healing is not only possible, but it's what Jesus wants most for us. 

Yes, the healing journey is painful and takes a great deal of work; nothing spectacular can be achieved without hard work. Even so, through Christ and in Christ and with Christ, the spirit and soul of someone who has been crushed and burdened by abuse can not only recover, but will be even stronger for the suffering. Through suffering comes a greater relationship with Christ our Bridegroom, if we open that door and allow Him to enter. 

Survivors need to know they're just that — they're glorious survivors, they are not victims. Christ Himself is a survivor. He holds us in the palm of His hand, while His blessed Mother wraps us in her mantle. 

"Suffering produces endurance, and endurance produces character, and character produces hope, and hope does not disappoint us, because God's love has been poured into our hearts through the Holy Spirit which has been given to us" (Rom. 5:3-5).