A newly published book explains the painstaking process and technologies used in the making of these medieval masterpieces.
Laura W. Adlington is a scholar working in archaeological materials science. Specializing in the use of elemental analysis (including XRF, SEM-EDS and electron microprobe, among other techniques) to study historic and archaeological materials, Dr. Adlington works mainly on glass – medieval glass, that is.
After studying the production and provenance of architectural glass from the Umayyad period in Eastern Galilee, and dating what might be England's oldest stained glass window (in Canterbury Cathedral), Dr. Adlington just published a book explaining the painstaking process and technologies used in the making of these medieval masterpieces.
Hemis via AFP
As explained in the article published by Medievalists.net, Making a Medieval Stained Glass Window "is a very technical study […] aimed at an audience of particular researchers."
However, it also offers plenty of information about medieval stained glass in general as well, so it is something that many medievalists (and people interested in medieval art in general) will want to look at, read, and learn from.
An excerpt from the book reads:
Medieval stained glass windows were an important part of, and a valuable clue about, medieval culture, serving practical, aesthetic, religious, cultural and even political functions. Their heyday occurred against the backdrop of a boom in ecclesiastical construction, the development of the Gothic style, and advances made in technology and art. They present a rare opportunity to study medieval technology and craft organization, as they hold within their cames the output of a workshop over an extended period of time. The craft of glass painting in particular is known to have been carried out within the guild system which is an important subject in medieval history both in the ongoing debate on whether guilds were regressive or progressive, and as a key stage in the economic development of Europe.
Adlington's book looks at York Minster's Great East Window – the largest medieval work of stained glass in the world. If the panels were laid out over a tennis court, they would cover it completely – in fact, they would even require a bit more space. You can appreciate the beauty of these works in the slideshow below.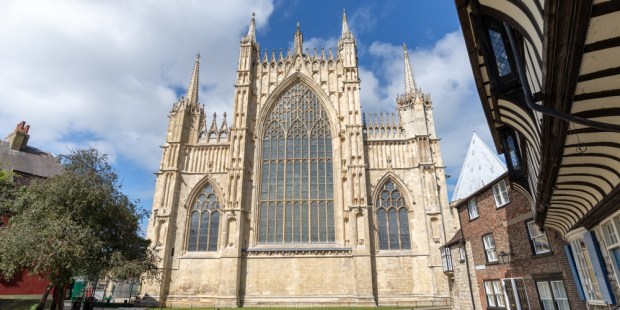 Launch the slideshow