"I get great satisfaction from being able to serve him to the best of my ability. Thanks to Frani, I know what unconditional love is."
Olga and Pawel Debowski met 20 years ago. For more than 11 years they lived in a non-sacramental relationship. As they describe it, their life was typically hedonistic, with money playing the main role. "We thought money gave us happiness and a sense of independent living. We didn't have any deeper thoughts about God and didn't have a personal relationship with Him," they recount.
la suite aprés cette publicité
Eventually, the couple decided to embark on the journey of parenthood. Their first pregnancy ended in a miscarriage at 4 weeks; the second, at 10 weeks.
la suite aprés cette publicité
In 2018, Olga and Paul got married. Two months later, she found she was pregnant again. "This time we were full of hope that everything would end well," they say. In the 20th week, the couple went for an ultrasound. During the visit, doctors detected some "abnormalities" in the baby's development. Mr. and Mrs. Debowski received an additional referral for tests, this time more detailed ones.
la suite aprés cette publicité
Qualifying for an abortion
"The geneticist told us that our son might have significant, really significant, developmental delays. He may have one kidney, a cleft lip, female and male genitalia, a clubfoot, and defects in brain structure. However, the whole diagnosis was based on the word 'may.' We thought that it wouldn't necessarily be the case," recalled the couple.
la suite aprés cette publicité
The couple decided to go for a second opinion, this time to Professor Kypros Nicolaides, a world-renowned doctor who specializes in performing prenatal tests and detecting Down syndrome.
"The doctor bluntly stated that if it were his child, he would abort it. He said our son would have two kidneys, but he confirmed all the other abnormalities. He patted me on the shoulder and added, 'You will still have healthy children.' I felt that he treated me insensitively, without empathy or compassion," Olga explained in an interview.
The couple was living in the UK at the time, so they had the legal right to kill the child even up to the moment of birth. "As parents we qualified for the right to a so-called late-term abortion," Paul adds.
la suite aprés cette publicité
For a brief time, the couple considered an abortion. However, Olga decided to find out the details of what it would mean. She called the hospital. She asked what such a procedure was like in the late stages of pregnancy. The nurse informed her that a poison is injected into the baby's heart. The mother is sent home, walks around with the dead baby inside her for about two more days, and then gives birth to it.       
la suite aprés cette publicité
Praying for a miracle
"I realized what kind of murder I would be dealing with. I wouldn't be able to live normally after that," Olga says. Her phone call to the facility turned out to be a turning point in their lives. The young parents began praying the Rosary every day, they asked God for a miracle, and hope appeared in their hearts.
"We had ultrasound examinations every two weeks, and each time, subtly but constantly, an abortion was suggested to us, and we answered very firmly that we did not agree to it," Paul said. The couple decided to fly to Poland. They entrusted themselves and the baby to the Lord and to Mary. They visited the Divine Mercy shrine of Lagiewniki, then traveled to the Marian shrines in Wąwolnica and Lublin. There they met with an acquaintance – Sister Noela.
The religious sister was a patient in the oncology ward of a Lublin hospital. "We had met Sr. Noela [Noela means Christmas – editor's note] even before our wedding. She later developed palate cancer, and it had metastasized. When we came to see her, we were full of anxiety, fearful, with many worries about the future. She emanated calmness and immense love, which we also felt. She said that she would offer her sufferings for our son," Olga and Paul tell Aleteia.
la suite aprés cette publicité
Returning to England after that trip, they were completely different people. "We trusted God and Mary. We continued to pray the Rosary, believing that together we would overcome all difficulties."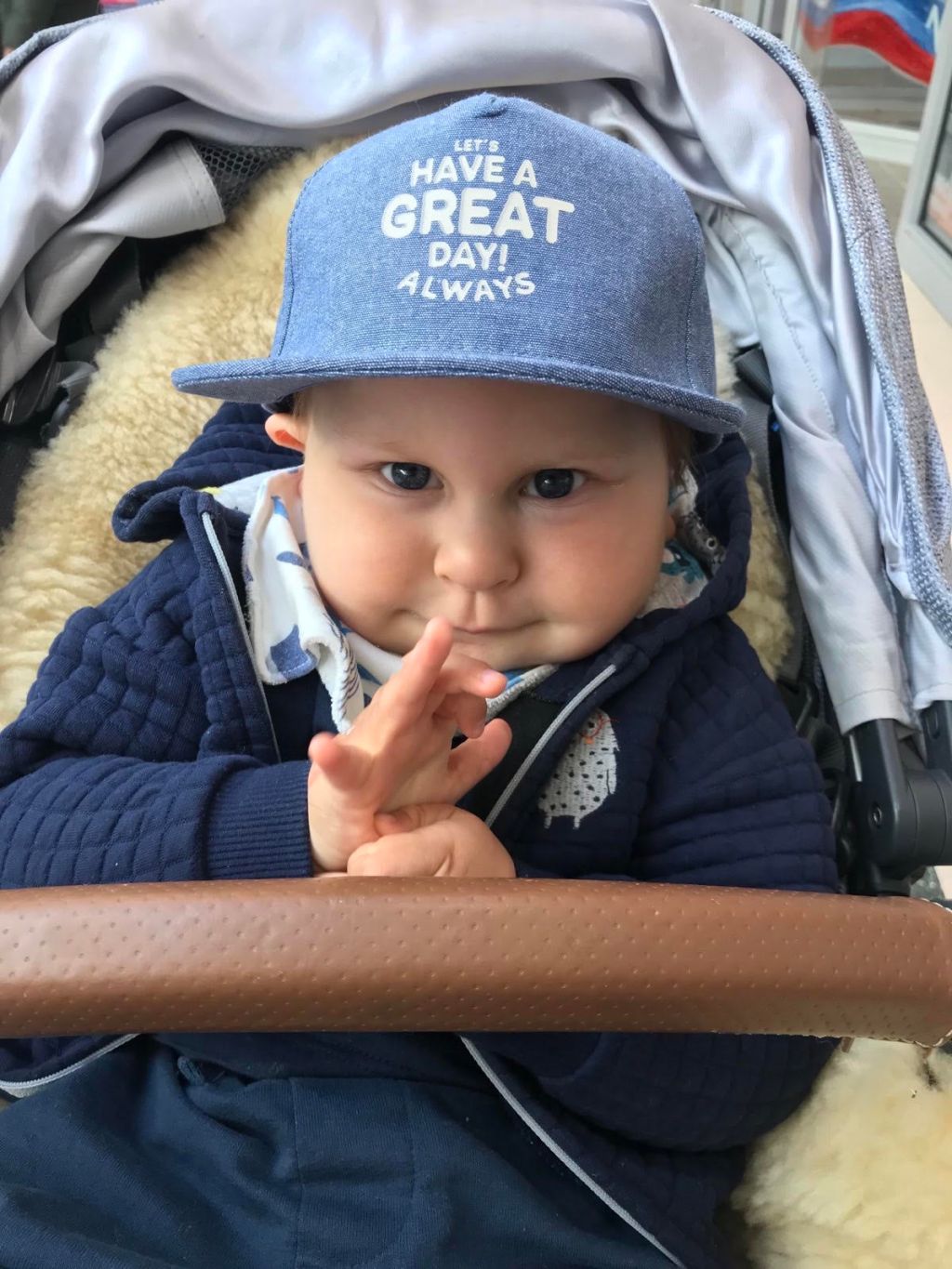 fot. arch. prywatne Olgi i Pawła Dębowskich
Not all the diagnoses came true
Their son Franio was born on August 16, 2019. "We did not know in what condition our son would be born, but we felt peace," Olga and Pawel emphasize. Most of the frightening diagnoses did not in fact come true.
"Franio did spend six weeks in the hospital due to hypoglycemia. There were no defects in his brain structure, nor did he have a cleft lip or palate. He also had fully developed kidneys. One of the defects turned out to be a horse-ankle foot. It was straightened, and our son wore special orthopedic shoes for a while," says the 3-year-old's mother.
"Over time, we also noticed a significant delay in Frank's psychomotor development and very low muscle tone," she adds. The child requires daily rehabilitation. He can't walk on his own and can't sit up without parental assistance.
"We found a very good medical facility for our son in Bory Tucholskie (northern Poland, editor's note). In order to provide Frani with an appropriate level of rehabilitation, we settled in Poland. In England, our child didn't receive the kind of care we expected. We know that Franio's state of health is God's grace and a miracle. Many people are still praying for him. Despite the difficulties, we're moving forward, full of faith and trust in God," they told Aleteia.
A challenge and a gift
The now 3-year-old boy loves to listen to music and birdsong, is very cheerful, and smiles often. His parents believe that one day their son will walk. They assure that they love their child as he is. "We want to help Frani in his daily struggles," they say.
"Our son cures us of selfishness. When I heard that he would be born with a disability, I was afraid that I'd have to take care of someone for the rest of my life, that I would lose my joy and peace of mind. Nowadays, I get great satisfaction from being able to serve him to the best of my ability. Thanks to Frani, I know what unconditional love is," Olga explains.
The Debowskis emphasize that there is a place for everyone in this world: "The only way to end a pregnancy should be for a woman to give birth, regardless of whether the child will be born healthy, sick, or burdened with a lethal defect."