This unique educational club for adventure and imagination near Chicago has a revolutionary mission.
When Peter Searby was a boy, he was probably the last person anyone expected to become a teacher. But he wanted to give other boys what his own school experience lacked. 
He ended up starting his own unique educational mission, deeply inspired by the friendship of J.R.R. Tolkien and C. S. Lewis. And what he's built is absolutely revolutionary.
"I struggled in school as a boy," he recalled in an interview with Aleteia. "What I saw in education was that it wasn't geared towards helping boys and their restless spirits work together as a brotherhood, to helping kids figure out what they're made of."
Although school failed to capture his restless imagination, Searby felt drawn to a sense of strong community connected to learning. He got a glimpse of it as an undergraduate at the University of Dallas. 
When he learned about "the Inklings," the group of friends including Tolkien and Lewis who inspired one another in creative work, he recognized his vision of what education could be. 
"I loved the friendship that Tolkien and Lewis had," he said, "this idea that a group of guys could gather together inspired by art, stories, ideals, and vision, and have this brotherhood to inspire each other throughout their lives."
He came up with a name for this approach, "the fellowship of creative endeavor." And he began working on building a workable community like that for boys.
The Riverside Club for Adventure and Imagination
Homeschool families quickly fell in love with and shared his vision. He found strong support from the homeschool community in the suburbs of Chicago, where he lives.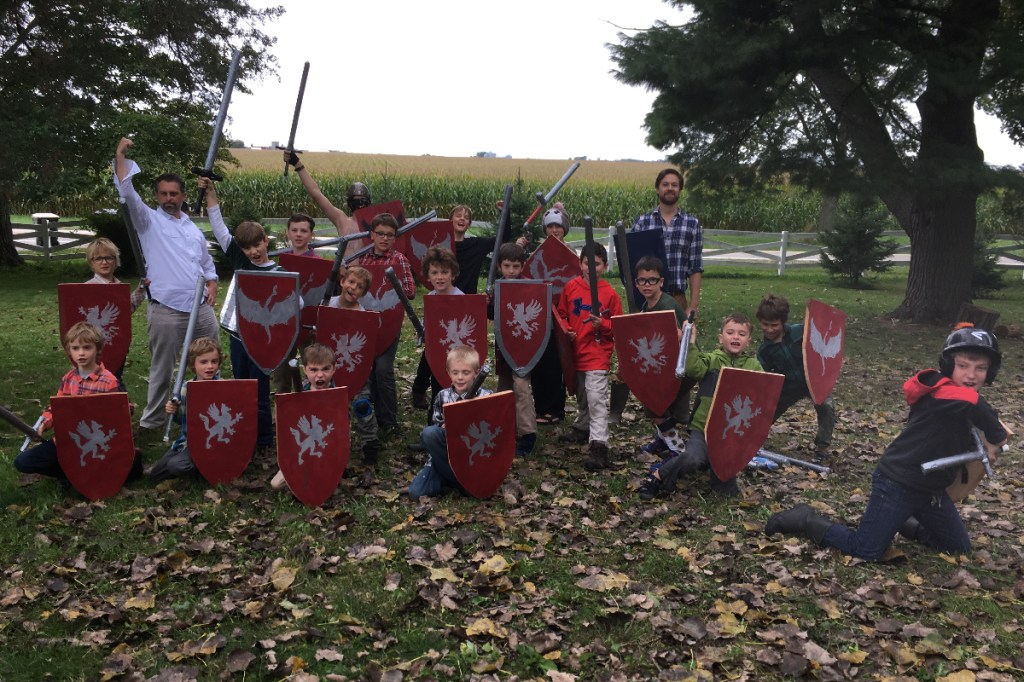 Courtesy of Peter Searby
The result was the Riverside Club for Adventure and Imagination, a supplemental education center. It currently enrolls 125 students, and employs 4 full-time teachers besides Searby to run it.
After 10 years as a boys' program, a new girls' program began last year. With summer camps and theatrical productions, there are about 220 children involved throughout the year.
So what is Riverside, exactly?
"We call Riverside a club, not a school," Searby explained. "The vision of it is to create an educational experience for youth that helps them become part of a fellowship of creative endeavor, working on creative projects in the arts, adventuring outdoors and learning about nature, making things with their hands, seeing reality for the grand epic story that it really is, and building fellowship and deep friendship doing these creative things with fellow pilgrims along the road to heaven."
From the beginning, Riverside has been ecumenical, although Searby and the other tutors are Catholic. To quote the Riverside website:
Since our inception, we have provided programs that inspire the imaginations of the young and cultural events that foster a creative community of families, educators, artists, storytellers, craftsmen, and adventurers. Riverside is a prayerful community in which there are many denominations of the Christian faith represented, as well as fellow pilgrims who seek an educational community rooted in beauty, goodness, and truth. Though we profess a Catholic view of the human person and purpose of education, we are dedicated to finding common ground with the various wings of Christendom through an understanding of the sacramental imagination expressed particularly well by J.R.R. Tolkien and C.S. Lewis.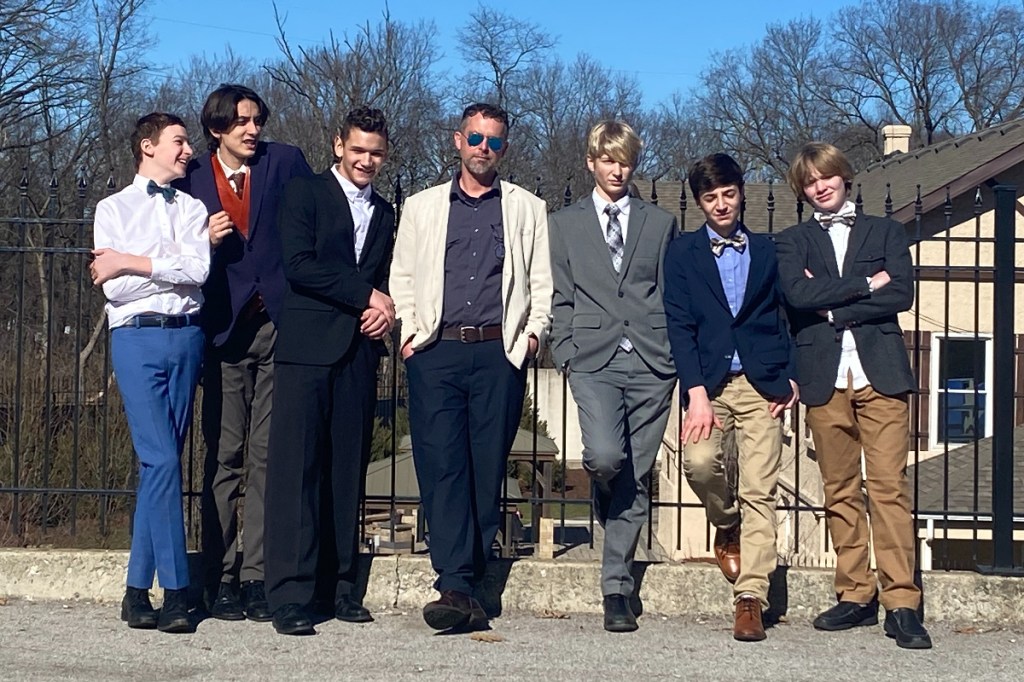 Courtesy of Peter Searby
On a personal note, I am lucky to have my 8-year-old son enrolled in Riverside, and it's been an enormous blessing to our family. He has made wonderful friendships, found wise and good mentors, accomplished so much more than I ever knew he could do, and had the best time of his life.
At Riverside, the boys play sports and chess, go sledding in the snow and climb trees and build forts in the forest. They perform impressively well-done theatrical performances, learn traditional prayers, and sing folk songs and hymns together. Riverside is everything I could ever want for my son and it's his favorite thing in the world.
One day, when we were driving home from Riverside, I asked him to tell me whatever good and bad things had happened that day. He gave me a surprised look. "Mom, don't you know nothing bad ever happens at Riverside?" I can't think of a higher endorsement.
The fellowship of creative endeavor
Searby is currently working on a book about his educational vision, a book that takes the form of letters to educators. 
So what exactly makes the Riverside difference? I couldn't wait to ask him. 
Educators and homeschool parents everywhere can learn from these 3 things that are central to his inspiring and revolutionary approach.
1
Help young people find and follow their passions
At Riverside, there is a big focus on helping kids "find where their passion meets their calling," Searby said, uniting their individual talents with God's call for them. 
2
Spark imaginations through creative process
"There's a strong link between creative experiences that give lasting memories, and culture and fellowship," Searby said. "We don't use textbooks or tests: It's all creative projects, and we've found over the years which were the most inspiring, the ones that the boys really loved."  
Many of these projects involve "world building in the fictional realm, as Tolkien and Lewis do." He has plans for a second book sharing the details of the projects he's devised.
3
Build strong friendships and connections
"The idea is creating teams like the cast and crew in a theater production, with this sense of common endeavor working together toward an inspiring end goal that they're really excited about," he said. 
This teamwork toward an inspiring end can create lifelong friendships.
"There's something there that wakes you up, knowing you can achieve noble goals, and do noble things with your life," he said. "That is the heart of Riverside."