This is an incredible opportunity at the Saint Kateri Tekakwitha Shrine in Gallup, New Mexico.
The typical summer internship might include pulling files for research, sitting in on staff meetings, and fetching coffee. 
A different kind of summer internship awaits young men in Gallup, New Mexico. It's a chance to build something beautiful that will last for generations to come, all in fellowship with other young Catholic men.
The Saint Kateri Tekakwitha Shrine in Gallup, New Mexico, hosts about 25 young college-aged men each summer for an incredible internship program. 
Their mission? Building a breathtaking Rosary Walk at the shrine, using traditional methods designed to last.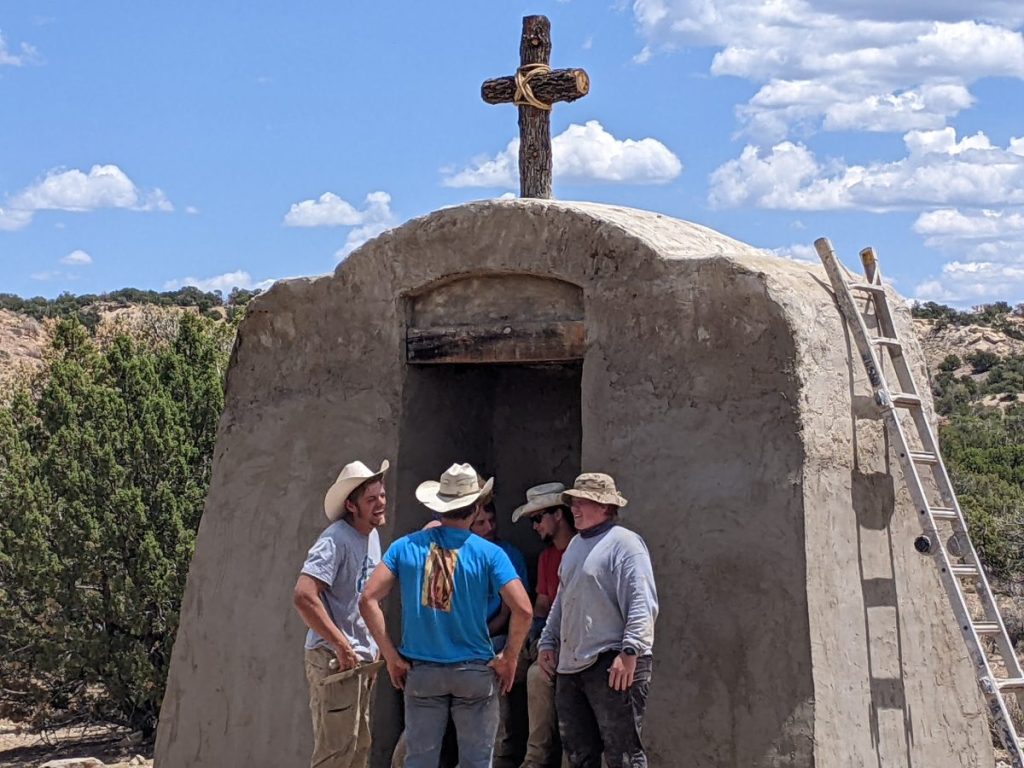 Courtesy of Deacon Ed and Anne Schaub
The Diocese of Gallup and the Southwest Indian Foundation help host the students, who earn a stipend of up to $5000 and academic credit, as well as receiving room and board.
The men follow a daily schedule of prayer, work, and recreation. During breaks, the interns visit the Grand Canyon, Chaco Canyon, El Morro Archeological site and many other incredible places.
We had the opportunity to talk to Deacon Ed Schaub, director of the Saint Kateri Rosary Walk, and his wife, Anne. 
"In the past three years we have had 25 interns for two summer months," Schaub said. "The interns have had a huge impact on the project. Not only because they have built the 'nichos' [chapels featuring mysteries of the Rosary], but because they have been a lively burst of Catholicism."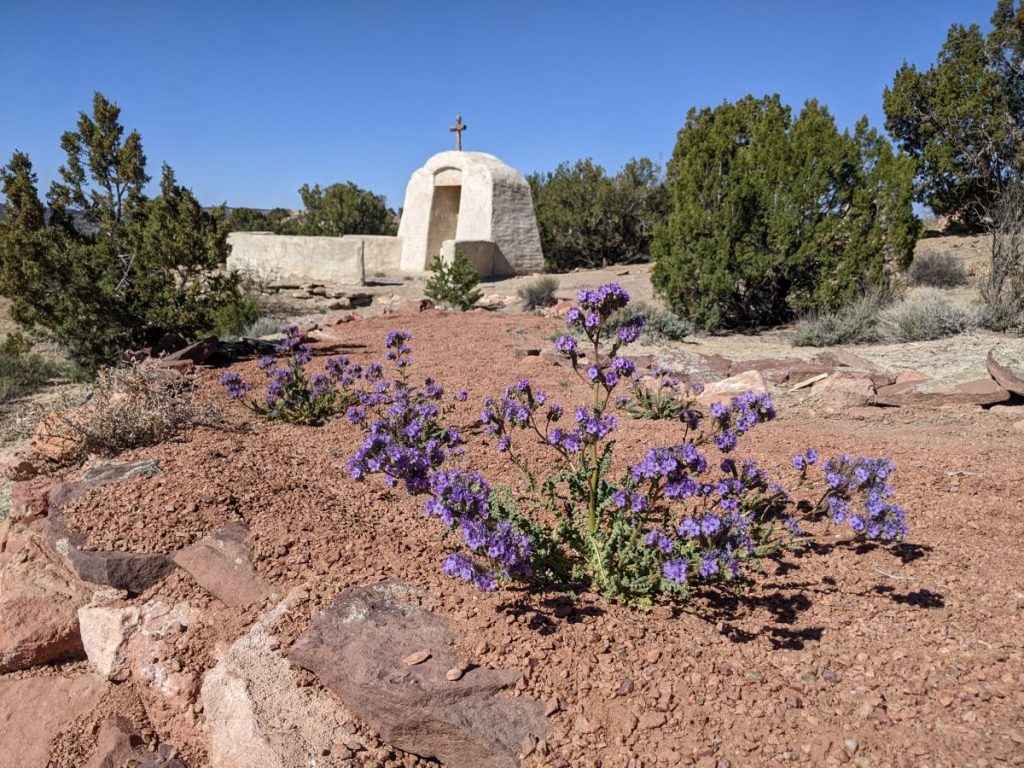 Courtesy of Deacon Ed and Anne Schaub
The young men who sign up for the internship are inspiring in their own right.
"During our first summer here when we met the interns, they gave us so much hope," Schaub said. "The strength of their faith was astounding and their dedication to Our Lord and His Mother was inspiring. In such a troubled world they were a light in the darkness."
The interns understand and appreciate the eternal significance of their work, knowing it will last for many years to come.
"The love that these young men have for the Blessed Virgin is palpable," Schaub said. "They have told us that yes it is hard work, but what better way to work than for the Blessed Mother.  Many of these young men hope to return one day with their own families to show what they had a hand in building."
The first summer of the program, the interns took a great interest in learning Irish folk songs, which brought enthusiastic fun to their work. "We had several chances to enjoy their singing and we were inspired to witness the camaraderie that developed between these extraordinary young men.  If you happened to venture down to the construction site during the work hours there was always some one or two singing either Irish folk songs or hymns that we sing at Mass, or someone praying the Rosary," he reminisced.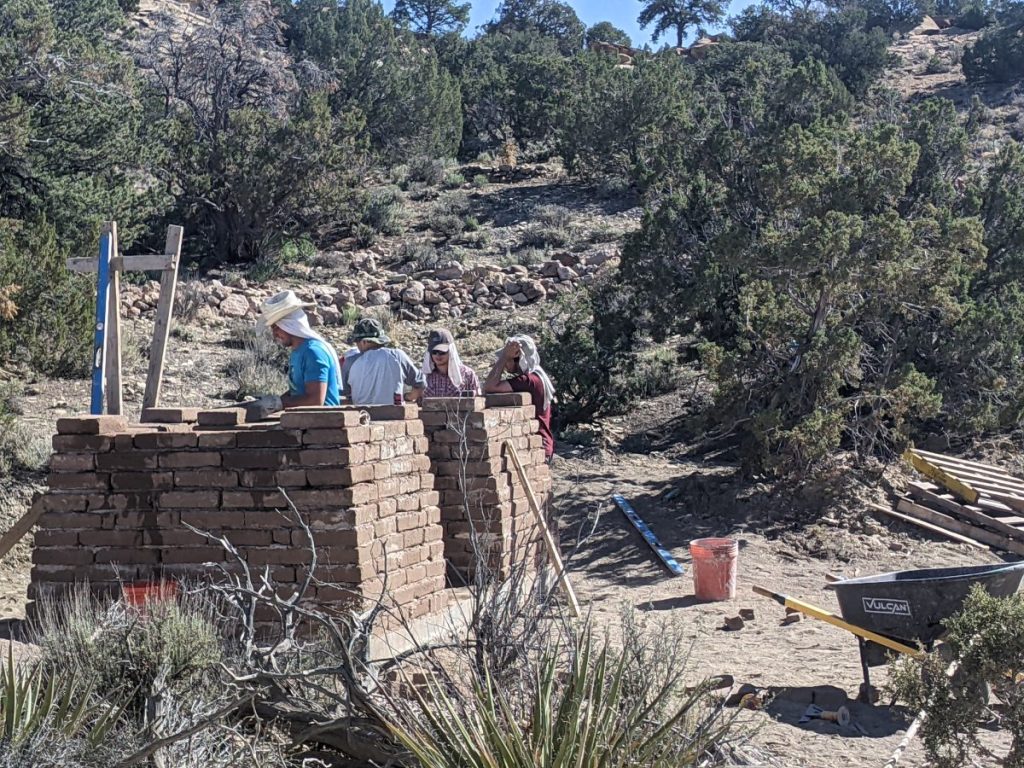 Courtesy of Deacon Ed and Anne Schaub
Schaub said some of the best moments of the internship days include taking daily meals together, a time of camaraderie and fellowship.
"We serve lunch on a daily basis and you can not imagine the amount of food that 25 hard working men consume," he said. "During some of those lunch breaks we had the chance to talk and get to know each other, and those moments are some of the best memories."
But nothing can compare with the times of prayer, and the powerful spiritual connection the young men experienced, made even stronger by their joining together in love of God. 
"One evening I was working later than usual and I left the Sacred Heart Retreat Center [where the Saint Kateri Shrine is located] at dusk," Schaub recalled. "As I passed in front of the chapel I saw 25 heads bowed in prayer in the darkened chapel. My eyes filled with tears."
If this sounds like something your son, grandson, godson, or another college-aged young man you know would enjoy, applications are accepted until March 15, 2023. You can apply here. We wish we could sign up ourselves!