For two members of the popular music group Scythian, the plight of those who suffer in Ukraine is personal.
Alexander and Danylo Fedoryka belong to the popular music group, Scythian, and for the past 20 years have been making and performing their lively folk and bluegrass music around the world. They're also the sons of Ukrainian immigrants, and since the war broke out in that country, they've been using their music to help ease the suffering of people in Ukraine.
la suite aprés cette publicité
The brothers' latest effort is a new partnership with the Knights of Columbus in which they are donating 100% of all digital downloads (all 16 of their albums) through their Shopify page from now until March 1.
la suite aprés cette publicité
Ukrainians have lost access to power and heat and winter temps there are brutal. The Knights of Columbus have already raised $20 million in aid and all the money in the fund goes directly to Ukrainians. It is not the first time the Fedoryka brothers, who are Knights themselves, have promoted the Fund — they did so back in spring 2022 with a song they wrote for their parents' homeland.
la suite aprés cette publicité
It's personal
Alexander and Danylo's parents both escaped from the Communists just before the iron curtain came down. Their paternal grandfather was a freedom fighter in the Carpathian mountains. Eventually he was arrested and sent to Auschwitz. During this time, his wife escaped with their three children — the youngest of whom died of dysentery. Eventually, they reunited in Germany, where they spent two years in Displaced Person camps before being granted asylum in the US in 1947.
la suite aprés cette publicité
Their mother and her family had a similar story: they escaped from Ternopil and made their way to Salzburg, where they awaited asylum as bombs dropped around them. She was granted asylum in 1947, just before Ukrainians were rounded up and sent back to Stalin as a result of the treaty of Yalta.
"They came to the US with no money and took jobs as seamstresses and house cleaners (the women) and construction workers and bellhops (the men)," shares Danylo. "Eventually they earned better jobs and gave their children a great Catholic education with my dad getting a full ride to Regis high school in New York City and my mother being accepted at and graduating from Juilliard as a concert pianist." 
The Fedoryka brothers grew up speaking only Ukrainian in the house, learning English around the ages of 4-5 years old.
la suite aprés cette publicité
"Ukraine has always been dear to me though I lived most of my life here in the States," says Danylo. "When the war broke out we wanted to support our fellow Ukrainians, but wanted to make sure the money was actually getting to them. Alex and I are both Knights of Columbus and know how vast and effective their network is. We know Grand Knight Patrick Kelley from the early days of the band and have worked with him and knew that all resources would make it where they were needed." 
la suite aprés cette publicité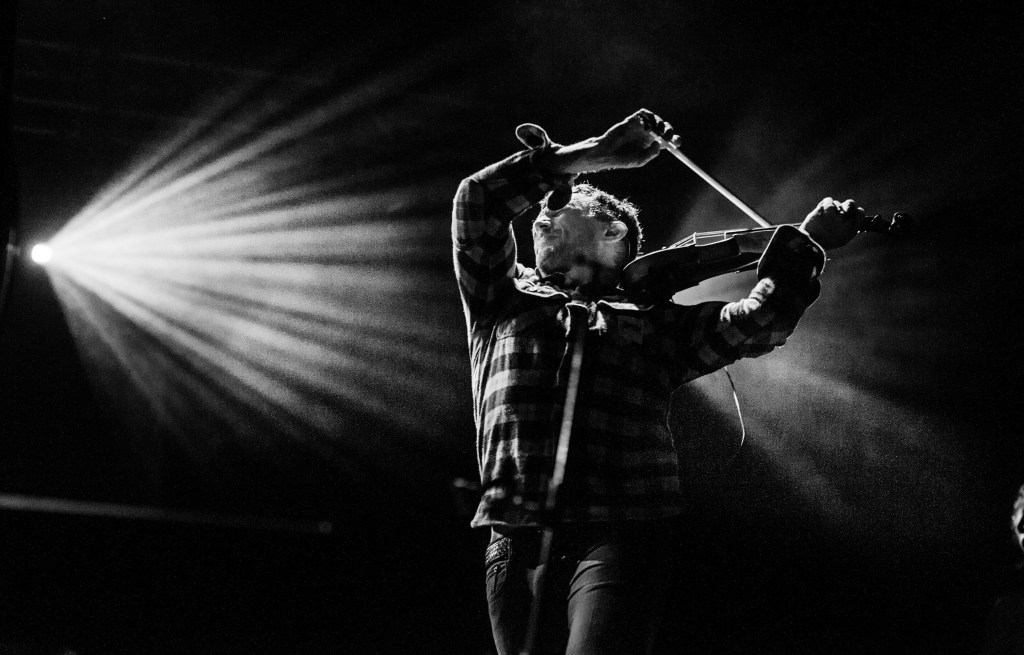 Danielle Lussier | Danielle Lussier
The music
The brothers have written two songs dedicated to Ukrainians — one sad and the other joyful.
The sad one — "Song of Sacrifice" – from their album American Shanty was written by Alex after he visited Ukraine for the first time. "He found my great grandfather's village and went to his grave and was overwhelmed by the decision one has to make as they leave their country for the sake of their children. He wrote this song in tribute to our grandparents, but it's sadly the same decision many Ukrainians have to make today. This is a song that will let the Ukrainians know that they're not alone and our hearts go out to them," says Danylo.  
The second song, from their album Roots & Stones, is called "The Motherland," and it's a joyful song where the chorus leads people in singing Na Zdorovya! (to your health). "It is a song of gratitude for those who carried us through hard times, and the hope that people open their hearts and homes to the many refugees and they one day can sing with joyful hearts." 
la suite aprés cette publicité
Scythian's latest album was just released on December 6, 2022. It's their first ever Christmas album and is called Christmas Out at Sea.
While the height of the Christmas season is over, all 16 albums are available through shopify and all proceeds until March 1 will go the Knights Solidarity Fund of Ukraine for Ukraine during these winter months.