New evidence sheds light on the importance of the lost chapel of St. Erasmus, demolished in 1502.
A 15th-century reconstruction of part of Westminster Abbey has shown how a section of the building that was demolished in 1502 was once at the very center of the British royal family's devotion: the chapel of St. Erasmus of Formia, one of the Fourteen Holy Helpers, martyred in the 4th century under the Roman Emperor Maximian.
According to the article published by Medievalists.net, the findings "reveal a story of how England's 'White Queen' Elizabeth Woodville once worshiped at the Chapel of St. Erasmus, which may have even featured a single tooth as part of the relics." Elizabeth Woodville was Queen Consort to King Edward IV.
An academic article published in the Journal of the British Archaeological Association explains how an extensive analysis of all available evidence to-date (including a recently discovered centuries-old royal grant) reveal the importance that St. Erasmus' lost chapel once had. In fact, the study goes as far as to claim that the chapel might have been a royal burial site.
Commenting on the prominence of the chapel, the study explains how "The White Queen wished to worship there and it appears, also, to be buried there, as the grant declares prayers should be sung 'around the tomb of our consort' (Elizabeth Woodville). The construction, purpose and fate of the St. Erasmus chapel, therefore deserves more recognition."
You can read the whole study here.
Who are the Fourteen Holy Helpers?
During the Black Plague, which ravaged the cities and countrysides of Europe, Christians in Germany turned to a group of saints who were known for their miraculous intervention. They invoked these saints collectively as a group, and they eventually became known as the Fourteen Holy Helpers.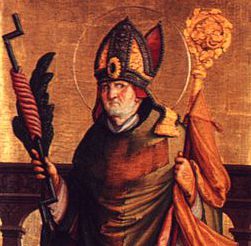 Each of the Holy Helpers was chosen specifically for the patronage they had. St. Erasmus was added to the list as he is a patron saint invoked against abdominal pain. The saints all have separate feast days, but in some local places the Fourteen Holy Helpers were celebrated on a single day, August 8.
A litany assembling the Holy Helpers together was later developed. It includes a brief summary explaining who each saint is and the spiritual benefit that is requested from them.