One French couple offered something unique at their reception, at the encouragement of their priest.
What happens when newlyweds, during the their wedding reception, offer their guests the possibility to talk to a priest for confession or advice?
Alban de Robien, who married his wife Aude four years ago, tells Aleteia: "I think that offering those who aren't necessarily very religious the opportunity to pray, to go to confession, or just to talk with a priest, can contribute something essential."
Both were immediately attracted to the suggestion made by Fr. Paul Préaux, the priest who married them. "It was his idea. When we were engaged, Fr. Paul was preparing us for the sacrament of marriage. One day, he suggested that he make himself available to our guests for confession during the reception. To explain it, Fr. Paul told us something that struck me a lot: 'A priest wears out when he's not used,'" Alban continues.
At the reception, there were those who went to confession and others who simply asked questions. "Some were angry or, in any case, on a break in their spiritual journey," he says, adding that the priest was very busy throughout the event. "Many beautiful things happened during that time, perhaps also thanks to the relics of Louis and Zélie Martin that were present."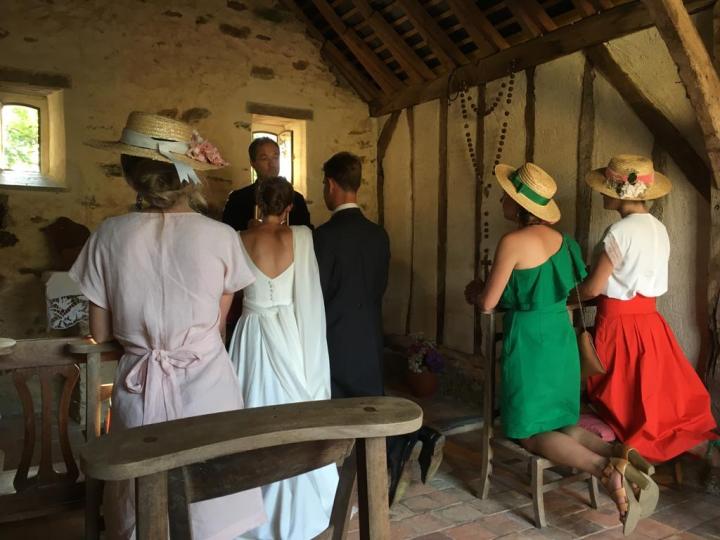 avec la permission d'Alban de Robien
In the presence of the relics of Louis and Zélie Martin
In fact, in the chapel where Fr. Paul was available for confession, the relics of the Martins were displayed on the altar.
"Don't you think it's essential to invite a few saints to your wedding to be well accompanied on that day?" asked Fr. Paul Préaux, who is in the habit of making this kind of suggestion to engaged couples. "For their future married life, I invited Alban and Aude to be inspired by saintly figures such as Zélie and Louis Martin. I also suggested that they make a pilgrimage to the shrine in Alençon to pray before the relics ahead of their wedding. Finally, I told them not to forget to invite them to the wedding… by bringing their relics."
The goal? To make the saints present during the entire wedding celebration.
An opening of hearts
During the wedding Mass, Fr. Paul Préaux announced that he'd be available during the reception. As soon as the party began, the guests were there.
"It's rare to have access to the priest in this way and in a context that's both inspiring – because it's a celebration of marriage – but also painful for some, when the wedding reflects for them the failure of their own married life. I think the wedding reception is a great time to make yourself available. I do it often, and each time I see the immense opening of hearts. There's something that is transformed, a grace that really spreads. Many situations of suffering and solitude are entrusted to me: separations of couples, family conflicts, divorces. My role as a priest is to give them Jesus and to give myself as soon as the opportunity arises," he says.
The wedding reception of Alban and Aude was an unexpected time of spiritual openness for some. Maybe it's an initiative that should be imitated by others planning their wedding reception.