She shares all the graces, benefits, and blessings that come with raising a large family in faith.
Being part of a large family can be one of the greatest blessings in life. But when John and Margaret Slonkosky wed, they had no idea of how their loving family would grow … and grow … along with their faith.
la suite aprés cette publicité
The couple had 10 children, one of whom, Patti Anne, is now Sr. Mary John, a Nashville Dominican sister. The other nine are Amy Louise, Mary Margo, John Paul, Mark Andrew, Tina Maria, Jessica Anne, Mimi Rose, Polly Anna, and Edward Christopher. The nine married and had 65 children among them. Of these children, 41 are married and have provided Mrs. Slonkosky with 101 great-grandchildren!
la suite aprés cette publicité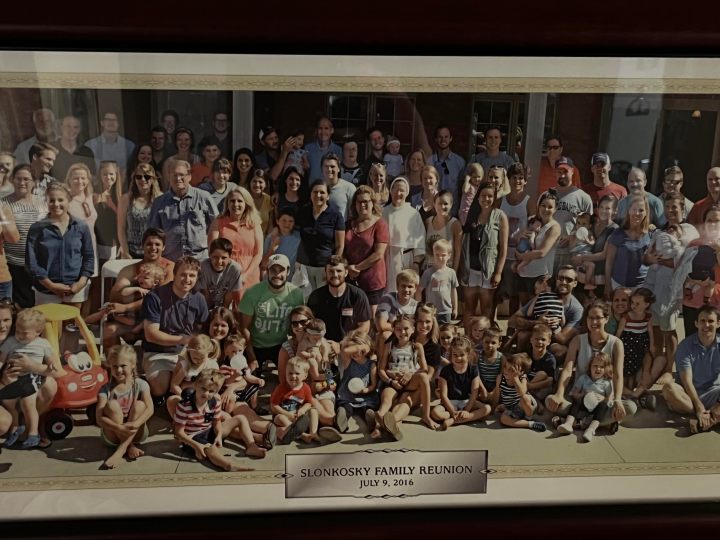 Courtesy of Slonkosky family
When we discovered that Mrs. Slonkosky, a mom, grandma, and great-grandma, had so many great-grandchildren, we had to find out more about this incredible woman who inspired generations to embrace God's love and surround themselves with the joy of lots of little ones.
la suite aprés cette publicité
Humility at the heart of the Slonkosky home
While Mrs. Slonkosky's grandson, Dominic, shared that his grandma would be a little reticent to speak with us as she's a humble woman, he sent his dad, Edward, to find out a little more about her life, and how her faith played an active part in helping her raise her beautiful family.
la suite aprés cette publicité
The mom of 10 hadn't planned the number of children she would have, "rather, she was humble to God's design and accepted the children that he had planned for her." Yet, she embraced her large family while supporting her husband in the family business:
"One vivid memory for mom was that she assisted her husband with his family business, a studio and wedding photographer. Mom oil painted portraits for dad, right from the beginning of their marriage. So part of the at-home landscape of toddlers and babies was the easel, oil paints and paint brushes, which mom had to keep the kids from toppling over. She was proud that she only had to tell them once and they stayed clear of the easel. But this reflects part of the sacrifice she was willing to make in an effort to support the family business and thereby the family," shared Edward.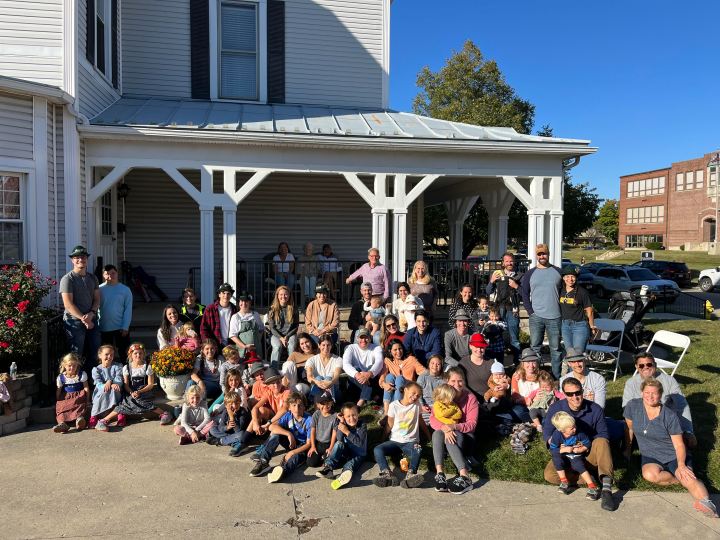 Interestingly, Great-grandma Slonkosky also spoke about a benefit of having a large family that we don't often think about. Edward shared:
la suite aprés cette publicité
"One of the graces mom identified with having a large family was that she felt it kept her in the spirit of humility, and necessarily always praying, always having a need or reason to be on their knees in prayer."  
la suite aprés cette publicité
Mrs Slonkosky went on to address the family's financial situation with her son — an issue that sees many large families make what others might see as "sacrifices," but which actually can be the most rewarding experience in our lives.
"Contrarily, to choose to not have children seemingly would guarantee more control over the financial matters and have more financial surplus, but at the spiritual cost of having less of a need for God, less need for depending upon Him, less need for the humility to be predisposed to prayer. They were not poor, but were always depending upon God."
Of course, there were other benefits to having a large family that weren't obvious from the start:
"Another grace or blessing that mom recognizes was that which came after investing the early part of her life into her children, and this was the reward of having so many of her adult children living near her and being a part of her life and her with them."
A means to practice virtues
However, Mrs Slonkosky also shared with her son how raising a large family calls on all of its members to practice a number of virtues:
la suite aprés cette publicité
"Having a large family made it very difficult for her as a parent to spoil any one child. The family dynamic of a large family provided a continuous environment to practice charity and patience and selflessness, both from the parents to the children and with the children's interactions with each other. … The large family fostered a strong sense of familial pride, relationship, and fraternity, a desire to be together and continue to reunite often."
And finally, Edward shared how by embracing faith, the large family dynamic went from strength to strength:
"The dynamic of the large family also allowed the charism of the domestic church to flourish, grow, take root and develop and become the focal point of life. Our faith and our desire to live out our faith has been directly impacted and was cultivated by the dynamics of a large family. We were not just our own thing, nor felt at liberty to do whatever we wanted. The idea of being a part of something greater than just our own individual selves was reinforced through the members of the family, especially through our parents."