"What cross could I carry with more strength and effort?" It's silly, but I immediately thought of the laundry!
Do you have that one chore you just can't stand? Mine is laundry. 
I can tolerate mopping, dusting, vacuuming and so on, albeit gritting my teeth. But the boredom of laundry does me in. 
I really don't understand how two adults and four small children create such an inordinate pile of laundry. Putting it away every day just to do it all again tomorrow feels hopelessly Sisyphean.
Sometimes, we escape the daily round of chores to play hooky for the day (a perk of homeschooling!). That's what happened last week, when I took my children to our favorite museum, the Art Institute of Chicago. 
My young kids don't have the patience to spend a lot of time looking at art, so we always stop in for just an hour or two. We focus on a few pieces, look at them closely, and discuss them as thoroughly as the kids desire. Then off we go outside to burn off energy at the playground across the street. 
This time, I convinced the kids to check out the European Art gallery with me, instead of their beloved favorites — the Arms and Armor and Miniature Rooms. We hadn't visited this gallery in a while and I wanted to see what might inspire us there.
Our first find was a happy surprise: We stumbled on a painting we'd studied for school the previous year. The kids always like to revisit familiar pieces; it's like seeing an old friend.  
But as we were about to leave the gallery, an unfamiliar piece caught my eye. It was a painting of the Apostle, St. Andrew, carrying his cross.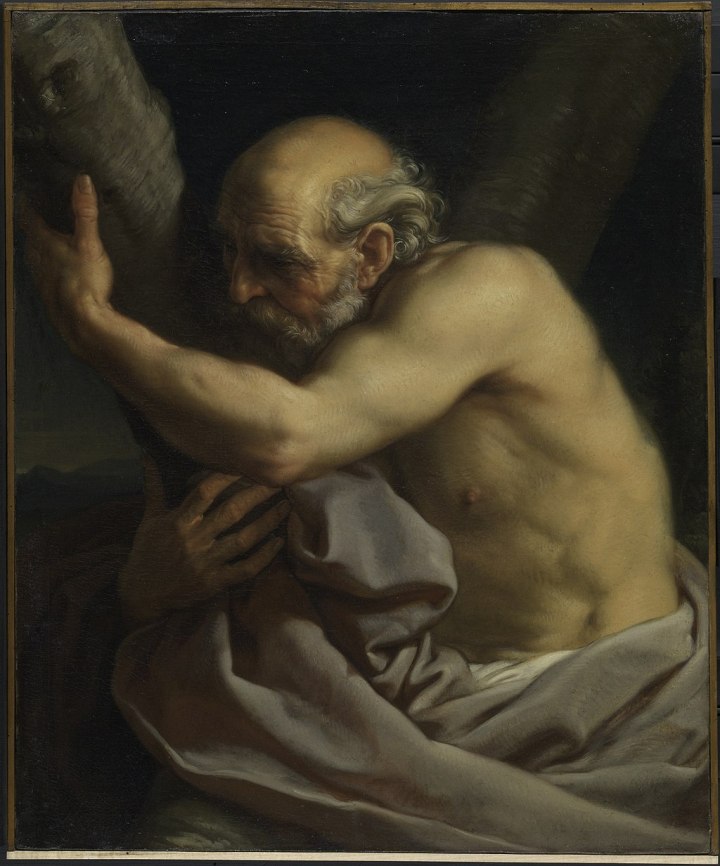 I took in the incredible image and immediately launched into educator mode, asking questions to encourage wonder and contemplation.
"Look kids, this is St. Andrew," I began. "Remember him? One of Jesus' friends. What's he doing here?"
"He's carrying his cross," my oldest piped up. 
"That's what we are supposed to do too," I said. "Jesus said, 'If you want to follow me, pick up your cross.' I wonder what might be a cross for us to pick up?" 
The kids suggested some ideas, like sharing their toys, helping around the house, and not fighting with each other (the perennial struggle!).
"How is he holding his cross?" I went on. 
"Really tight," another child said. 
"That's right, he's holding it so tight and strong; he's almost hugging it. I wonder what are some ways we can hug our cross and carry it as strong and close as we can?"
After another minute, the youngest children started voicing complaints, so we made our way out of the gallery. 
I doubt my children remember that conversation, but I kept thinking about it long after we left the museum. What cross could I carry with more strength and effort?
Later that day, my thoughts turned to this question as we were driving home. Embarrassingly enough, I immediately thought of the laundry. It's not my heaviest cross, but it's the one I bear with the least grace. 
Even as I had to laugh at the silliness of this cross, I knew the three laundry baskets full of clean laundry at home meant it wasn't something I could keep shirking. I resolved to stop casting aside this cross and find a way to carry it better.
Over dinner that evening, I shared my resolution with my husband and kids. But as I finished, my husband stopped me in my tracks. 
"Wait a minute," he said, "I didn't know the laundry was such a cross for you. Why don't you leave it until tomorrow and I'll put it away?I don't mind folding the laundry; I can watch sports at the same time."
Well, I know a cross when I see one, but I also know a Simon of Cyrene when one comes along. Sometimes when we resolve to carry a cross, the Lord sends an unexpected way to make that burden light. 
If only all crosses could be lifted from our shoulders so easily! But I think this is my sign to look for a way to carry a cross for someone else. And the next time I'm struggling with my own, I'll try not to wait so long to ask someone for help.