Lebanese Christians have been working on the enormous project to pray for peace and unity for Lebanon.
A handful of Lebanese Christians have been working on a huge project for the past 15 years: building the largest rosary in the world, in order to pray for peace and unity for Lebanon.
The idea was born during a pilgrimage to Medjugorje (Bosnia and Herzegovina) in 2006. The police mistook the name of one of the Lebanese members of the group and that man found himself in prison for several days. During his captivity, he began to pray, and the idea of building a large shrine to the Virgin Mary came to him. Taking a pen, he drew a sketch of this giant rosary with a shape imitating the contours of Lebanon.
Upon his release, the dental prosthetist began raising funds to launch his project, and in 2008, the groundbreaking ceremony took place. The size of the "beads" that form this rosary is exceptional: nearly 5 yards long and 3 wide. These 59 concrete chapels have tunnels through them so that pilgrims can pass through as they say the Hail Mary. A small community has already settled on the site and is praying the rosary there with some Christians from the surrounding area. But the project, supported by the Lebanese Maronite Church, is far from being finished. For the structure to be completed, the "beads" must still be decorated and a huge cross must be erected above a chapel where perpetual adoration will be offered. At night, the nearly 2,000-ft-long loop will be illuminated and be visible from the sky.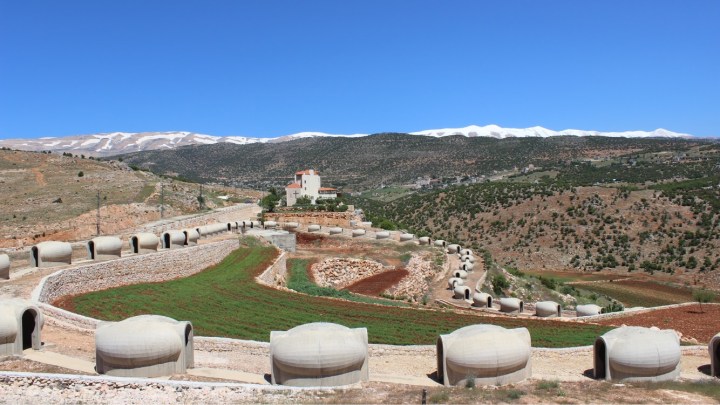 Photo Facebook- Rosary of Lebanon
A symbol of peace
This extraordinary work is going on while Lebanon is going through a very serious economic crisis. But for the Christians supporting the project, it's important to see it through, first of all because the inspiration for this rosary was born in 2006, the year of the war between Israel and Lebanon. In this unstable region of the world—the site is about 19 miles from the border with Syria—the purpose of the shrine is to pray for the peace and unity of Lebanon.
Moreover, the land on which the shrine is built overlooks the northern Bekaa plain, where many Shiite Muslims now reside. "We see that the Virgin Mary attracts many Muslims," explains Archbishop Hanna Rahme of the diocese of Baalbek-Deir El Ahmar, where the giant rosary is located. "It's also a way to build a bridge between our communities; may this shrine become a space for dialogue thanks to the Virgin Mary," he adds.