Fr. Eugen Runggaldier is vicar general of his diocese and an active member of a local mountain rescue team.
Fr. Eugen Runggaldier, vicar general of the diocese of Bolzano in northern Italy, is also a rescuer in the Dolomites mountains.
Born in Santa Cristina di Val Gardena, a small town in the Dolomites, the 54-year-old man has had a passion for the mountains since childhood. He climbed all the peaks in the Dolomites before being drawn to serve as a rescuer.
"Twenty-five years after my ordination to the priesthood, given my great passion for the mountains, the desire to become a member of the Bolzano Mountain Rescue Service grew within me," he explained with his sparkling eyes to the Italian newspaper ANSA in early May 2022. He is now a full member of AVS South Tyrol Mountain Rescue, a mountain rescue team of the German-speaking Alpine Club.
When he goes on a rescue mission, he puts on his red uniform before taking off in the helicopter with his team. He's highly regarded in the South Tyrol region for his service, but also for his command of the three languages spoken in the Italian Autonomous Province: Italian, German and Ladin. He can thus address everyone in their native language.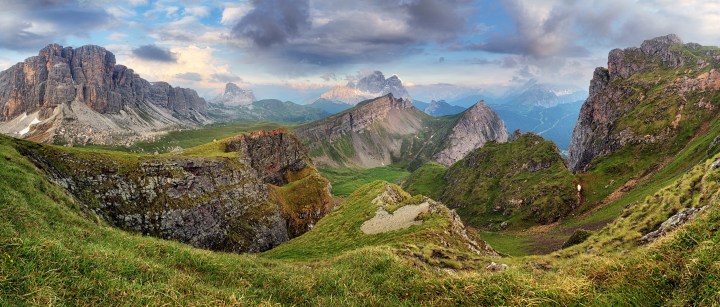 TTstudio | Shutterstock
When the vocation of a rescuer meets that of a priest
Before him, the inhabitants of the valley already were familiar with a famous rescuer priest, the legendary Fr. Josef Hurton. Fr. Eugen tells Ansa that Hurton "was not only a member of the alpine rescue organization, but also created the section at Solda, a town at the foot of the Ortles, where there is no shortage of mountain rescues." At 94, Fr. Hurton still keeps his dog, which he trained for avalanches, close to him.
"Being a priest and a mountain rescuer is a serious commitment, but this also applies to all other volunteers," explains Fr. Eugen. Unfortunately, not all interventions end happily. "It has happened that I also have had to be a priest during an intervention, especially when I have to recover a deceased person," he told ANSA. "Being with these people and their families, praying, is very important to them."