Check out their wide array of Catholic gifts any holiday!
With Father's Day fast approaching, children of all ages are looking for just the right way to show their appreciation to their dads. Thankfully, discerning Catholic sons and daughters need look no further than Full of Grace USA, where they can find presents not only for fathers but for any gift-giving occasion. 
la suite aprés cette publicité
Full of Grace USA is a one-stop shop for Catholic items like holy cards and rosaries, or gift items with a Catholic theme, like socks or journals. The folks at Full of Grace USA have put together a wide array of merchandise that epitomizes the transcendental properties of goodness, truth, and beauty. Here, the good comes in the form of high-quality products made for everyday use, the truth is in the Catholic message that is emblazoned on each offering, and the beauty is clear to see in each of their original Catholic artworks and designs. 
la suite aprés cette publicité
This year, Full of Grace USA has an abundance of Father's Day favorites, with selections to suit just about any dad. 
la suite aprés cette publicité
Rosaries and medals 
No company that deals in Catholic merch could be complete without a line of rosaries, and Full of Grace USA is no exception. They offer a line of "heavy duty" rosary beads that will hold up to daily use with even the most callused hands. 
la suite aprés cette publicité
For fathers in particular, the stand-out rosary has got to be "The Weapon." Harkening to the words of Pope St. Pius IX, "Give me an army saying the Rosary and I will conquer the world," the Weapon features stainless steel beads and a whopping 3-½ inch crucifix. Strung together with paracord, this rosary has the heft to remind one of the weight behind each prayer and will sit heavy enough in one's pocket to act as a constant reminder of the call to prayer.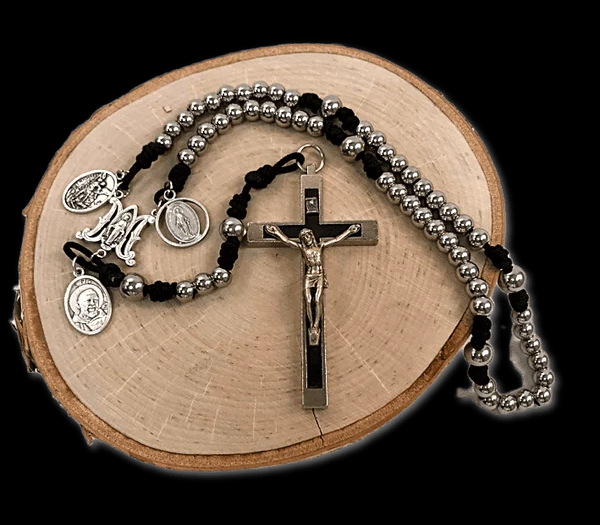 If the stainless steel beads of the Weapon stand out too much for dad, "The Taxiarch" may be more his speed. This Rosary trades the stainless steel beads for black painted wood, but maintains a similar design. The Taxiarch is a rosary dedicated to Mary through Her protector, God's general in Heaven, St. Michael the Archangel. 
Their rosaries are fantastic, but some fathers may not be accustomed to carrying around such a large devotional. For these dads it may be more prudent to explore Full of Grace USA's offerings of sacramental medals. In particular, their St. Michael the Archangel medal or Holy Shroud medal, available in bronze, white bronze or sterling silver, could be the perfect faith ornament. 
la suite aprés cette publicité
Socks and playing cards
There's a reason socks are a staple of gift-giving holidays: everyone needs them and at the rate they wear out, it's never bad to have extras. Now with six unique designs that are 100% made in the USA, dads will no longer embarrass their kids by wearing socks with sandals, because they'll be repping their Catholic faith. For fathers in particular, Full of Grace USA has designs featuring the Sacred Heart of Jesus, St. Benedict's Sword and St. Michael the Archangel. 
la suite aprés cette publicité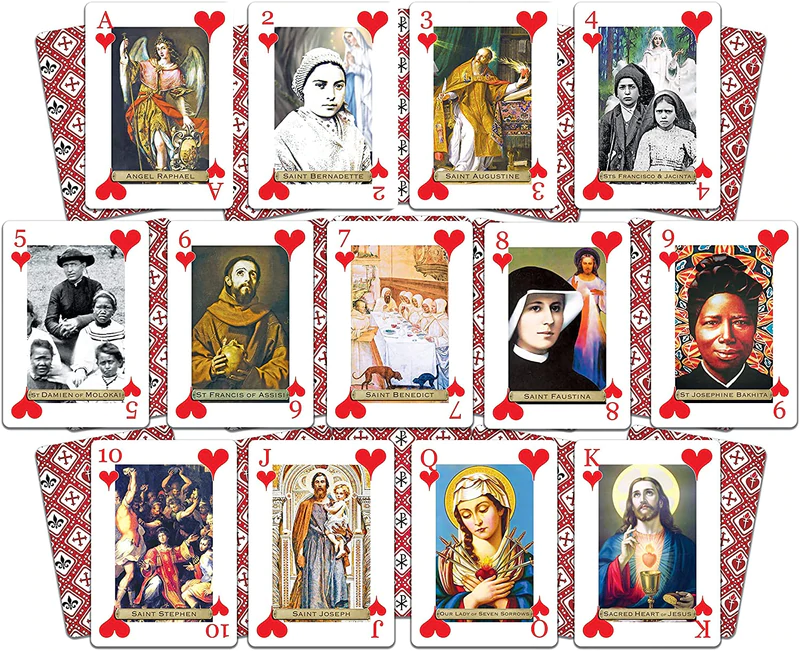 One of our favorite offerings from Full of Grace USA is their custom Catholic playing cards. Called "Holy Playing Cards: Saints Edition," this premium 52-card deck comes with 45 unique depictions of the saints. The deck is stacked with saints ranging from ancient to modern, including: John the Baptist, the Apostles, Joan of Arc, Padre Pio, Thérèse of Lisieux, André Bessette, and John Paul II. Of course, Jesus Christ holds the King's spot in all four suits. 
Holy cards and more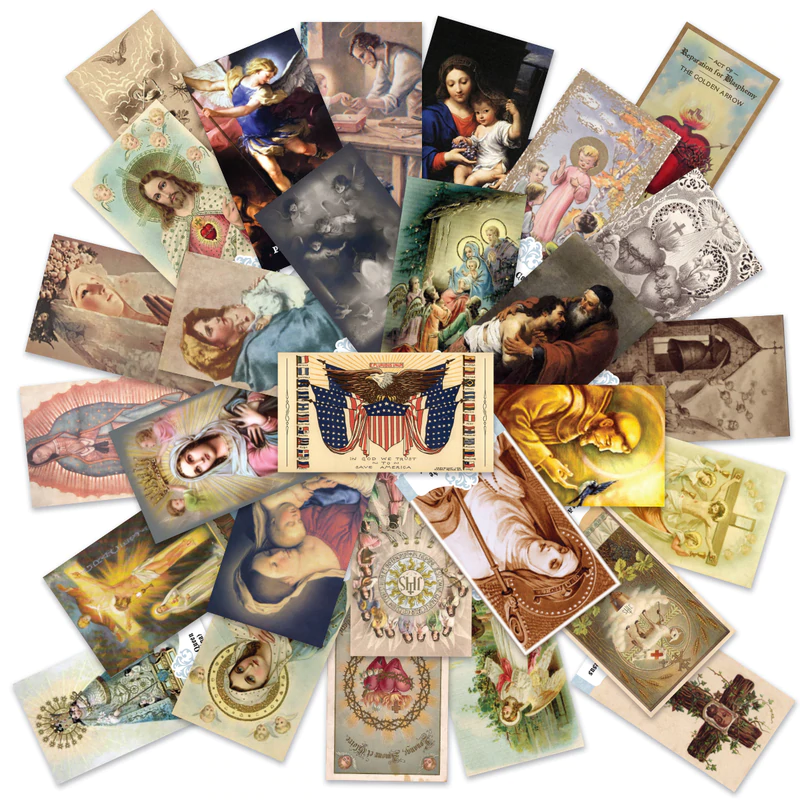 The phenomenal Catholic art of Full of Grace USA perhaps shines brightest from their extensive line of holy cards and novenas. They offer traditional cards and more intricate paper lace cards, with the latter showing just how lovely a holy card can be. Even these, however, practically pale in comparison to their incredible embroidered detentes. These stitched cards call back to a time before the printing press, when Christians hand-made holy cards on paper or fabric.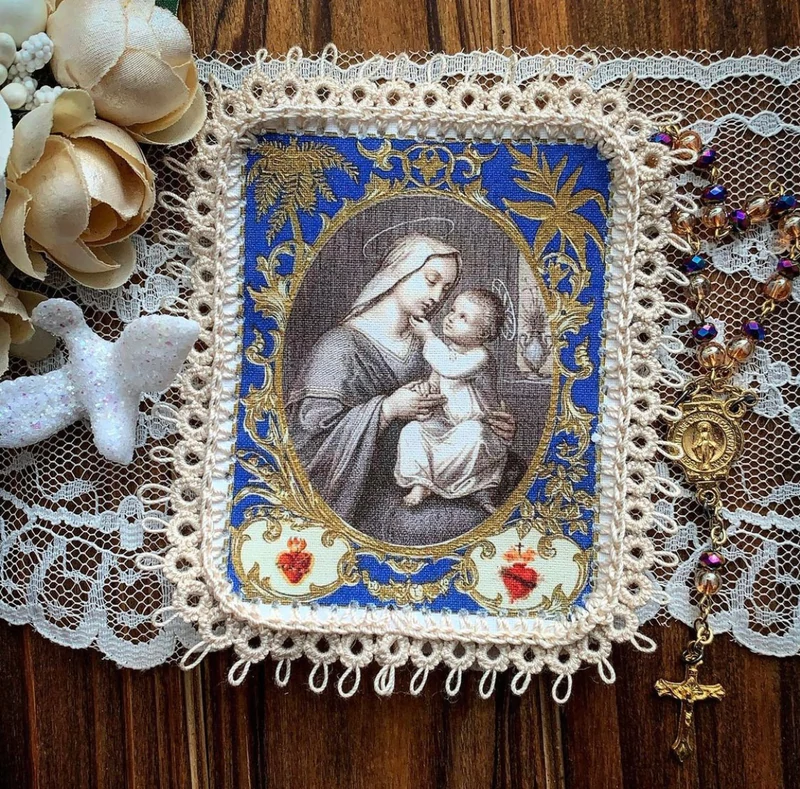 There's lots more at Full of Grace USA than we could ever cover in just one article. Along with all the offerings we've highlighted, they carry veils, correspondence cards, wall art, holy candles, home decor, clothing, facemasks, faith tools and more. Oh, and did we mention that the founders of Full of Grace USA also make Motherboards skateboards, snowboards and now new surfboards? Like we said, it's a one-stop shop for all things Catholic. 
la suite aprés cette publicité
Full of Grace USA
Founded by a Catholic family, Full of Grace USA was established in 2011 with the mission of providing a way to enjoy historical Catholic images in everyday life. The Colorado-based company utilizes a vast library of these historic images, as well as an ever growing catalog of custom Catholic works, created specifically for Full of Grace USA.
This merger of traditional and contemporary works of Sacred Art is a staple of Full of Grace USA's style and projects their intent to spread the word of God through everyday touchpoints. The continuing goal of the company is to introduce everyone, Catholics and non-Catholics alike, to the "beauty and power that such imagery holds." They accomplish this through exceptional visual craftwork and the unique Catholic message that each image portrays.
Click here to explore the worthly line of Catholic merch from Full of Grace USA.