Ukrainian and Polish volunteers prepare to distribute much needed supplies for refugees in an effort that recalls great acts of charity in Poland's proud history.
Throughout Poland, one of the most reputable charities is Caritas. The director of Caritas Radom, Fr. Damian Drabikowski, says that Caritas was one of only four charities nationally to score 10 out of 10 on its annual audit. Caritas is the Polish equivalent of what we in the U.S. call Catholic Charities.
la suite aprés cette publicité
In Radom, the Caritas office is located across the street from the site's former parish church, Sacred Heart. During WWII, the pastor of this parish became famous for his charity. Fr. Bolestawa Strzelecki was very generous to the poor, always providing for anyone in need, especially with bread. For this reason his church become known as "Dom Chleba" (the House of Bread).
la suite aprés cette publicité
During the Nazi occupation, Fr. Stzelecki publicly denounced a Nazi attempt to win over the women of his parish. Nazi officers told the women that in exchange for sexual favors, the Nazis would ensure their husbands would come home safe from the war. Fr. Stzelecki preached against the Nazis, encouraging the women of his parish to keep their virtue.
la suite aprés cette publicité
After Holy Mass on January 7, 1941, Fr. Strzelecki was arrested while distributing bread to the poor. He was imprisoned and tortured. He died in a prison camp on May 2, 1941. The only relic that still exists from the parish priest is the crucifix he held during his arrest. 
la suite aprés cette publicité
When we visited the Radom warehouse, we found this crucifix overseeing the good work of Ukrainian and Polish volunteers. Caritas Radom has helped the city settle 1,300 refugees. On Friday, 500 more will arrive. Natalia, a bilingual Ukrainian woman, was directing the labeling and packaging of goods that were being prepared to be sent. Fr. Drabikowski introduced her to us as "the treasure of Radom."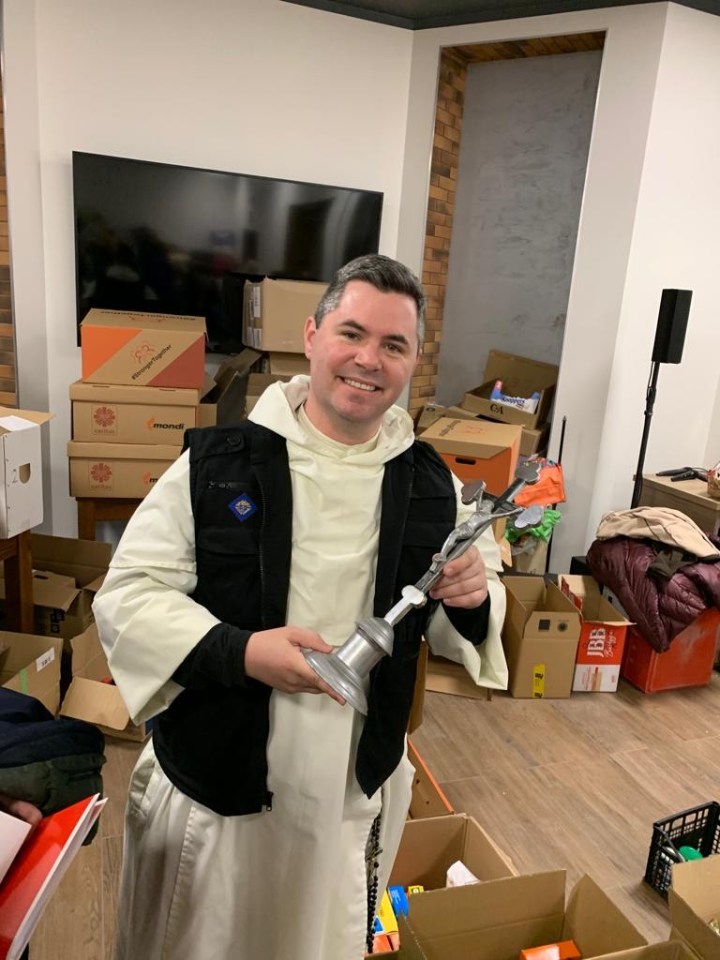 Photo courtesy of Fr. Patrick Briscoe
Busy about her work, Natalia took only a few minutes to speak with us. She suffered extreme conditions to make it safely to Radom. Fr. Drabikowski mentioned in the next day or so, that she would officially be hired by Caritas Radom, where she will work to aid her countrymen, by organizing and sending supplies.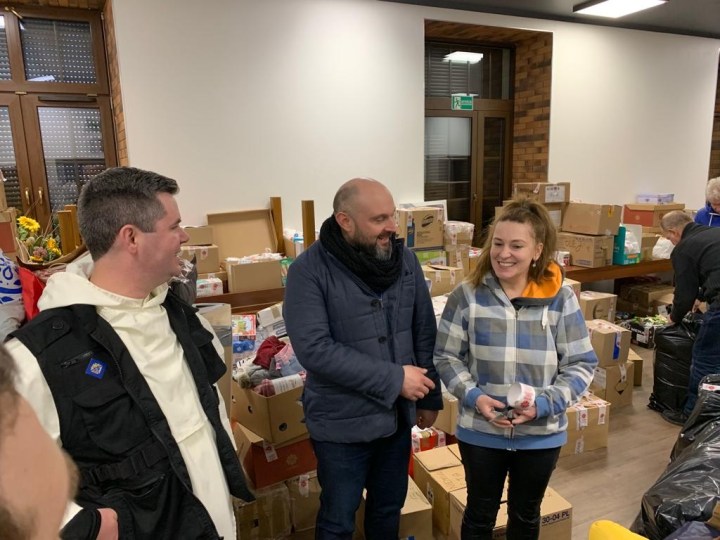 Photo courtesy of Fr. Patrick Briscoe
I held back a moment from the group to offer Natalia a blessing and a work of encouragement. She looked up briefly from her work. I offered her my hand, in friendship. She took it, kissed it, and asked for my prayers.
la suite aprés cette publicité
My eyes welled with tears as we left.
la suite aprés cette publicité
Our visit to Caritas Radom was part of an effort of the Knights of Columbus. The Knights partnered with Caritas to send medical supplies over the border into Ukraine. Caritas has the resources to secure the medical supplies and assist with their transit.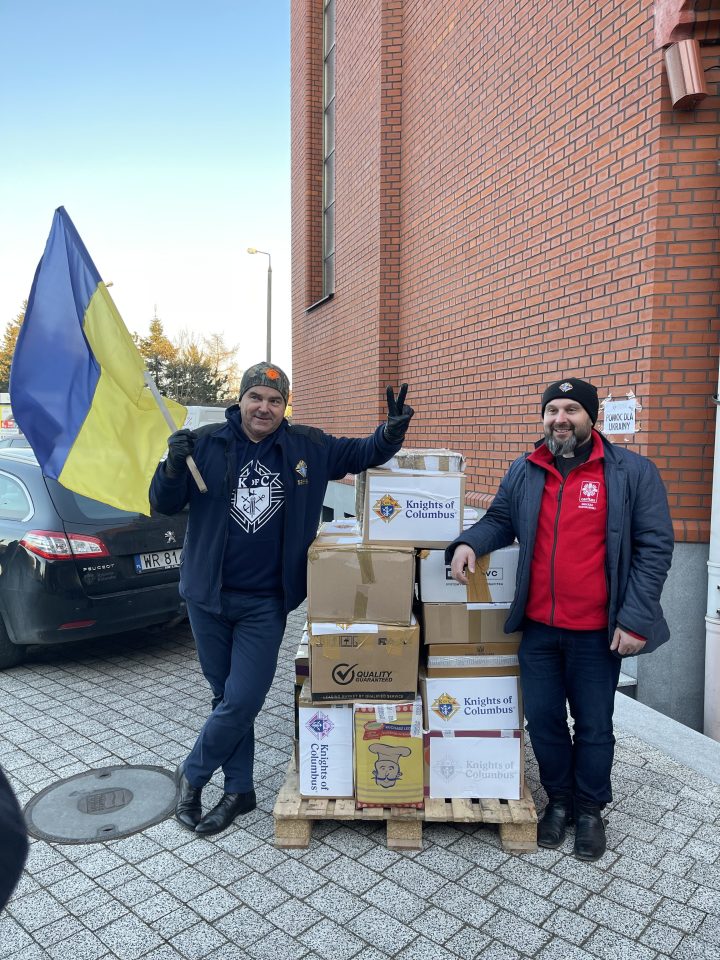 From Caritas, we went to the Parish Church of Our Lady of Częstochowa. This parish is home to an extraordinary Council of Knights of Columbus (Council #14004). These men have led several collections of goods for Ukraine.
We arrived at the parish as they were loading the second semi-truck trailer the Knights were sending to Lviv. There we met Szymom Czyzek, the Director of International Growth in Europe of the Knights of Columbus and Fr. Wieslaw Lenartowicz, pastor of Our Lady of Częstochowa.
la suite aprés cette publicité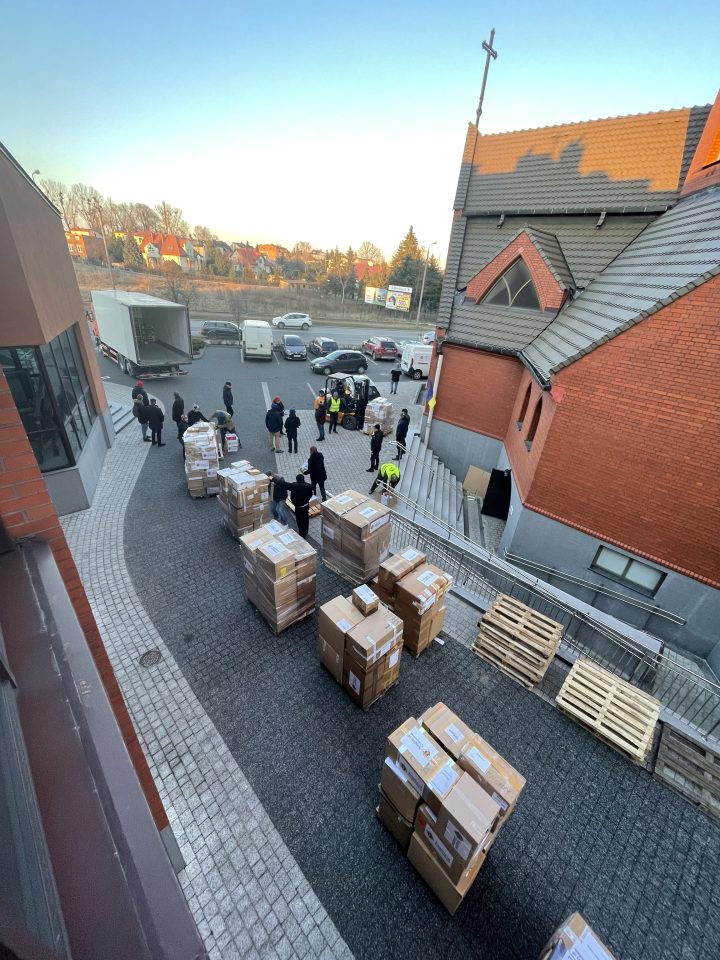 Courtesy of Fr. Patrick Briscoe
Fr. Wieslaw is the kind of parish priest every parish priest should want to be. He once made a 23,000 km pilgrimage from Poland to Moscow, through China, Kazahkstan, Iraq, then up to Rome, then home. On the way, he stopped at Polish cemeteries praying for his deceased countrymen. A former seminary professor, his vibrant parish of 5,000 has two vicars.
Last fall, Fr. Wieslaw toured the border of Ukraine, beginning to plan where potential support centers could be placed to offer humanitarian aid.
With many hands, loading the truck was light work. There has been a great outpouring of support from the men of Council #14004. Afterward, we gathered in the council hall to hear Fr. Wieslaw give a talk. The room was still packed with goods set aside for the 500 refugees coming.
Courtesy of Fr. Patrick Briscoe
The atmosphere had been light and friendly. These men are friends, deep friends and service is their joy. They are real men. Recalling Poland's recent past, he said that the beginning to the great Solidarity movement was like this too. It was light-hearted and festive. 
But, Fr. Wieslaw cautioned, it will get hard, really hard. He told the men, more will asked of them. They must be ready, they must pray.