The monks will reinstate the Rule of St. Benedict and create a regional spiritual center.
A French abbey that has been without monks since the French Revolution will soon be active again. The Benedictines are returning to Solignac Abbey after 230 years. The coming months will see the abbey renovated before a special inauguration Mass on November 28. 
Catholic News Agency reports that the announcement came in a press release from the Diocese of Limoges. The missive was signed by Bishop Pierre-Antoine Bozo and Dom Jean-Bernard Marie Bories, abbot of St. Joseph de Clairval Abbey. Bishop Bozo commented: 
"I give thanks for this amazing news, because we've been searching for different solutions for this place for many years and eventually, the project that succeeded is the one that is the most consistent with the original purpose of this abbey built by St. Eligius — that is, to welcome communities of monks, especially Benedictine monks."
According to the report, the monks will restore the Rule of St. Benedict at Solignac Abbey. Their main goal is to turn the grounds into a regional spiritual center. Bishop Bozo noted that the area has been devoid of contemplative communities for centuries. He said: 
"I am deeply convinced of the fruitfulness of contemplative life, especially in our fast-paced world, marked by materialism and individualism." He continued, "This original form of life, which goes against the flow in today's world, can only do a lot of good to people, who will be offered what Benedict XVI used to call an 'oasis,' a place that all Christians need to be rejuvenated."
A historic abbey
The historic Solignac Abbey was founded in the 7th century by St. Eligius. The Benedictines ran the abbey for nearly a millennium, before they were ousted by French Revolutionaries in 1790. Afterward, the site was used for a variety of things, including a prison, a school, and a factory.
During World War II the property was used as a refuge for Catholic teachers. After the war ended it hosted the Missionary Oblates of Mary Immaculate. This order left in the 1990s and the site has been empty for nearly 20 years. 
The renovations of various abbey buildings are expected to take several years. Still, the abbey will be complete enough to formally reopen in November. On the first Sunday of Advent, November 28, the monks will hold a celebration Mass and from there, hold daily Mass that will be open to the public. 
When it reopens, Solignac Abbey will be focused on prayer and retreats. Renovations are expected to allow the grounds to host larger retreats than even Clairval Abbey. Along with spiritual guidance, the monks will participate in a collaboration with the Catholic education system. They will help agricultural students complete a 2-year degree and sell products through the abbey store. 
Read more about the plans for Solignac Abbey at CBCP News.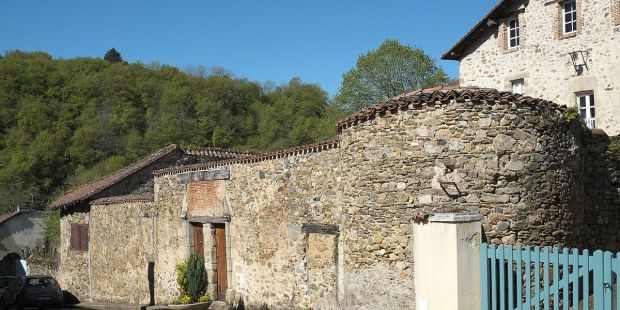 Launch the slideshow