This family's amazing story is a reminder that nothing is impossible for God.
Gerard Marino has worn a Miraculous Medal around his neck ever since he can remember. It was a gift from his mother, who gave all of her children Miraculous Medals when they were very young. (His parents consecrated their relationship to Our Lady of the Miraculous Medal when they were dating, and later consecrated the entire family. Gerard, named Gerard Majella after St. Gerard, is the 15th of 17 children.)
When Gerard was swimming in the ocean 10 years ago, he lost his precious medal, but one of his daughters found it buried under the sand when she saw something glistening in the water through her goggles. Recovering it was a lot like finding a needle in a haystack — but Gerard, now 46, never imagined he'd be the recipient of that little miracle twice.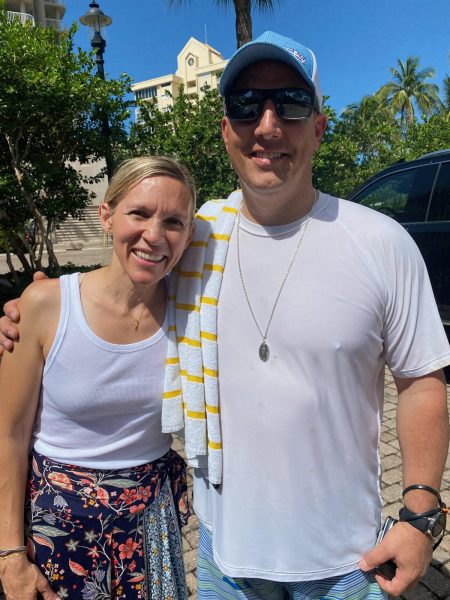 Courtesy of Katie Marino
For the past five years, Gerard, his wife Katie, and their five daughters have been vacationing in Naples, Florida, and on their recent trip Gerard was at the beach with the girls. The water was calm and the kids were snorkeling. He was standing in waist-deep water when they all spotted a dolphin. When he went to grab his phone to take a photo, the long chain came off and the medal disappeared under the water. Gerard searched all over but couldn't find it. The loss made him particularly emotional, as his mother passed away only a couple of years ago.
Not one to give up hope, Gerard began searching online for metal detector rentals and found a service that recommended a man named Tony. It was 4th of July, a holiday weekend, and a Sunday — but within 30 minutes, Tony was outside the Marino's condo ready to get to work. That alone seemed like a miracle.
While Tony searched in the ocean, Gerard prayed. Then Tony handed Gerard his second metal detector so he could help. Meanwhile, Katie and the girls went to Mass, where they prayed they'd find it. "My youngest especially was praying so hard to Our Lady," says Katie.
Gerard lost his medal around 7:30 a.m. At 11:00 a.m. he found it.
"I saw him stop, kneel down, and pull it out of the water," said Katie. "It was not only a gift that it was found, but a gift that he found it … He was overcome with emotion."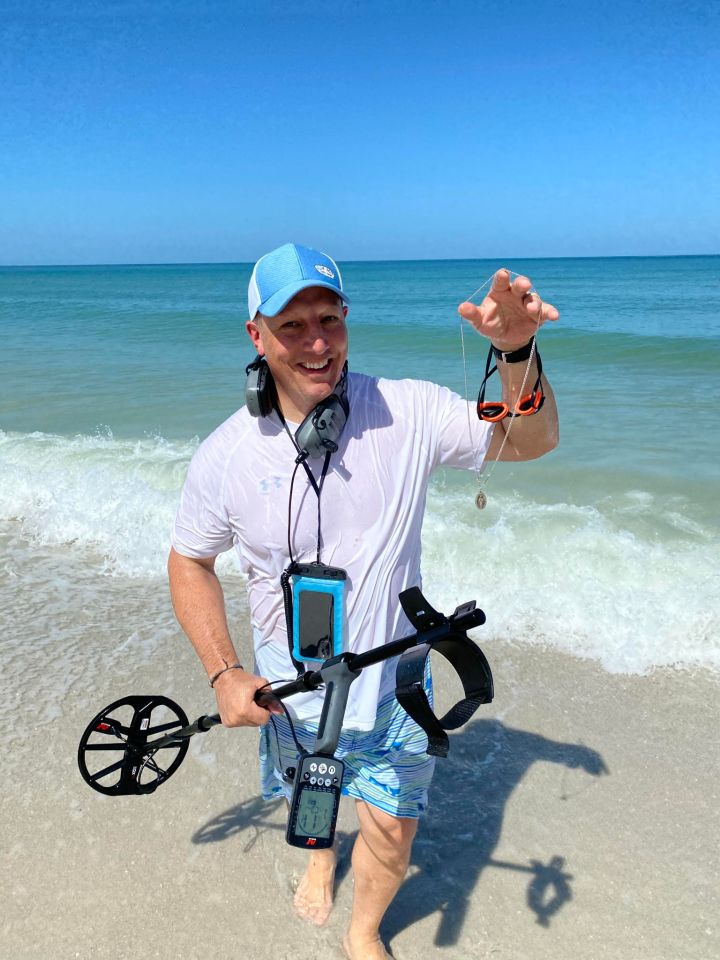 Courtesy of Katie Marino
After hugging her husband, Katie ran towards Tony further down the beach exclaiming, "He found it! He found it!" Everyone around them started clapping, as many had been made aware of the story.
After gathering back on shore together, Tony asked if they could all say a prayer of thanksgiving. He put his arms around Gerard and Katie and led them in prayer, asking protection on the rest of their vacation. He told them he didn't want any payment. (Gerard insisted, and paid him more than what was agreed upon.) The two struck up a friendship and Katie thinks they'll stay in touch.
Katie says watching the scenario unfold was powerful. "It was so meaningful for my kids to witness the power of prayer and how present God and Our Blessed Mother are, in the little details of our daily life."
For Gerard, it was a reminder to trust in God and never give up — as well as a reminder that his heavenly mother and earthly mother are always there for him, ready to help.