The medieval Tuscan city of Siena was home to St. Catherine, one of the Church's most brilliant theologians, who was named a Doctor of the Church.
In your nature, eternal Godhead, I shall come to know my nature. And what is my nature, boundless love? It is fire, because you are nothing but a fire of love.
St. Catherine of Siena
Siena is a well-known city in Tuscany that had become important during the late Middle Ages and Renaissance. Like nearby Florence, it prospered in the banking industry. Prominent families commissioned the best artists of the day to decorate their homes and churches. 
A number of important saints come from Siena, such as the Dominican St. Catherine and the Franciscan St. Bernardine. 
St. Catherine of Siena's holy beginnings
St. Catherine of Siena (1347-1380) was the youngest of 25 children. She was from a middle-class family of tradesmen and notaries in the Fontebranda district. 
Already as a child she had visions of angels, seeing them as clearly as the people they protected. At the age of seven she consecrated herself to Christ, and at 16 she became a professed Dominican tertiary. She embraced a life of prayer and seclusion in a small room in her father's house. 
After three years of locutions and conversations with Christ, she underwent a profound experience which she described in her letters as a Mystical Marriage with Jesus. She heard a divine command to enter the public life of the world.
A brilliant theologian without a formal education
Catherine began serving the sick (especially those afflicted with the most repulsive diseases) and the poor, and she worked for the conversion of sinners. 
She corresponded with men and women of all ranks, including princes and statesmen of Italy. She sought to bring an end to conflicts, such as in cities where factionalism and inter-family feuding was rampant. She was consulted by papal legates about the affairs of the Church. 
In one of her most well-noted correspondences, she is credited with persuading Pope Gregory XI to return to Rome from Avignon in 1377. Later, at his encouragement, she set out to seek peace between Florence and Siena.
St. Catherine was one of the most brilliant theological minds of her day, although she never had any formal education. Her letters and a treatise referred to as her "Dialogue" are considered among the most brilliant writings in the history of the Catholic Church. 
While at Pisa, in 1375, she received the invisible stigmata, sharing in the pain of the wounds of Christ though they did not appear outwardly in her body. 
In late November, 1378, Catherine went to Rome, at the behest of the new Pope, Urban VI, to help end the Great Schism of the West — a time when three popes were claiming to be the true successors of St. Peter.
After suffering a stroke, Catherine died in Rome on April 29, 1380, at the age of 33. Her last words were, "Father, into Your Hands I commend my soul and my spirit."
Urban VI celebrated her funeral and burial in the Dominican church of Santa Maria sopra Minerva in Rome.
Her body was found incorrupt in 1430. Pope Pius II canonized Catherine in 1461, and she was declared a Doctor of the Church. Her letters are considered one of the great works of early Italian/Tuscan literature. Her feast day is April 29.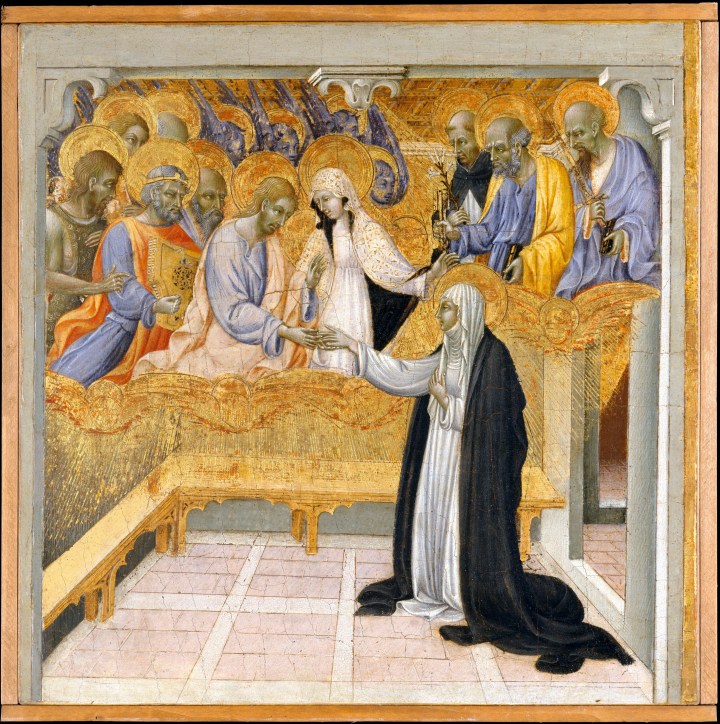 Launch the slideshow
A walking pilgrimage in the footsteps of St. Catherine
Pilgrims to Siena can visit St. Catherine's birth home, where she was born and where she lived her austere early life as a Dominican tertiary. It has been converted into a sanctuary and consists of a series of chapels. 
It contains numerous relics, including the crucifix through which she received the stigmata. The monumental marble well in the courtyard dates to the 15th or 16th century.
A short walk away is the Basilica of St. Dominic – a vast, prominent brick church in Siena. It was founded by the Dominicans in the early 13th century, though today it is more closely associated with St. Catherine.
Immediately on the right side of the nave is a raised chapel housing the only authentic portrait of St. Catherine. It was painted by an acquaintance of hers, Andrea Vanni, during her lifetime.
Halfway down the nave, still on the right side, is the chapel of St. Catherine. The walls are frescoed with scenes from her life, painted mostly by Sodoma in 1526. 
Here visitors can venerate other relics, including her incorrupt head and thumb in ornate reliquaries, both of which were sent from Rome to Siena just a few years after her death. (The rest of her body is still interred in Rome in the Church of Santa Maria sopra Minerva.)
For more information on the Basilica of San Domenico, visit the church's official website at: www.basilicacateriniana.it/
Other holy sites in Siena
Other important sites in Siena include the cathedral, or Duomo, a veritable treasure trove of ornate Gothic and Renaissance masterpieces; the city's main square known as Campo or Palazzo Pubblico – the site of Siena's famous Palio horse race; and the Basilica of St. Francis (also known as the Franciscan church of San Bernardino) that houses an important Eucharistic Miracle.