One of the best tracks from their new album, 'Living for the Other Side.'
The Hillbilly Thomists just released a the first live session video from their new album, Living for the Other Side. The recording features one of our favorite tracks from the record, "Hard Times." 
la suite aprés cette publicité
For musicians, one of the hardest things to do is match a recording note-for-note in a live show. These Dominican friars, however, casually accomplish this feat with ease. Even the guitar solo was brilliantly played to make the listener feel like they're in studio with the band. The tightness of their performance further displays a unity of their shared mission: To evangelize through song. 
la suite aprés cette publicité
As musicians, the Hillbilly Thomists can stand up with bluegrass greats like Ricky Skaggs and Béla Fleck. The intro features a haunting vocal harmony and subsequent choruses that give way to a lively chord progression as the band joins in. Opening and closing the track on this a cappella line lends a unique flair to the number.
la suite aprés cette publicité
Hope in hard times
The band is an absolute joy to watch perform, because they look like they're having a ball, especially the drummer. Playing on time-worn instruments and clad in simple robes and sandals, the Hillbilly Thomists embody the impoverished roots of bluegrass. This is perhaps because each member of the band has taken a vow of poverty.
la suite aprés cette publicité
This vow makes the subject matter of "Hard Times" all the more poignant. When a band of poor friars sing about hard times, you know that times must indeed be hard. With a somber melody, the lyrics present vivid imagery of labor and hardship through exquisite prose. The tune acknowledges the struggles of the working-class, while supporting their human dignity.
From start to finish, "Hard Times" is a splendid work of Catholic folk music. The tune extols the virtues of the faith without resorting to overt religious references. This brings to the song a great potential for evangelization with a crossover audience. We fully expect to hear secular bluegrass artists covering "Hard Times" for years to come.
Click here to learn more about the Hillbilly Thomists. Then, check out their new album, Living for the Other Side, on Spotify.
la suite aprés cette publicité
la suite aprés cette publicité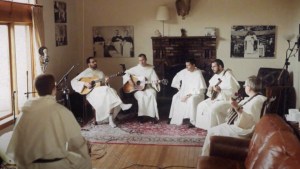 Read more:
The Hillbilly Thomists' second album hits it out of the park