These women knew the challenge of caring for their children and answering the economic needs of their families.
Want to see fewer ads on Aleteia?
Sign up for our Premium service. It's FREE!
Click here
Any conversation about working mothers through history needs to acknowledge that all mothers are working mothers and that for centuries those who stayed at home with their children were nearly always doing many hours of labor a day, even if they had no outside employer. Mothers have always been farmers and seamstresses and laundresses and diplomats, even if nobody was paying them for their work. But there are also saints who had jobs that took them from home each day or that occupied them in the home as they earned money to support their families. In a world where so many mothers work outside the home (or from the home), it's deeply encouraging to have Saints to look to who also fought to balance work and family life.
Bl. Anna Maria Taigi (1769-1837) was raised in a working class family in Italy but was quite vain and materialistic as a young bride, despite the fact that her husband was a butler and she a seamstress, with little money to waste. But an ordinary moment of prayer changed everything, and this working mother—who eventually had seven children—suddenly felt called to turn from sin and run after Jesus. She had so little understanding of what this might mean that she became distressed, leading her husband and family to wonder if she was suffering a nervous breakdown. Finally, a holy priest began to offer her guidance as she experienced visions and ecstasies and began to serve the poor and the sick, all while working and raising her children. She became famous for her holiness and popes and royals sought her out for advice; but while she could have accepted the aid her wealthy friends offered her, Maria preferred to keep working, sewing to earn bread for herself, her husband, and her children.
St. Zélie Martin (1831-1877) is famous as the mother of St. Thérèse of Lisieux. Married to St. Louis Martin, Zélie was a mother of nine and a lacemaker with a successful business in France. So successful was her business, and so popular the designs she created, that her husband quit his work as a jeweler and watchmaker and became an employee of his wife, who hired outside help for childcare while she supervised many employees. After Zélie's death from breast cancer, Louis sold the business and moved to Lisieux to be near family.
Bl. Eurosia Fabris Barban (1866-1932) was raised in poverty in Italy, leaving school at eight so she could work on the farm and later take in sewing. In her 20s, she helped to care for two little girls whose mother had died; before long, she married their impoverished young father. The two went on to have nine more children and adopt three others. While raising her children (and serving as wet nurse to babies whose mothers couldn't breastfeed), Eurosia continued to work as a seamstress; eventually she was head of a dressmaking shop with 10 to 15 apprentices, whom she trained in discipleship as well as sewing. Though she worked hard, the family remained poor, as Eurosia gave away as much as she could to those who had greater need even than they.
Bl. Maria Corsini Beltrame Quattrocchi (1884-1965) was married to Bl. Luigi Beltrame Quattrocchi. While raising their four children, Maria served as a volunteer nurse for the Red Cross and worked extensively with Catholic Action. She also wrote at least two books while her children were still young (on motherhood and education) and edited two others; later she would write 10 more. By many measures, this Italian family would be considered unremarkable. But they loved each other well and prayed hard, resulting in beatification for the parents and four children who gave their lives to the Church—including their daughter, Servant of God Enrichetta Beltrame Quattrocchi.
St. Gianna Molla (1922-1962) is best known for her heroic death, but such selflessness was only possible because of her holy life. Married just before her 33rd birthday, Gianna continued to work as a physician while raising her three children (and suffering two miscarriages). During her last pregnancy, doctors found a tumor in her uterus. Gianna chose to sacrifice herself for the survival of her daughter and died shortly after giving birth.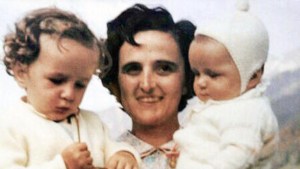 Read more:
St. Gianna's son: "She is not only a saint because of her heroic deed"
Servant of God Daphrose Rugamba (1944-1994) was the Rwandan wife of a philandering atheist (Servant of God Cyprien Rugamba) until a miraculous conversion healed not only Cyprien's soul but their marriage as well. A few years after his return to the faith, Cyprien retired so that he could put his energy into working for the Church; the family's financial situation became precarious, particularly since they had 10 children to feed. To supplement Cyprien's meager pension, Daphrose began selling potatoes at a roadside stand in Kigali. There she caught some children in the act of stealing from her. Rather than call the police, she spoke to the children and learned of their needs. With Cyprien, she began a center to help street children, which they ran for several years before being killed in the Rwandan genocide.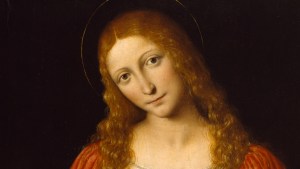 Read more:
Saints who were women pioneers