The manuscript from the Middle Ages was nearly destroyed by ISIS.
While on his historic trip to Iraq, Pope Francis had the opportunity to meet with members of the Syriac Church. At the town of Qaraqosh, the pontiff returned an important prayer book that was saved from ISIS' hands. The manuscript had been safeguarded and restored by the experts from the Vatican.
la suite aprés cette publicité
According to CNA, the 14th-century manuscript contains Easter-time liturgical prayers in Aramaic. The prayer book was originally housed in the Al-Tahira (Immaculate Conception) Church, in Qaraqosh. The Syriac rite church was raided by ISIS while they occupied Qaraqosh from 2014-2016, but the book survived. While under ISIS, the Church was desecrated and burned by the extremist group, but has been fully renovated since then.
la suite aprés cette publicité
Restoration in Rome
The book wasn't discovered in Northern Iraq until January 2017, and was then sent to Archbishop Mouche of Mosul. The archbishop passed it on to a group of Christian NGOs who safeguarded the manuscript until it was sent to Rome for restoration. Pope Francis presented the fully restored book to Archbishop Mouche after praying the Angelus at the restored Al-Tahira Church. 
la suite aprés cette publicité
The report goes on to note that the restoration of the manuscript took about 10 months. The Central Institute for the Conservation of Books in Rome conducted the restoration. Experts from the Vatican reportedly used their store of manuscripts from the same era to aid in the work. The only part of the book that needed to be replaced was the binding string.
la suite aprés cette publicité
Ivana Borsotto, who was part of the delegation that presented the restored work to Pope Francis, commented:
"The work carried out all together to ensure that Sidra returned home is also the expression of the positive role that international cooperation plays in different parts of the world: to promote the development of people, but also to foster cohesion and the growth of territories and communities in order to make populations self-sufficient and autonomous."
She went on to note the importance of religious books in promoting community and preserving history.
la suite aprés cette publicité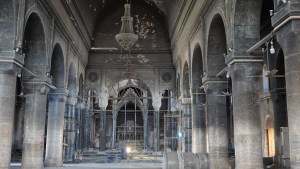 Read more:
Pope Francis to visit Iraqi church that was almost destroyed by ISIS