Part of a team that opened the first integrated U.S. hospital, she also marched in Selma.
A religious sister who served on a team that opened the first racially integrated hospital in the United States has died.
Maryknoll Sr. Madeline "Maddie" Dorsey passed away on February 13 at the Maryknoll Sisters Center in Maryknoll, New York.  She was 102 and had been a Maryknoll Sister for 85 years.
Sr. Dorsey had also served in North, Central and South America and in South Asia. She had experienced some of the most tumultuous events of 20th century history firsthand. She marched on "Bloody Sunday" from Selma to Montgomery, Alabama, in 1965, and in El Salvador, in the midst of a civil war in the 1970s identified the bodies of four American church women who were killed there. 
Born on June 26, 1918, in Brooklyn, New York, to Katherine (Poleon) Dorsey and John Dorsey, she entered the Maryknoll Congregation on December 8, 1936. On June 30, 1942, she made her final profession of vows.
From 1940-1945, Sr. Maddie studied at the Catholic University of America in Washington, D.C., earning a Bachelor of Science Degree in Nursing. She studied at St. Louis University in St. Louis, Missouri, and became certified in Hospital Administration in 1949. Later, in 1976 she earned a Master's Degree in Religious Studies at Maryknoll Seminary.
In 1945, Sr. Maddie received her first overseas mission assignment, to Panama. For four months she worked in public health and taught catechetics and was then assigned to Riberalta, Bolivia. There, she spent the first few years serving as a public health nurse/nursing supervisor and then helped set up a jungle hospital. In 1949, she moved to Ceylon (now Sri Lanka) where she served as a nursing supervisor in a government hospital in Kandy.
Ten years before the Civil Rights Act banned racial discrimination in the workplace, Sr. Maddie returned to the U.S. and worked with a team of Maryknoll Sisters, who opened the first racially-integrated hospital, Queen of the World Hospital, in Kansas City, Missouri, in 1955. According to the Global Sisters Report, it was Kansas City Archbishop Edwin O'Hara who wanted to open the hospital. Sr. Maddie served as the administrator.
On March 7, 1965, Sr. Maddie and two other women religious, including a Maryknoll Sister, were placed on the front lines of a march from Selma to Montgomery, Alabama, in support of voting rights for Black Americans (she is pictured third from the left in the photo above). Because of the violence that took place, the march came to be known as Bloody Sunday. The two Maryknollers represented the Black doctors who worked with them at Queen of the World Hospital.
Sr. Maddie then relocated to Peru to work in the Puno Hospital as Nursing General in the premature obstetrics ward from 1966-1971. She then returned to the Maryknoll Sisters Center in New York for Congregational Service, assisting with health services in the Sisters Bethany Nursing Home until 1976.
The next 16 years — 1976-1992 — were spent in Central America, where she engaged in pastoral work, administered preventive medicines and helped build basic ecclesial communities in El Salvador, Guatemala, and Mexico. 
From 1976-1981, Sr. Maddie was on mission in El Salvador during the civil war there. She lived in one of the poorest areas of the country, and, as she once recounted, "We spent a lot of time simply accompanying people in their grief." 
When four churchwomen — Maryknoll Sisters Maura Clarke and Ita Ford, Lay Missioner Jean Donovan and Ursuline Sister Dorothy Kazel — were murdered by National Guardsmen in 1980, Sister Maddie was one of the Maryknoll Sisters who identified the bodies, after they were retrieved from a shallow grave. In 1981, when the Salvadoran Church and government authorities said the safety of the sisters could not be assured, they reluctantly left the country.
In 1993, she returned to the Maryknoll Sisters Center for Congregational Service, ministering to the elderly sisters and helping with outreach among the Hispanic community through St. Ann's Parish and the Open Door Family Medical Centers in Ossining, New York. In 2006, Sr. Maddie returned to the Maryknoll Sisters Center to fully retire, but was always happy to respond to requests to be a speaker and witness for justice and peace events and retreats.
She is predeceased by a brother, John, and two sisters, Madeline and Kathryn. Sr. Maddie donated her body to science. A Memorial Liturgy was offered February 18, and her ashes will be interred at Maryknoll Sisters Cemetery at a later date.
Read more:
Bishops Offer Encouragement on Anniversary of Civil Rights March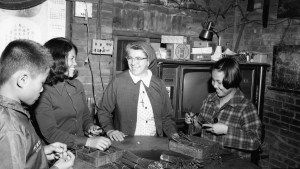 Read more:
Oldest living Maryknoll Sister, who survived Chinese imprisonment and earthquakes, dies at 104