It's a time of transition and healing -- here's how to make it smooth sailing.
The weeks after giving birth are a strange, strange time. You have a whole new set of aches and pains that take the place of all the end-of-pregnancy discomforts you had before labor and delivery. Plus, you may have incision pain from your c-section, or pain from tearing. None of your normal clothes fit yet, but you're sick of all the clothes you've worn for the past nine months. Your hormones might be making you feel emotional and not yourself, and then add to that a beautiful tiny baby who needs your attention and care 24/7 (not to mention any other people you live with who might want your attention and care as well).
It's an unprecedented time of transition. How do you stay grounded in what really matters while handling all of the practical things life is throwing at you? Here are some ideas that have helped me cope postpartum.  
1
Pray for other moms as a way to handle the discomfort.
I asked my friends for intentions so that I could offer the pain from my contractions for specific people and situations. It helped during labor, but I found it was even more fruitful after giving birth. It turns out that I used that list of intentions daily with the aches and frustrations of calming a fussy baby, lack of sleep, and healing from delivery. In the first week of breastfeeding, when every time my baby latched and I wanted to shout from the pain, I started praying a Hail Mary (through gritted teeth, but still!) for one of the people on my list. 
2
Decide on some quality content to consume while you rest or feed the baby.
You'll be recuperating for a bit, and this is the perfect time to catch up on some TV shows or blog reading. Why not plan ahead a bit and binge watch some content that will help your faith?  What we put into our minds is so important, and reading a lot of news and social media may just lead to extra feelings of hopelessness or inadequacy right now when you are physically and emotionally vulnerable. Use this time to check out shows and movies on Formed, for example (most parishes are able to provide their parishioners with free subscriptions). 
3
Eat and drink enough.
If it was important to take care of your body during pregnancy, it is still important now as you recover. Your body is a temple of the Holy Spirit, and while it is frustrating to have a body that feels foreign (Why won't the number on the scale change? Will my body always look this flabby/distorted/strange?), it's important to continue to take care of it gently. Staying hydrated is key for recovering. If you've ever struggled with body image and/or navigated an eating disorder, be aware that the postpartum period may bring all of those issues back up again. Remember that your body is going through a lot of transitions, and that we aren't meant to be the same size at all times.   
4
Talk to moms who've had a baby before.
You need to be able to commiserate with someone about the strange things happening in your life and body. And it will help your mental health to have someone to chat with, whether that is over text or in person. Reach out now, even if you haven't had many conversations with the mom you are texting. It is easy to bond over taking care of a new baby. Just send all the texts. You need the camaraderie! 
5
Take advantage of technology to help your prayer life.
When you're not physically feeling ready to return to Mass, take advantage of the virtual Masses that are streaming online. You can read along with the readings for Mass here. While feeding or rocking a baby to sleep in the morning or evening, try listening to Morning or Evening prayer. For help with meditative prayer, check out the Hallow app. These are all a few clicks away on the phone you probably have near you anyway, and it is much easier to swipe and type while holding a baby than it is to find and open a Bible or prayer book.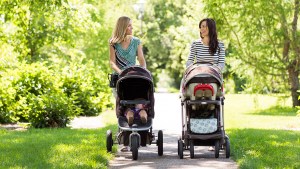 Read more:
3 Simple ways to help your body heal postpartum