The esteemed tenor sang and accompanied a live duet with Alison Krauss for the new album release.
To promote his new album, Believe, Andrea Bocelli appeared on Good Morning America to perform "Amazing Grace." The esteemed tenor was joined by 27-time Grammy Award winner Alison Krauss, who appeared on the album. What made the appearance so interesting was how Bocelli showed off his piano skills. In lieu of an orchestra, he accompanied Krauss on a grand piano as they sang.
To facilitate social distancing, the two vocalists were in separate locations. The original recording utilized a full scale orchestra for accompaniment, but the piano version was a great choice too. The minimal instrumentation allowed for a more intimate rendition of the timeless hymn.
Surprising musical depth
The live performance featured some compelling vocals from both singers, but we were transfixed by Bocelli's piano. The chords were simple while Bocelli sang the first verse, but as his voice faded away they became more intricate. The rising scale as Krauss entered the second verse was a really nice touch, as well as the gentle chords he played at the end.
Bocelli previously performed "Amazing Grace" during his Easter time isolated "Music for Hope" concert. For the album, he recorded two versions of the hymn, one solo and the other with Krauss. According to PR News Wire, Krauss, who seemed a bit star-struck, said of the collaboration, "What an amazing experience! Fantastically terrifying!"
Sacred music to soothe the soul
Andrea Bocelli released Believe on November 13, just in time for Christmas. He described the album as as a celebration of music's soothing qualities. The 17-song work has the sensational tenor singing in English, Italian, Spanish, and Latin, with several compositions of his own. According to Express UK, Bocelli said of the album:
"The concept behind Believe is based on three words: faith, hope and charity. These are the three theological virtues of Christianity, yet – quite independently of any religious belief – they are also the three extraordinary keys to giving meaning and completeness to the lives of every one of us."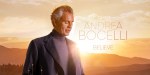 Read more:
Andrea Bocelli releases new album of sacred music


Click the official music video below to hear the difference that an orchestra makes.