Scientists have a message for young believers: Do not be afraid to go into science! You will not be alone.
Persons of committed religious belief have made a great number of historic scientific contributions. However, it's no secret that today, science and religion are often falsely viewed as adversaries.
"The cultural forces at work in America have greatly muddied the waters … and created this kind of false binary" between science and religion, says Dr. Kate Bulinski, Associate Professor of Geosciences at Bellarmine University in Louisville, Kentucky.
Bulinski believes such "perceived incompatibility" is playing a role in causing young persons to "drift away from the Church."
Asserting that the Church needs "loud, consistent messaging about the compatibility of faith and science," she says she has encountered "too many college students" (many of them products of Catholic elementary and secondary education) who are "utterly confused or under-informed about what the Church teaches about science."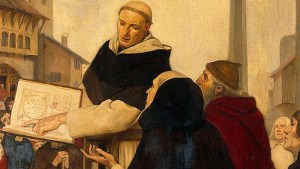 Read more:
Perhaps no one shows better the Faith-Science alliance than this saint
"The last time scientists had a run-in with the Catholic Church was 400 years ago, in the Galileo case," points out Dr. Stephen M. Barr, Professor Emeritus of Physics at the University of Delaware and author of such books as The Believing Scientist: Essays on Science and Religion.