But there's one big difference between men and women when it comes to hormone shifts after baby arrives.
Conceiving and carrying a baby changes a woman's body (and even her brain) so much that when we talk about postpartum changes, we talk about "getting your body back." This new, postpartum body is totally unfamiliar to us. Men who become fathers, on the other hand, don't seem to change much at all — at least, not dramatically. (My husband looks the same as the day I married him. Me, not so much.)
But a new father's body changes too, in a handful of concrete, measurable ways. Let's talk about some of the hormones that are at play. Hormones don't control us, obviously, but they are real, measurable, and powerful, and when they're working as they're supposed to, they give us a good boost in the right direction.

Oxytocin, the bonding hormone that breastfeeding mothers get floods of, actually plays a big part in a man's relationship to his baby, too. Where mothers might bond in quieter moments with their babies, fathers get a hit of oxytocin when they're engaging in "stimulatory parenting," — anything from wrestling and roughhousing to trying to get the baby to laugh and respond — as well as when they get skin-to-skin contact with their baby.
Prolactin is the hormone that supports breastfeeding in the mother — the name literally means "for milk." During and after his partner's pregnancy, the father sees an increase in prolactin, too. In him, it suppresses testosterone, making him more inclined to be nurturing, supportive, and playful. In both parents, this hormone also affects libido. We're used to the fact that mothers who breastfeed often experience a sharp drop in libido, especially before their fertility has returned. What we now know is that fathers experience something similar. Add to that the role which vasopressin has in "bringing out the protective instinct in a father," and there are a lot of helpful hormones at play here.
Here's the difference between mothers and fathers, though: A woman can't decide whether or not her milk will come in, whether or not her placenta will do its job. Those things just happen. But in a man, the hormonal shifts aren't guaranteed; it all hinges on the choices he makes. A father who doesn't interact with his children, and doesn't spend much time with his family, might not see the same hormonal activity as one who's more involved. Alan Boyle, science editor for NBC, explains:
"

It turns out that fathers get many of the same rushes that mothers do from parenthood — but the payoff depends on proximity and interaction. For example, researchers see the effect if the child sleeps with the parents, if the father recognizes and responds to the baby's cries, if Dad plays with the kids. When that proximity isn't present, the fatherhood effect isn't as strong."
In fatherhood, it seems, these hormonal changes follow from the father's choices. A father who plays with his children, takes on his share of the diaper duty, and spends time with his family, is more likely to be supported in his role by just the right hormonal activity. And that's great news for expecting fathers who aren't sure that they're going to know what they're doing — all they need to do is stay present and get involved, and their own body will help them figure it out.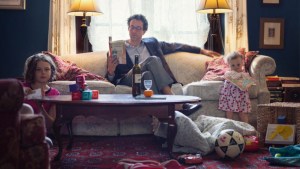 Read more:
What Evelyn Waugh can teach us about fatherhood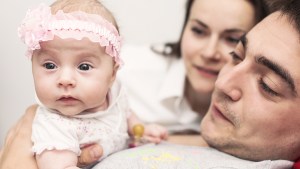 Read more:
Postpartum depression is a family affair — and dads can get it, too