A Louisiana parish offers an incredible array of services to build community and serve the poor.
If you were to walk in the doors of Full of Grace Café in St. Amant, Louisiana, the first thing to catch your eye would be a trio of large, stunning images: Our Lady of Kibeho (an approved Rwandan apparition), Our Lady of Guadalupe, and Our Lady of the Holy Rosary. Covering the rest of the walls of the coffee shop you'd see diverse images of saints—each there for a specific purpose.
la suite aprés cette publicité
"We want people to know that whoever you are, and whatever you look like, you can be a saint," says Fr. Joshua Johnson. 
la suite aprés cette publicité
Johnson was the force of nature behind this outside-the-box ministry at his former parish, Our Lady of the Holy Rosary. In an era when dioceses are closing churches and many Catholics mourn a lack of community, this parish in Louisiana discovered an unusual and wonderful way to come together in fellowship while evangelizing their neighbors and serving the poor. Full of Grace Café is a new ministry that opened its doors in Advent of 2018. Within weeks of opening, the Café had hundreds of visitors enter its doors every week—and each one is welcomed with the love of Christ.
la suite aprés cette publicité
Since then, Fr. Johnson has left Our Lady of the Holy Rosary. Today, he serves as the Director of Vocations for the Diocese of Baton Rouge as well as a Campus Minister at Christ the King Catholic Student Center (Louisiana State University). But the inspiring work he began at Our Lady of the Holy Rosary is still thriving.
la suite aprés cette publicité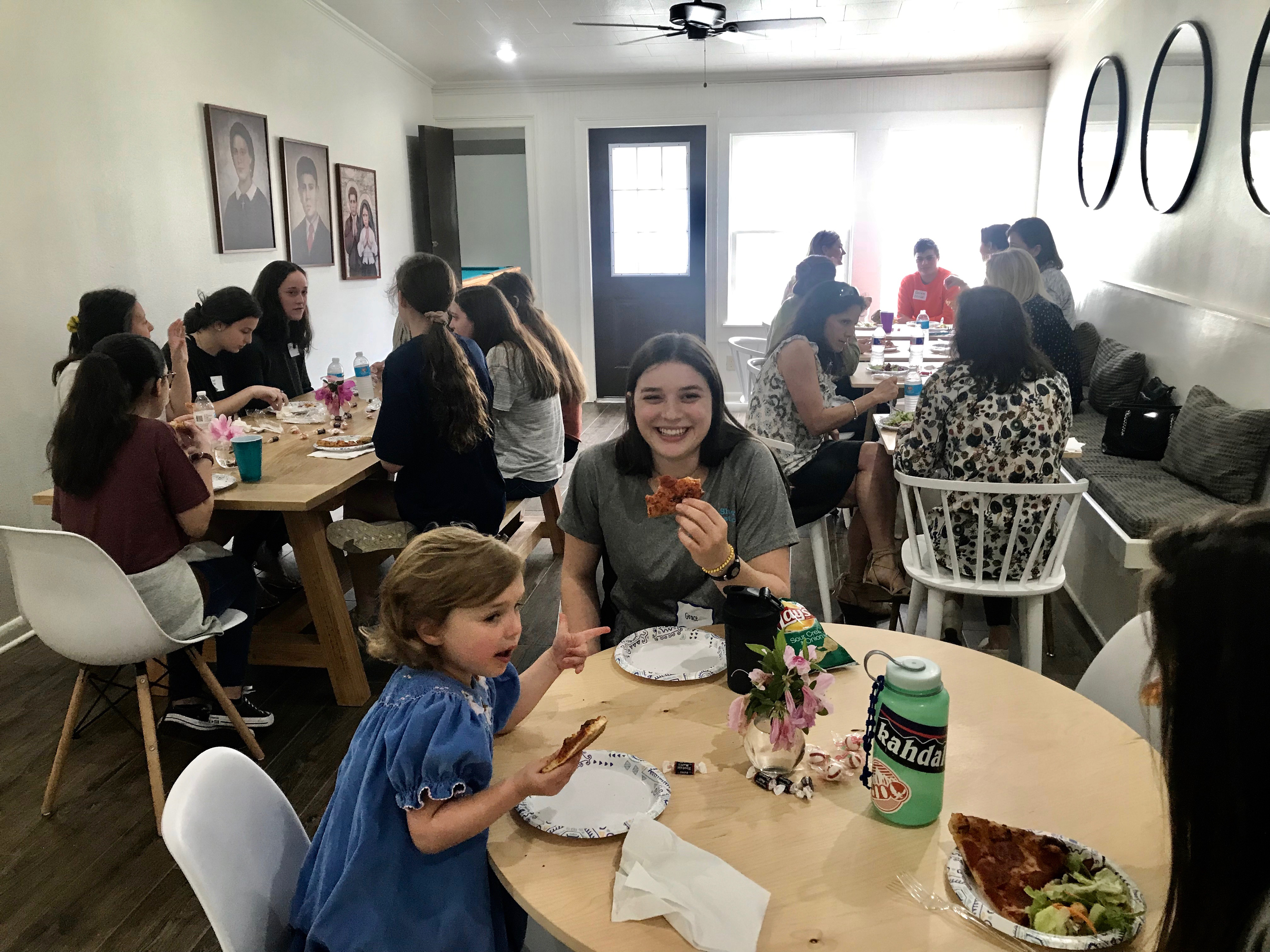 A ministry born out of tragedy and prayer
The origins of the café are a stunning example of how God works through human tragedy.
In 2016, St. Amant made national headlines when catastrophic floods destroyed the vast majority of the community and surrounding area. Thirteen people lost their lives while hundreds of thousands more were displaced; their homes destroyed. The town of St. Amant had to be rebuilt almost entirely.
A year after the floods, Fr. Johnson came on board as the new pastor at Our Lady of the Holy Rosary. The people of St. Amant were finally moving back into their newly rebuilt homes so Johnson began to offer house blessings as each family returned.
la suite aprés cette publicité
"So many people expressed gratitude for those who had helped them after the flood," Johnson said. Indeed, Americans across the country — and even celebrities like Beyonce, Taylor Swift, Lady Gaga, and Ellen DeGeneres — had donated substantially to the rebuilding efforts.
la suite aprés cette publicité
"My parishioners wanted to give back because so many had helped them," said Johnson. "So I began to pray with that."
The parish had a food pantry, but Johnson wanted to move it to the front, a signal of his commitment to serving those in need.
"Worship should be our priority, and the poor should be our priority," he said.
la suite aprés cette publicité
Conveniently, there was an old rectory at the front of the parish campus that wasn't in use. Johnson realized in prayer that the food pantry's relocation offered an opportunity to meet his parishioners' desire to serve others as they had been served. At first he thought that the space could become a soup kitchen, but he said, "I realized my parishioners had more to offer." One offered to give free haircuts, so Johnson ran with that—"A haircut can change the way you feel about yourself," he said—and that evolved into the coffee shop concept.
"I've always wanted to have a coffee shop," he said, "because they're a great place for people to share and evangelize."
Prayer comes up again and again in conversation with Johnson about his ministry. Prayer is the heart and soul of apostolate, and a deep and loving friendship with God is the constant driving force behind Father Johnson's apostolic work. It was in conversation with God that he conceived the idea for the coffee shop and later that he thought of its full name: "Full of Grace Café: Quenching God's Thirst for Charity and Justice."
For a little coffee shop, Full of Grace Café is already making an outsize impact for the causes of charity and justice. How have they done so much good in such a short time? The answer lies not only in prayer but also in giving every parishioner a chance to contribute.
The many and varied ways that Full of Grace Café benefits its community can be seen in the services it offers, which include the following:
A food pantry

Free haircuts from volunteer barbers and hairdressers

Diaper bank

Creighton FertilityCare practitioner who helps couples struggling with infertility and teaches women how to chart their cycles using Natural Family Planning

Free ultrasound machine

Free counseling through the Women's Life Center for women who have experienced miscarriage, abortion, stillbirth, infertility, etc.

Free legal advice through St. Vincent de Paul

Licensed therapist for women who've been sexually traumatized

Reduced-price counseling for any issue through Catholic Charities

"Blessing bags" with restaurant gift cards, water, and snacks to give out to homeless people

Free after-school tutoring for kids struggling in school

Free human-resources counseling for unemployed people to find jobs

Free laundry services for those in need

A Bible study room where small groups regularly meet

A small convent
An array of events for the community are held in the coffee shop, including movie nights, Bible studies, "Coffee and Christ" lectionary readings and discussions, and even a monthly praise and worship session to which other denominations are invited.
Although he started this dynamic ministry during his time at the parish, Johnson would be the last to take the credit.
"It's the work of the entire parish, it's the work of the Body of Christ," he said, "and my parishioners do so much more than I do."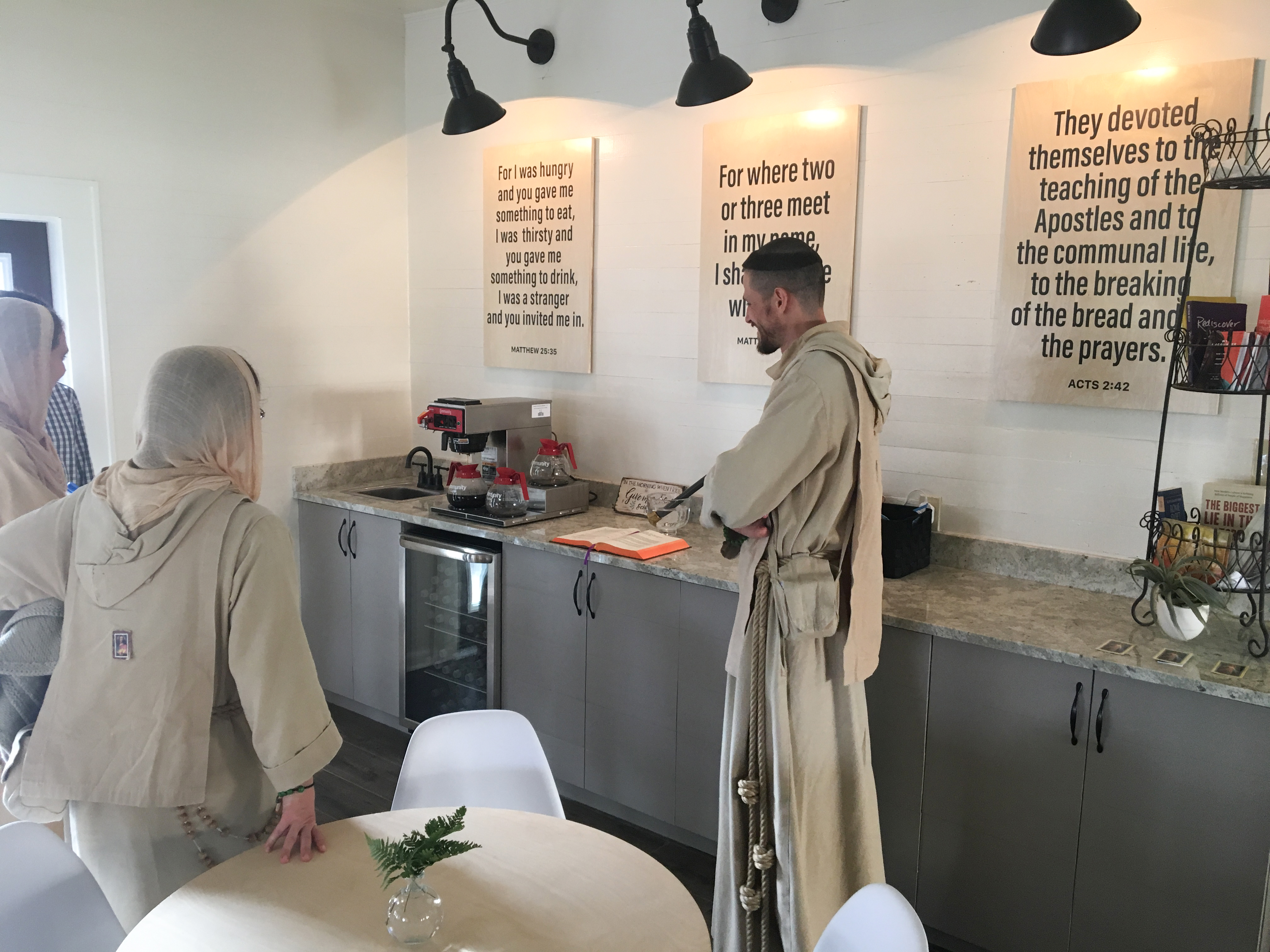 He made it all possible, however, by inviting and encouraging each member of his parish to serve each other and share their gifts—and this approach has been key to the ministry's quick and ongoing success. "God gives to every parish people with gifts and supernatural charisms, and if they are invited to come sit at the table and share those gifts, they can help the community," he said.
Asking every member of the community to serve can lead to conversion of hearts for them. "Sometimes there's this fear of who we're inviting to the table," Johnson said, "but let's meet people where they're at and invite them to walk with us, and pray with us about what they have to offer. I've seen people go from not living a moral life to living in a state of grace now—all because they were invited to come sit with us and join the team."
This attitude also extends to the underserved and suffering who come to the coffee shop for help. "After someone comes in for a meal," he said, "often you see them start serving others."
It quickly became clear that his approach was working. The biggest thing that surprised Johnson about this ministry is "how quickly God works," he said.
Before the coffee shop opened, Johnson counseled his team that they would likely start slow and would have to wait a while before they saw much business. Instead, not only did hundreds of visitors pour in during the first week alone, but Johnson said,
"We saw miracles. Homeless people found jobs, people came to confession after years away, post-abortive women found counseling and healing, and people returned to the Church after falling away. There is so much brokenness and hurt in the Church right now, but this ministry is drawing so many souls back to Christ."
Plans for the future
In just its first few months, Full of Grace Café became a powerful force for good in the community. At the time Aleteia spoke to him, Johnson's next planned project was adding an adoration chapel next to the café, which would make the parish's ministry even more effective.
"The Missionaries of Charity would see their work multiply when they focused more on prayer before the Blessed Sacrament," said Johnson, who spent time volunteering with the order in 2012. "We want to pray more than we work and watch God multiply our work. When we trust in Jesus in the Eucharist, the supernatural fruit is incredible."
That adoration chapel is now a reality, recently renovated and right next to the Café. "Adoration of the Blessed Sacrament is where we are filled up with the Spirit of Christ in the presence of Jesus in the Eucharist," Father Johnson wrote on his parish website. "The greatest of all saints were formed in the presence of the Eucharist; so too will future generations!"
Johnson also hoped that the parish would be able to welcome religious sisters to become a permanent part of their community. There is already a small convent on the parish campus, but it does not have sisters living there permanently; instead, members of different religious communities have been coming to stay for short periods of time. During their stay, they spend time with patrons at the coffee shop and go out to visit families in the parish community.  
"We have a whole generation of people who grew up without ever seeing a nun," Johnson said, "so we are inviting different religious to visit here to pray and work with us. Hopefully one of those communities will stay here and abide in relationship with Jesus and our people at Our Lady of the Holy Rosary."
As its scope of service grows, Full of Grace Café will need ongoing support, both spiritual and financial, to continue the good work being done there. Supporters are welcome to unite with the parish from anywhere in the world.
Of course, ideally Full of Grace Café would not be the only one of its kind. And Fr. Johnson hopes it will inspire similar ministries on other dioceses.
"If we can do this, anyone can do this," Johnson said. He hopes to see other parishes open similar organizations. "If any diocese wants to do this, [the team at this parish] will help them."