Losing her sister in horrific circumstances led Marian Partington to embark on an incredible journey of forgiveness.
Between 1967 and 1987, Fred West murdered at least 12 young women — including family members — with his second wife Rose by his side for the majority of the crimes. The murders were brutal, and to cover up their crimes, the Wests buried the victims in or around their family home in Gloucestershire, England, which later became known as the "House of Horrors."
la suite aprés cette publicité
Among the victims was Lucy Partington, an English Literature student who had gone missing on December 27, 1973. For 20 years, the family had had no idea what had happened to 21-year-old Lucy. But recently Lucy's sister, Marian, shared with the BBC how she was able to forgive the serial killers whose horrific crimes shook the whole of Britain.
la suite aprés cette publicité
In a revealing video, Marian shared how she'd run the gamut of emotions over her sister's death, including a "murderous rage" that showed her that even she herself could be capable of killing. However, in 2004 she had the opportunity of joining the Forgiveness Project, whose participants share "stories of forgiveness in order to build hope, empathy and understanding.
la suite aprés cette publicité
Through the project, Marian was able to develop empathy for Rosemary West, who'd had a horrific childhood herself, growing up in an abusive and loveless family. This empathy, and seeing Rose as a human being, allowed Marian to make a vow "to try and forgive the Wests." As Marian shared with the Forgiveness Project: "Her story seems to be about the impoverishment of a soul that knew no other way to live than through terrible cruelty. A life deprived of truth, beauty or love … Will she ever know the sacredness of life?"
la suite aprés cette publicité
Yet, through this forgiveness Marian is quick to point out that while she forgives the Wests as human beings, she doesn't forgive what they did. As she explains, while leaning on Scripture, the ability to forgive allowed her to confront the pain and not live with unhealthy thoughts for the rest of her life. "Lucy's life was sacred and I needed to reclaim her as a person, as my sister, from what happened," she shared.
If you'd like to listen to Marian's inspirational speech on forgiveness at St. Paul's Cathedral in London, take a look at the video below.
la suite aprés cette publicité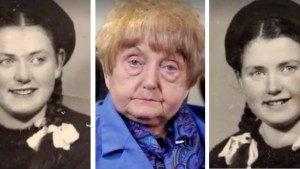 Read more:
3 Incredible acts of forgiveness from a survivor of Mengele's twin experiments
la suite aprés cette publicité