Recent developments in the science of pregnancy nutrition offers these dos and don'ts.
It seems like the moment you find out you're pregnant, everyone around you has advice for how to have a healthy pregnancy and delivery. One big area of focus in pregnancy is nutrition; after all, it takes good fuel to do all the hard work of growing a new human being! And scientists are increasingly finding that what you consume while pregnant can have an effect on your child even after he or she has left the womb. Here are a few recent developments in the science of pregnancy nutrition to consider:
1. Consider limiting gluten intake
If it seems like going "gluten-free" is just another fad, take a look at this recent study, which found that eating a high-gluten diet during pregnancy might raise your baby's chance of developing Type I diabetes. In the study, women who had the highest level of gluten intake (about 20g/day) went on to have children with Type I diabetes at double the rates of women who had the lowest level of gluten intake (about 7g/day). The researchers caution, however, that "given that a causal association between maternal gluten intake and type 1 diabetes in children has not yet been established, it is too early to change dietary recommendations on gluten intake in pregnancy."
2. Up your fatty fish intake
Often, pregnant women are counseled to eat fish that are high in omega-3 fatty acids to aid their babies' brain development. A new study has recently added to the pile of evidence that eating fatty fish in pregnancy is definitely a good idea: "Infants whose mothers ate fish three or more times a week during the last trimester of their pregnancy fared better (in brain and eye functioning) than those whose mothers ate no fish or only up to two portions per week." The "third trimester" specification is especially helpful, given that many women can hardly stomach the idea of eating (or smelling!) something as strong as fatty fish during their first trimester. Just make sure that you choose fish that are both fatty and low in mercury (salmon is an excellent choice), as mercury is dangerous to your unborn baby's developing brain.
3. Eat your veggies — especially your greens!
Does breast cancer run in your family? An interesting new study shows that eating the sprouts of cruciferous vegetables — in particular, broccoli sprouts — while pregnant may keep your baby from developing breast cancer later on. Although the study was conducted on mice (and has yet to be done on humans), the results help back up the mounting evidence that a diet rich in vegetables high in the compound sulforaphane (SFN) may have a protective effect against the development of certain cancers. Just be sure to wash all fruits and vegetables thoroughly before consuming — and especially sprouts — as they have been implicated in a number of food-borne illness outbreaks in recent years.
4. Watch what you eat — especially if you are already overweight 
While it's important for pregnant women of any size to stay within the recommended weight-gain limits, overweight and obese women are at an increased risk of gaining too much weight during pregnancy, which can increase the risk for larger babies, delivery complications, and possible obesity and blood sugar issues for the baby later on in life. Doctors have long been wary of restricting weight gain in overweight and obese pregnant women, as gaining too little weight in pregnancy may come with its own issues, but a new study has found that with nutritional counseling and the use of a meal-logging smartphone app, overweight and obese pregnant women can safely restrict pregnancy weight gain with no increased risk to their babies.
Being pregnant can be tough, and it often feels like your every action is being scrutinized under a microscope by your doctor, and even by society. But it can also be an excellent time for developing healthier habits for both yourself and your family. I know that getting pregnant with me (her firstborn) motivated my own mother to stop smoking for good, and when I got pregnant with my son, I drastically cut down on my sugar intake. So while these changes can seem overwhelming at first, if you use pregnancy as a golden opportunity to make better changes to your lifestyle, it will benefit you and your family for years to come.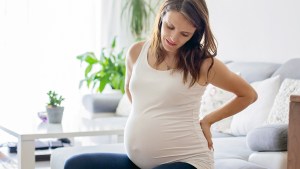 Read more:
7 Bible verses for the not-so-pretty moments of pregnancy