"Can we do this? Can I do this? Please, help me," I prayed to Mother Teresa.
We mailed the application on September 5, 2018. Senate hearings to appoint Justice Kavanaugh had just begun and there was something about an anonymous op-ed for the New York Times trending on Twitter.
It was also the feast day of Mother Teresa.
I said a brief prayer to her as I sealed an envelope with a 15-page application and a $75 dollar check. I don't remember the prayer exactly. But I knew that she would understand my anxious petition, which went something like, "Can we do this? Can I do this? Please, help me."
It wasn't the first time I'd made such a prayer. I'd said it at doctors' offices and while being wheeled into surgery. I'd said it in half a dozen LabCorp waiting rooms. And I said it while standing at a UPS store in Arlington, Virginia, while swiping my debit card for $2.55 to mail the application to adopt a baby. It was a moment I consciously took a moment to savor – a page at the end of one chapter and the beginning of another.
The chapter I was closing was one that many women have lived a version of. Mine started with one of the happiest days of my life: our wedding. I looked into Matt's eyes and vowed, among other things, "to accept children lovingly from God." But when it became clear that children would not be coming as quickly or as easily as we'd assumed, I started down the path of dozens of doctor visits and a barrage of unsolicited advice: 
"Relax! Have a glass of wine. It took us three months!" Two years in, this one started to sting.
"Let's do blood draws every other day for thirty days and really nail this down." That was the month I got looks and concerned questions about the bruises up and down the inside of my arms.
"Are you charting? It really helped us." I ordered the charts and those little stickers.
I know all of the advice I received came from a good place. Most of our friends had children immediately and in quick succession. They had no frame of reference for what I, or Matt and I as a couple, were experiencing. They wanted to help. But in conversation I always braced for the inevitable: "How are you feeling? Any news?" Maybe it was my own pride, but I felt pitied. And I didn't want pity. I wanted control. And I wanted answers — answers that friends, doctors, and even God weren't providing.
Three years into our saga, over a glass of Malbec (and a cigar for Matt), we made the decision that we would look into adoption on our fifth anniversary. That moment was the first deep breath I'd taken in years. I don't believe God wants us beating our heads against a wall and mine felt bruised; I was so, so tired.
Simply setting a date to begin the adoption process allowed me to stop focusing on my own perceived deficits and turn my attention to God's plan for our family. I continued — and will continue for now — the doctor visits and the tinkering of medication dosages. Pursuing adoption doesn't necessarily mean we'll never have a biological child. And while it's easy for me to say this now, we wouldn't change a single moment that led us here.
I'm a stronger woman because of this struggle. Because of it, I hope to become the mother to a child who may not grow inside me, but is already growing in our hearts.
I'm also grateful for the empathy I've gained for every woman — particularly every Catholic woman – who didn't get pregnant as a newlywed and feels like a failure. We vow and plan and want — and dare I say, expect? — to get pregnant when we get married. Children are a blessing. And if we aren't having them, doesn't that mean we aren't blessed? Of course not.
The fact is, my own life has been blessed in ways I could never have predicted. My husband and I have traveled the world and lived rich friendships. We moved across the county and Matt got a masters degree. I worked at a hip coffee shop and have done communications work for Supreme Court cases and federal elections. We got a dog and are godparents to two spunky kids. We're entering our eighth year of marriage and it's just as full of the heady highs and gutsy adventures as our first year. Children are a blessing and I look forward to the parenting season of our lives when it arrives. But until then, my life is full, and we are blessed.
We are now in the middle of our home study process, and from under the mountain of paperwork or after a long visit with our social workers I say some version of, "Can we do this? Can I do this? Please, help me." But we rest in the knowledge that with God's help, we can. He already has been, and always will be, faithful.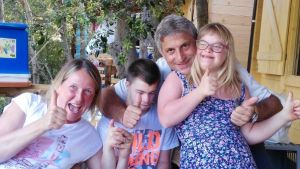 Read more:
How a mother's miscarriages prepared the way for joy in adoption